Big Sky, Montana- Biggest Skiing, Great Food, Lodging Tips- March 2015
Big Sky Ski Resort, Montana. I took the non-stop direct flight on United Airlines (there are other airlines that offer the same) and flew into Bozeman, Montana. From there, we took the prompt and professional Karst Shuttle right to the ski resort which was approx. 45 minutes- one hour depending on traffic and road conditions.  http://www.karststage.com/airport_shuttle.php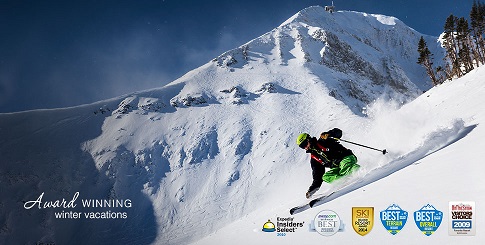 Overall, Big Sky has to be one of my favorite resorts and skiing ever. I went over the President's day Holiday week and even then the longest line for any chair lift was only five minutes long. This hidden gem of a mountain is the biggest skiing in America per acres, especially now that they have combined with Moonlight Basin for one total mountain and access to any/all terrain. The diversity is great with many intermediate-advance runs as well as expert and tree skiing. They have it all and it is all so convenient.
Some of my favorite chair lifts were the Six Shooter on the moonlight basin side which led to a great black/high blue run called Elkhorn. You could also get to the Lone Tree Triple Chair which had some incredible options such as the long horseshoe run if you stayed wide right. If you went towards lookout ridge, I loved ice house for a fast blue run or whiskey for one of the better wide tree runs. The Ramcharger and Swift high speed quads are the two most popular from the main mountain village. You can catch all types of diversity from either of those lifts such as lobo and calamity jane off of swifty or ambush or hangmans (which take you right back down to the village) or big horn that took you down to the thunderwolf high speed quad or ponderosa taking you to the southern comfort high speed quad.
When there is a lot of snow, the challenger or lone peak triple chair would be fantastic but they were a bit skied out. It is an absolute must to take the tram up even if you just come up for some photos and to take it back down as you can see multiple states, the Yellowstone Club, the tetons and some of the most beautiful mountains and landscape you will ever see. I skied for 4 days and still there was plenty of stuff I didn't find or get to. That is how big this place is with mass variety and choices.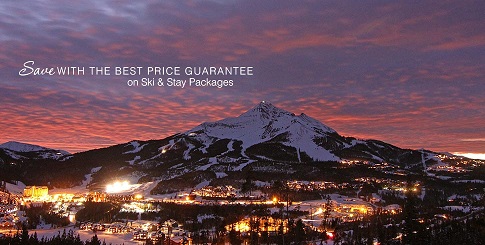 Much more at http://bigskyresort.com/ and scroll to the bottom of this story to see many mountain stats and snow/terrain information. Special thanks to Sheila Chapman and Lyndsey Owens who run the PR/Media at Big Sky.
Lodging Options: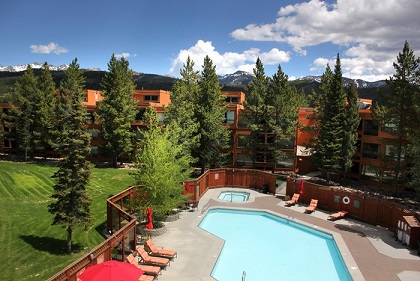 The Huntley Lodge in Big Sky, Montana is a fantastic place to stay when visiting on your next ski trip. The staff and service were top notch and the room was very nice. Amenities included a gym, pool, two hot tubs, a lap top computer next to the concierge, free ski and boot valet, an incredible buffet breakfast and bellman to help transport you around in a shuttle van/suv. The mountain ski lifts are about a five minute walk and you are ready to go. Located in the heart of Big Sky's Mountain Village, this historic hotel was part of the late NBC News broadcaster Chet Huntley's original vision for Big Sky Resort. Steps from the Explorer Lift just out the back door. The room was fantastic and spacious with very nice decor and a homey feel.

Under the same roof are concierge, dining, shopping, ski storage, meeting rooms, and Solace Spa. The Huntley Lodge features Boyne Beds and convenient access to pools and is dog friendly. Breakfast included in select rates. http://bigskyresort.com/plan-a-trip/lodging-in-big-sky-montana/huntley-lodge
The River Rock Lodge in the town center is the best place to stay if you are off the mountain. It is centrally located with many restaurants walking distance away, Lotus Pad and Byom among them. Plenty of other shopping, bars and even a movie theater are right there. The free skyline shuttle can take you around and up to the mountain. The River Rock is very cool inside with a moose and goat on the walls caught from hunting. Free wifi and hot tub and Continental breakfast included in your stay.

The staff are overly friendly especially Rich and all are very helpful. Looking for and adventure to take a half or full day off from skiing? Here in Montana's Big Sky country, the best lodging comes in a small package. River Rock Lodge is the best-kept secret in Big Sky and Yellowstone country with 29-rooms combining the luxury of an upscale hotel with affordable rates close to skiing, fly-fishing and more. They've blended the ambience of a mountain cabin with modern amenities together into a warm and inviting lodging experience. Discover Big Sky River Rock Lodge, where big country comes at a small price. http://www.riverrocklodging.com/
Dining Options:
Another aspect which makes this resort a must visit is the fabulous food. Of all the ski resorts I have visited only Deer Valley had better dining. Here are my top choices: The Lotus Pad in the Meadows Village was the best Thai restaurant I have been to anywhere. It is no secret it has been voted Big Sky's top restaurant the last four years . Great Pad Thai and chick satay but the chef's specials are not to miss. We had the Pork Belly with sauteed onions and green beans, Seared Scallops, Wagu Spicy Beef with a spinach salad. And the seafood Banana Curry. All three were exceptional and unique as we had never even heard of a banana curry before. Try one of their specialty cocktails such as the Green Dragon Vodka drink with mint and their lotus tea (Thai tea, Stoli vanilla vodka, half and half) with any spicy dish you order. The place is not too big so reservations are a must. Request sitting at the counter which overlooks the tiny cooking area to see it all up close. The owner, Alex is super hospitable and she also cooks during the night when needed. http://www.lotuspadbigsky.com/
Buck's T4 is also another must visit. Tlhey have their own shuttle that will pick you up if you don't have a car. Buck and his wife Helen share their amazing history and story on the paper place mat as they have transformed the place as it is currently a hotel, lunge, bar wedding banquet restaurant. They used to have parties and dances in their hall with up to 1000 people attending. Now it is used for weddings parties and wed. night live/square dancing.  The menu features a wide variety by executive chef…..The owner and renowned chef Chuck Schommer and partner David run. Scott Mechura. For starters, I had the seared scallops with potato puree that were cooked to perfection along with srichta
Fatty but tasty lamb short ribs, for entrees, the menu is so extensive from steaks, chops, seafood and more. They even have a duck with about ten different preparations of your choice. The Canadian Walley Fish over the delicious potato pancake is a great choice. They are known for their game so I had the mixed grill that included Bison tenderloin and the specialty elk chop. Both were great! Have a nice glass of wine or their Huckleberry Cosmo to enhance the meal. Finish this experience with their popular Russian Cream Dessert or skillet cookie and the Baked Apple – that apple order and homemade spiced Rum. Alex, my server was so knowledgeable and courteous. http://www.buckst4.com/dining/
Next up was BYOM (By Word of Mouth). Owners Pam and John (also the head chef) have a great place in the Meadow Village serving healthy and delicious food. If you like sushi come on Tuesday, as that is their sushi night. The locals love this place and I can see shy. It is very hip with a great selection. They had upbeat New Orleans jazz music playing in the background. The neat art on the walls rotates every so often from the Gallatian River Gallery. Besides the nice sushi, try the sauteed calamari with a seaweed salad to start. Who would think to get Ahi Tuna in the mountains? But this fish was one of the best I have ever had as it was so tender falling a part with my fork. Pam said it was her favorite dish on the menu and I am so glad I trusted her. My server Megan did a great job along with another sever, Elliot as this full team has it going. Definitely a visit for dinner. For dessert go for the banana chocolate chip bread pudding or the melting pot chocolate with coffee ice. http://www.bigskycatering.com/
Yet another top dining options right at the mountain near the lifts was Andiamo. This beautifully decorated fine dining Italian cuisine was top notch. The service was great and their sommelier helped pick out some unique Italian wines by the glass which paired perfectly with what we ordered. For starters, try one of their anti-pastis or salads.
For entrees we had an amazing veggie pasta dish as well as the Bison oso bucco with creamy polenta. Both outstanding choices from their extensive menu. End with the pear tart and of course, Tiramisu. Just another must visit for dinner so ensure you have a t least four – five nights. http://bigskyresort.com/things-to-do/dining-options/andiamo-italian-grille
The sleigh ride dinner at Lone Mountain Ranch (famous for their Nordic skiing) puts together this outing where you are taken up to a homey cabin by horses in a sleigh (approximately a 20 minute ride and dress warmly). You will be entertained by stories and guitar singing while enjoying a delicious family style dinner starting with salad and homemade pretzel bread. For the main course, you get some tasty trout or salmon in advance as the staff is very accommodating. For dessert, the chocolate flour-less cake will finish the meal off. http://www.lonemountainranch.com/about/winter-gallery/sleigh-ride/
Olive B's was one more great choice for dining. The dinner menu looked appetizing but they are one of the few spots open for lunch and we only had that time available. Warren, the owner and chef, does a remarkable job with his fine cuisine and delectable dishes. We had the amazing fried calamari and hot french onion soup to start . Plenty of salads and burgers were on the lunch menu as we chose the lamb burger and chicken breast sandwiches. The chocolate chip cookie in the skillet with the huckleberry ice cream was the perfect ending. http://www.olivebsbigsky.com/
Adventures/Activities
Check out Canyon Adventures as the offer snow-snowmobiling tours in Big Sky so you can stay close to the area if you don't want to do a full day in Yellowstone. They have guided and unguided tours for this exiting unique opportunity where you can go up toe 40-50 mph if you like. http://www.snowmobilemontana.com/
Mountain Stats and Snow Sport Terrain
Ability # Runs Acres % Breakout 2014-15 New Run
Beginner 64 882 15
Intermediate 67 1,397 24 Pomp, Lizette, Badlands*, Lois Lane
Advance 107 2,475 43 Soul Hole
Expert 60 1,050 18
TOTALS 299 ski runs 5,804 acres 100% *new name, changed from an advance run
VERTICAL & GENERAL INFORMATION
Area Feet in Elevation
Lone Peak 11,166 Longest Run* 6 miles
Mountain Village 7,500 Longest Continuous Run** 4,000 feet
Madison Base 7,400 Average Snowfall 400 inches
Lone Moose Triple 6,800 Average Temperature 25 °F
(bottom station, lowest point) (*Liberty Bowl to Mountain Mall)
(**Lone Peak South Summit to Six Shooter)
CHAIRLIFT INFORMATION
Chairlift Type # Name
Tram 1 Lone Peak Tram
High Speed Six Pack 1 Six Shooter
High Speed Quad 5 Swift Current, Thunder Wolf, Southern Comfort, Ramcharger, Lewis & Clark
Quad 3 Iron Horse, Lone Tree, Derringer
Triple 6 Lone Peak Triple, Lone Moose, Dakota, Pony Express, Cascade, Sacajawea
Double 6 Shedhorn, Challenger, Headwaters, Explorer, White Otter, Little Thunder
Surface Lift 8 Small Fry, Beehive Basin, Middle Basin, Bear Basin, Moonlight Carpet,
Rope Tow Joe, Bear Back Poma, Spanish Peaks Carpet
TOTAL LIFTS 30 (22 Aerial Lifts, 8 Surface Movers)
TOTAL LIFT CAPACITY 32,795 people per hour
7 TERRAIN PARKS – 90+ features combined
Name Skill Level Chairlift Location
Northern Area:
Cow Polk Small Derringer
Freestyle Forest medium Iron Horse
Zero Gravity medium/large Six Shooter
Pony small Pony Express
Southern Area:
Swifty 2.0 small/medium Ramcharger & Swift Current
Swifty medium/large Swift Current
Explorer small Explore