Fine Dining in Oakland and San Francisco at The Lake Chalet, Fog Harbor, Alexander's Steakhouse- November 2015
I visited a few fine dining restaurants in the Bay Area. The first one was in Oakland called The Lake Chalet. Located right on Lake Merriott, this establishment was exquisite. What a great day as it felt like summer. We ordered from the bar as they told us that was the only way we could sit outside on this beautiful day and full service outside is only available in the summer.
The meal was very good and what a spectacular view. The manager Demarcus was super hospitable. We started and split the clam chowder, tuscan kale salad with prawns and buttermilk deep fried calamari. For entrees, we had the Trout stuffed with crab and the lobster mac and cheese. Executive Chef Michael Baker creates an inspiring menu. This place is not to miss if you are in Oakland especially if it is a nice day.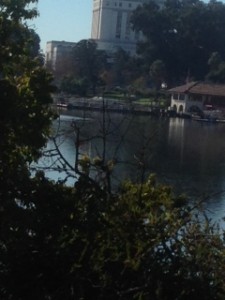 If you are looking for a dining experience with great food and awesome views of Lake Merritt
then look no further than Lake Chalet . It overlooks the beautiful Lake Merritt water front and
everything it has to offer. They offer indoor and out door seating and on a beautiful day I highly
recommend the outdoor patio seating area . As you enjoy a great meal and refreshing
beverages you can see the Gondola rides gliding up and down the lake as they sing romantic
songs for those enjoying the ride. From the moment you arrive you will be greeted by a host and
given options to sit indoor , at the bar or on the patio area .The waiter staff was friendly and very
helpful in going over the menu and specials of the day.They also offer valet service for a
reasonable fee so you can just pull up and start enjoying your meal and the great views within
minutes of arriving . Parking could sometimes be a hassle in Oakland so the valet service really
comes in handy and much appreciated.
You can try a variety of dishes ranging from a creamy clam chowder to a very delicious stuffed
trout and much more . I started with the clam chowder and must say it was to die for . It was
creamy and a good size portion . The second dish I tried was the lobster mac and chess and it
was mouth watering. The combination of lobster and mac and chess is something I would have
never thought of trying ever ! I am so glad I did and would highly recommend to those who want
to try something different it will not disappoint. The lobster was tender and well prepared and the
mac and chess had a crusty topping that but it over the top. I truly enjoyed every bite and will be
back for more very soon ! The last dish was the main course and after going back and forth from
the many different options on the menu I decided on the stuff trout. I am sometimes skeptical
about ordering fish because it could be hit or miss but this Stuff trout was prepared perfectly.
Every bite was incredible and melted in my mouth. It was cooked perfectly and I would say it is
a must have when dining at Lake Chalet. My overall experience was excellent all the way from
the staff, to the views, to the delicious meals and awesome cocktails. If you live in Oakland or
visiting the Bay Area in California you must visit Lake Chalet and enjoy everything this
restaurant has to offer. I give Lake Chalet 5 stars for the awesome service , food and best views
in Oakland period .
Address: 1520 Lakeside Dr, Oakland, CA 94612    Phone:(510) 208-5253
Dining at the Fog Harbor Fish House at Pier 39 in San Francisco was a delightful, warm and very pleasing experience.
The restaurant has gorgeous views of the bay.  It is immaculately clean and very modern.  The restaurant is very well decorated and between the decor and the bay view you feel as if you are in a wonderful romantic atmosphere.  The tables had white linen napkins and white impeccably designed and clean dishes.
The menu was very broad and suitable for most appetites and tastes. The New England clam chowder soup and sour dough bread were "to die for".   The poke was delicious and served with avocado and mango.  The crab and the whole Maine Lobster were fabulous entrees. Enjoy one of their delicious martinis including pumpkin or glasses of wine to accompany your meal.  The spacious bar is focal point and center of attraction packed with wine, beer, liquors and hard liquor.  The warm cozy wood paneling of the bar adds to the attractiveness of the modern decor of the restaurant.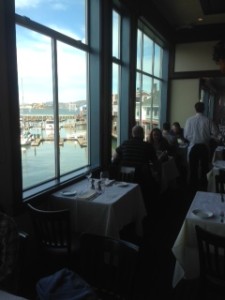 The service is excellent.  The staff is very friendly and helpful. We had lunch over a period of one and a half hours and were never rushed by the servers even though the restaurant was busy.  The restaurant opens at 11:AM and we were promptly seated. By the time we left, the place was jam packed. You can even see all the sea lions from inside the restaurnt.
Located in: PIER 39
Address: 39 Pier 39 Concourse, San Francisco, CA 94133
Phone:(415) 421-2442
Last but not least was Alexander's Steakhouse in San Francisco. This is a place you must go before you die. I have never had an experience like this before. You can order al a carte or try their signature study of beef 7 course meal that includes the best cuts of beef in the world from Japan. The kobe wagu beef is prepared in a variety of ways and served with creative sauces. Each course has some type of beef consistency including the delightful scallop dish, smoked oxtail, oven grilled trout, Japanese wagu, chanterelle clay pot and brownie all made with some type of beef ingredients. Love the ambiance with all waiters in black suits and ties and the background music with the perfect volume of old 70's-80's soft pop.
San Francisco, CA/September 2010 – Alexander's Steakhouse is now open in San Francisco providing the city with an intriguing new dining option. Executive Chef Marc Zimmerman  presents a menu showcasing a fine dining interpretation of the classic American steakhouse with hints of Japanese influence. The first Alexander's Steakhouse opened in Cupertino, California in 2005 and it quickly became, and remains to this day, one of the premier South Bay dining spots. The owner had long dreamed of sharing her vision of culinary excellence with San Francisco dinners and this dream has now come true at the San Francisco location.  Some more of the 7 course meal pictured below including the 3 oz wagu beef and side dishes.
The menu is prepared with the most luxurious products available and features a variety of traditional cuts such as Porterhouse, T-bone and New York, and the restaurant specializes in grain-fed Certified Angus Beef from the Midwest, plus dry-aged steaks. The Alexander's Steakhouse bar offers a robust section of contemporary, classic and original cocktails. The award-winning international wine list designed by Sommelier Johnny Slamon includes about two dozen selections available by the glass. Highlights of the upscale, contemporary design of Alexander's Steakhouse include a three-tiered dining space, exposed brick walls, dramatic public display wine racks, high ceilings with skylights, wood and terrazzo flooring plus carpeting, banquette seating, custom Japanese shoji screens, colorful floral arrangements, and an exhibition kitchen. Alexander's has substantial private dining options with venues including the Wine Library, Board Room and the Mezzanine.
Alexander's Steakhouse in San Francisco is located at 448 Brannan Street between Third and Fourth Streets. The restaurant is open nightly for dinner, Monday through Thursday from 5:30 to 9:00 PM, Friday and Saturday 5:30 to 10:00 PM, and on Sunday 5:30 to 8:30 PM. Valet parking is available, there are garages or lots in the area and the neighborhood streets are sometimes an option. For more information or for reservations, which can also be made via www.OpenTable.com , call (415) 495-1111.
Their Web address is www.alexanderssteakhouse.com