Galaxy draw 0-0 vs. Mexico's Santos Laguna in first leg quarterfinals of ConCacaf Champions League- February 2016
CARSON, Calif. – One of the LA Galaxy's offseason priorities was to improve a defense that allowed a stunning 13 goals in their last five regular-season games a year ago and three more in a playoff loss to Seattle.
Suffice to say the five-time MLS Cup champions are off to an impressive start in that regard.
Goalkeeper Dan Kennedy, who was traded to the Galaxy in mid-December for second- and third-round selections in the 2017 MLS SuperDraft, made three saves as the Galaxy battled Mexico's Santos Laguna to a 0-0 draw in Wednesday's first leg of the CONCACAF Champions League quarterfinals in front of a StubHub Center crowd of 18,922.
The return match will be held Tuesday in Torreon, Mexico, with the winner advancing on aggregate goals.
Kennedy, in his ninth season in MLS after spending the first eight with now-defunct Chivas USA and last year with FC Dallas, was solid in net and impressed with a defense highlighted by the play of center back Jelle Van Damme, whose chance in the opening minute was turned away by a spectacular save by Santos goalkeeper Agustin Marchesin, and midfielder Nigel de Jong, among others.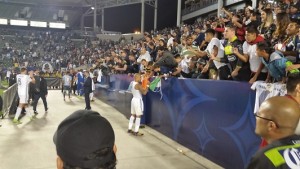 "I really think we approached the game the right way," said Kennedy, who figures to solidify a position that was thrown into upheaval in 2015 by the mid-season departure of Jaime Penedo and followed by the inconsistent play of Donovan Ricketts. "Getting out of there with a shutout is important and that will put us in a good position next week."
The Galaxy's Steven Gerrard, who also had a solid performance in midfield, was impressed with the club's new 'keeper.
"I think the whole team deserves credit but especially Dan," Gerrard said. "He's been brought in for a reason and that's to keep clean sheets.
"He was off to a fantastic start tonight."
Kennedy downplayed his own performance and praised the combined efforts of a backline that featured Ashley Cole at left back, Robbie Rogers on the right and Van Damme and A.J. DeLaGarza in the middle.
And Gerrard and de Jong provided effective support up front.
"We were on the same page today," Kennedy said. "That's what it's all about."
Kennedy acknowledged the task of advancing to the semifinals will be difficult in hostile territory next week – "I imagine the test will be greater," he said – and added the Galaxy have plenty to be pleased with.
"We should feel good about it," he said. "The game was there for us to win, so there's no reason why we can't go down to Mexico and get a good result."
Photos by David Deram