Traveling, Dining in New Mexico, Lodging at El Parardo B & B in Santa Fe, Edelweiss in Taos
I made a brief stop at the Route 66 Casino Hotel  in Albuquerque about 20-25 minutes out of the city and from the airport.  I came to check out the Sammy Hager concert in their big showroom and a great show he put on.  First I enjoyed dinner at the Thunder Road Steakhouse.  The menu is very diverse.  Try the table side guacamole to start with chips.  The shrimp and lobster tacos were fantastic along with the beef filet cooked beautifully.  From there, I went to check out Sammy Hager in their big concert venue.   To dine or check out future shows and concerts, visit www.rt66casino.com
The El Parardo B & B in Santa Fe is the perfect place to stay on your next trip out there.  Located right near the downtown plaza, owners sue and Paul make you feel most welcome.  The rooms are lovely and go for the suite if you like more space.  The breakfast is delicious and made to order each day by sue.  Do not miss the best homemade granola you will ever have as that is self serve.  It is so good, that it is for sale and I had to buy some.
The inn has a variety of rooms to check out besides the room you are staying in.  They have games, cards and books.  Free wifi and nice tvs come in every room.  More at www.elparadero.com
On the way up to Taos ski valley , I stopped at the Kyote Club to watch the nfl playoff games.  When you walk in, it looks like more of a sports bar but don't let that fool you of how good the food is.  The owner Ky, used to be the head chef at Lamberts, and the meal was fantastic.  The truffle fries were addicting but the call of the night were the lamb chops , some of the best I have ever had.  Not to miss.  Scott, the manager was super hospitable and the service was great.    They have live music, karaoke and more different nights of the week.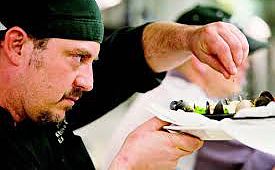 Address: 330 Paseo Del Pueblo Sur, Taos, NM 87571
Phone number (575) 751-3302   Check them out at www.kyoteclub.com
Right from there, I headed to the Edelweiss lodge and spa in Taos ski valley.  This place has it all and it starts with the GM Kent.  This place is the most modern of all the existing places in the ski valley. The Blake hotel is being built right next door but I don't know if it can top The Edelweiss that was the perfect place to stay.  Let's start with the ski in and out convenience as you walk out the back and you are on the mountain to take chair 3 to the main chairlift 1.  The front desk staff were super friendly and helpful with anything you need or suggestions.  Photo credits below by Jeff Caven photography.
They provide you with a key for a boot locker to store them overnight and keep them warm.  The spa includes a gym of mostly cardio equipment and a few machines and free weights.  Right outside the gym is a nice, hot jacuzzi to enjoy after the day of skiing. Yoga and dance classes are offered on selected days.  One must do is to get a massage in the spa. The head of the spa is Kat and I had one of the best massages I have ever had from here which totally loosened me up.  I stayed in a one bedroom condo that was spectacular.
Clean, modern and a full kitchen to cook as I brought groceries in.  HD tvs in the living room and bedroom, free wifi, humidifier, games, cards and beautiful decor made me feel so comfortable.  If you need some oxygen, they sell cans at the front desk and I recommend getting one to settle your lungs.  For rates, more info or reservations, visit www.edelweisslodgeandspa.com
Definitely try the Blonde Bear restaurant located in the lodge. The head chef John creates some inspiring dishes.  Some of the menu item suggestions are Kats red chile onion rings, the cauliflower soup to start.  For entrees, they offered beef filet, short ribs, flank steak and trout to name a few.  I went with the rainbow trout with a baked potato and choice of a second side so I had glazed carrots.  For dessert,  they had some nice options including cheese and chocolate fondu but I had the apple puff pastry with ice cream. Overall, a fantastic dining experience and chef John comes out to greet and say hello most often.  One other place to stop in for a breakfast burrito and charge it to you room is cafe naraja adjacent to the lodge.  www.edelweisslodgeandspa.com/dining
The Alpine Xpress rental shop next door was fantastic.  You can rent pretty much anything from skiis, boots, snowboards and even snow shoes. I tried snow shoes on my last day and it was the hardest workout ever.  They also have clothes and accessories for sale.  They will store your skiis and poles.  The whole staff of Ryan, Matt and Dylan were so helpful and all had great attitudes.
The other restaurant I checked out was the Stray Dog Cantina right across the street.  Also known as Tim's Stray Dogs Cantina, this quaint place has been a fixture for a long time. The New Mexican cuisine makes you feel right at home. Sure they have burgers, salads and sandwiches but I suggest some of the following great dishes- the chile relleno, which is grilled, the Baha Mahi Mahi fish tacos, the chicken blue corn enchiladas, green chile with your choice of beef, pork, chicken or veggie and the guacamole.  You must be saying how could I eat that much. It was so good, I went there twice.  They have a full bar with beer, wines and specialty drinks from margaritas other cocktails such as the Brazilian. That is a rum based drink like a Mai tai but very strong. I needed to add some pineapple juice to it or try it with coconut juice and cream as they offer it that way too.  They have a limit of two per person on the Brazilian and I can see why.   More at www.straydogtsv.com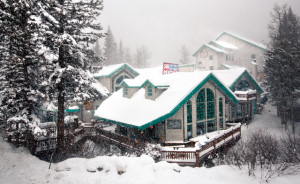 You can rent a car from Albuquerque if you plan on making multiple stops or have Mountain View Shuttle company pick you up and take you to Taos ski valley as you don't need a car if you are staying up in the ski valley.  If you are staying in town, they offer a free shuttle that takes 30-40 minutes but best to stay at the Edelweiss where it it so easy and time saving.   The owner Charley was very hospitable.   http://www.mountainviewshuttle.com/
To see our our Sante Fe and Taos Ski Story, check it out on our ski category under the sports section.