Edelweiss Lodge and Spa in Taos is the best place to stay, Ski in and out- February 2016
Right from there, I headed to the Edelweiss lodge and spa in Taos ski valley.  This place has it all and it starts with the GM Kent.  This place is the most modern of all the existing places in the ski valley. The Blake hotel is being built right next door but I don't know if it can top The Edelweiss that was the perfect place to stay.  Let's start with the ski in and out convenience as you walk out the back and you are on the mountain to take chair 3 to the main chairlift 1.  The front desk staff were super friendly and helpful with anything you need or suggestions.  Photo credits below by Jeff Caven photography.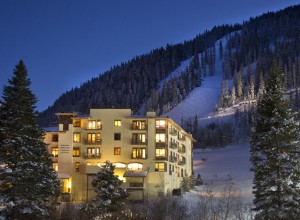 They provide you with a key for a boot locker to store them overnight and keep them warm.  The spa includes a gym of mostly cardio equipment and a few machines and free weights.  Right outside the gym is a nice, hot jacuzzi to enjoy after the day of skiing. Yoga and dance classes are offered on selected days.  One must do is to get a massage in the spa. The head of the spa is Kat and I had one of the best massages I have ever had from here which totally loosened me up.  I stayed in a one bedroom condo that was spectacular.
Clean, modern and a full kitchen to cook as I brought groceries in.  HD tvs in the living room and bedroom, free wifi, humidifier, games, cards and beautiful decor made me feel so comfortable.  If you need some oxygen, they sell cans at the front desk and I recommend getting one to settle your lungs.  For rates, more info or reservations, visit www.edelweisslodgeandspa.com
Definitely try the Blonde Bear restaurant located in the lodge. The head chef John creates some inspiring dishes.  Some of the menu item suggestions are Kats red chile onion rings, the cauliflower soup to start.  For entrees, they offered beef filet, short ribs, flank steak and trout to name a few.  I went with the rainbow trout with a baked potato and choice of a second side so I had glazed carrots.  For dessert,  they had some nice options including cheese and chocolate fondu but I had the apple puff pastry with ice cream. Overall, a fantastic dining experience and chef John comes out to greet and say hello most often.  One other place to stop in for a breakfast burrito and charge it to you room is cafe naraja adjacent to the lodge.  www.edelweisslodgeandspa.com/dining