Il Fornaio Beverly Hills delicious Italian food, Charming Staff- April 2016
Il Fornaio in Beverly Hills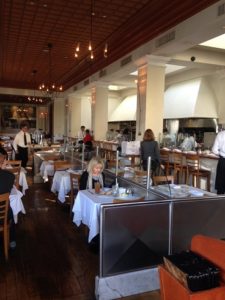 Located in the heart of Beverly Hills, its warm atmosphere and authentic staff instantly made me feel as if I was a welcome guest at a trattoria in Italy. Most of the staff are Italian, and their enthusiasm, knowledge, and ready smiles were contagious.
Ribolitto (Tuscan "bread"soup) was tasty and healthy with cannellini beans, kale and garlic croutons.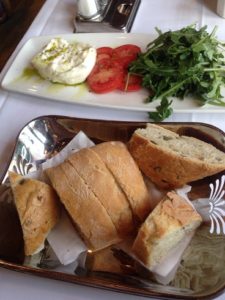 The roasted vegetables appetizer was tasty and healthy…but it was their creamy burata cheese slathered on thieir famous bread and tomatoes that stood out for us.
From their seasonal menu, the baked wild cod fillet adorned with olives and capers in their sauce reminiscent of the  sundrenched  countryside was delicious, and the grilled prawns with fresh liguini (specially requested by us) was out of this world, and the accompanying vegetables were perfectly cooked.
The tiramisu for desert was one of the best we have ever had; light and rich at the same time…totally satisfying.
Recommended wines paired perfectly with the food.. Our server picked a glass of pinot grigio and chardonnay to start and one of their unique glasses of red wines was particularly delicious.
Reasonable enough to serve as a neighborhood hang, and special enough for a night out on the town, Il Fornaio is a restaurant to return to again and again..
Il Fornaio Beverly Hills
301 North Beverly Drive
Beverly Hills, CA 90210
General Manager: Maria d'Auria
Chef: Giuliano Mosca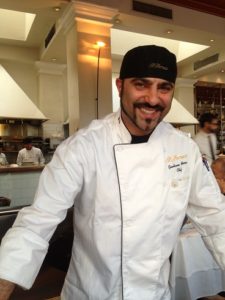 Hours:
Monday – Thursday 7:00am-10:00pm
Friday 7:00am-11:00pm
Saturday 7:30am-11:00pm
Sunday 7:30am-10:00pm
PANETTERIA / BAKERY CAFE
Monday – Friday 7:00am-4:30pm
Saturday – Sunday 7:30am-4:30pm
Written by Lisa Robins/Edited and Photos by Todd Elliot