Le Pain Quotidien new French casual restaurant location in Culver City- June 2016
LE PAIN QUOTIDIEN Restaurant in Culver City
by Richard Ahrens and Todd Elliot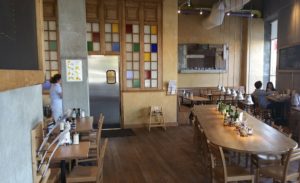 This is the latest location among a multiple, Southern California, unique French Restaurant chain. The corner location on Washington Blvd. is an ideal spot for regulars from Sony, the Medical Center or "Kirk Douglas" theater attendees.
During our visit, the friendly and accommodating staff suggested a number of choices that represents the quality, freshness and selection offered on a daily basis. Among our favorites include: Quinoa Taboule' – a fresh, organic, vegan salad that includes arugula, frisee', chickpeas, avacado and basic vinaigrette as well as the tasty smoked salmon salad (both pics below). We also tried a six-vegetable tart, including tofu, on a gluten-free buckwheat crust. (There are many gluten-free options.)  They have fresh tartines (open face sandwiches such as their turkey-avocado and their oven roasted chicken with smoked mozzerella cheese pictured below).

In addition, they offer a variety of daily soups, Quiche, Tartines, Breakfast, baked goods, organic juices, smoothies, desserts and a wide assortment of coffee and teas. (The smoothies we tried were as healthy and tasty as you will find anywhere.).   Don't miss their fresh croissants and homemade Daily Bread (hence the name of the restaurant means daily bread in French).

Whether you stop in for a coffee, breakfast, lunch, or early dinner, you'll find yourself becoming a regular. Customers may pre-order on line (or with an App.) Catering is offered, as well.
Hours are 7-7-7. (12 hours open, 7 days a week.) 9901 Washington Blvd., Culver City, Ca. 310-596-4863.
http://www.lepainquotidien.com/store/culver-city/#.V2EE2eR32b0