City Express Plus and City Suites in Cabo San Lucas is the best for value, overall services- August 2016
City Express Plus & Suites Cabo San Lucas is located near the City's most famous beach,  Playa el Médano, as well as the beautiful Harbor. Our hotel is also conveniently situated half an hour from the International Airport.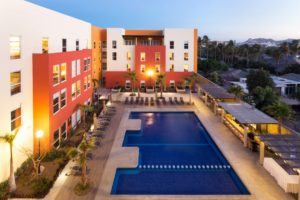 Cabo San Lucas is a magical Resort City on the southern tip of Mexico's Baja California. Known for its beaches, water sports and nightlife, Cabo has something to offer every visitor.
While you're here, check out the impressive Arco, or sea arch. This massive rock formation, also known as Land's End, is located at Cabo's southern tip. Take a water taxi or boat to get there. For the adventurous, rent kayaks or paddle boards to see the natural monument up close and meet friendly sea lions gathering around the rocks.
Or relax in the sun, spending the day at one of the City's several gorgeous beaches. El Chileno, located in the tourist corridor, is very family friendly. For a more romantic getaway, we recommend Playa del Amor.
San José del Cabo is only 30 minutes north of City Express Plus Cabo San Lucas. This quaint colonial city is known for its art galleries, outdoor markets and outstanding restaurants.
Stay at City Express Plus Cabo San Lucas, and enjoy all of the sunshine and white beaches that Baja California Sur has to offer.
The City Express Plus and City Express Suites are side by side in Cabo San Lucas, Mexico.  Very conveniently located about 5 minutes driving from downtown. This business oriented hotel caters to business people and families.  The room and bed was very comfortable with a flat screen TV.  Some rooms come with a view of the ocean.  The Suites are fully equipped kitchen with appliances, crockery, glassware, cutlery and cooking utensils, perfect for long stays. The amenities are fantastic as the big heated pool outside is spacious and beautiful.  The Snack Bar opens at 2pm for food and drinks.  There is a gym and business center on the lobby floor with free internet.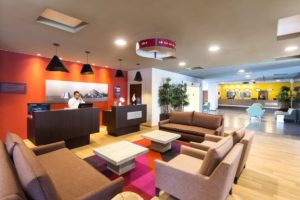 The staff is very helpful and friendly.  Wake up to their wonderful breakfast buffet offering an assortment of fresh scrambled eggs, beans, red chilaquiles, pancakes, chips, waflles, pastries/toast, fresh papaya, bananas, apples and melon, yogurt, granola and cereral. cereals. Make your own Sandwich with cold cut ham, lettuce, tomato and cheese.  Regular and light Milk, natural Orange Juice and fresh coffee. There are two breakfast rooms for each hotel that serve the same food.  TVs while you eat running the top shows or news as I viewed the Olympics every day during breakfast.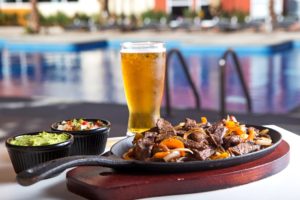 My recent stay coincided with the First Pro ATP Tennis Tournament also 5 minutes away. Shuttle transportation can be provided for a fee. You can ask at Front Desk.  You may need to take a taxi back from downtown if you don´t rent a car.  Fees from downtown are about $10 if you negotiate as they try to get you to pay $14 or more.  The manager Fernando, is the most hospitable and helpful manager I have dealt with in a long time going out of his way to make your stay better.  If you want to have a meeting or event, talk to Maria as she was also helpful as was Karla at the front desk.
Address: Kilometro 3.5, lote 100, El Tezal, Z.C.23454 Cabo San Lucas, B.C.S.