Visiting Cabo, Mexico- City Express Lodging, Casual Tasty Dining, Excursions-Snorkeling, Kayaking, Horseback Riding, UTV- August 2016
City Express Plus Cabo San Lucas is located near the city's most famous beach,  Playa el Médano, as well as the beautiful harbor. Our hotel is also conveniently situated half an hour from the international airport.
Cabo San Lucas is a magical resort city on the southern tip of Mexico's Baja California. Known for its beaches, water sports and nightlife, Cabo has something to offer every visitor.
While you're here, check out the impressive Arco, or sea arch. This massive rock formation, also known as Land's End, is located at Cabo's southern tip. Take a water taxi or boat to get there. For the adventurous, rent kayaks to see the natural monument up close and meet friendly sea lions gathering around the rocks.
Or relax in the sun, spending the day at one of the city's several gorgeous beaches. El Chileno, located in the tourist corridor, is very family friendly. For a more romantic getaway, we recommend Playa del Amor.
San José del Cabo is only 30 minutes north of City Express Plus Cabo San Lucas. This quaint colonial city is known for its art galleries, outdoor markets and outstanding restaurants.
Stay at City Express Plus Cabo San Lucas, and enjoy all of the sunshine and white beaches that Baja California Sur has to offer.
The City Express and City Suites are side by side in Cabo San Lucus, Mexico.  Very conveinently located about 5 minutes driving from downtown. This business oriented hotel caters to business people and families.  The room and bed was very comfortable with a flat screen tv.  Some rooms come with a view of the ocean.  The amenities are fantastic as the big heated pool outside is spacious and beautiful.  The snack bar opens at 2pm for food and drinks.  There is a gym and business center on the lobby floor with free internet.
The staff is very helpful and friendly.  Wake up to their wonderful breakfast buffet offering an assortment of fresh scrambled eggs, beans, chips, waflles, pastries/toast, fresh papaya, bananas, apples and melon, yogurt, granola and cereral. Cold cut ham for sandwhiches with lettuce, tomato.  Milk, OJ and a coffee maker.  There are two breakfast rooms for each hotel that serve the same food.  TVs while you eat running the top shows or news as I viewed the Olympics every day during breakfast.
My recent stay coincided with the first Pro ATP tennis tournament also 5 minutes away. Shuttle transportation can be provided for a fee.  You may need to take a taxi back from downtown if you don´t rent a car.  Fees from downtown are about $10 if you negotiate as they try to get you to pay $14 or more.  The manager Fernando, is the most hospitable and helpful manager I have dealt with in a long time going out of his way to make your stay better.  If you want to have a meeting or event, talk to Maria as she was also helpful as was Karla at the front desk.
Address: Kilometro 6.5, Km. 2 lote2, El Tezal, 23454 Cabo San Lucas, B.C.S.
My favorite excursion was GForce ATV/UTV and horseback riding on the beach.  Wow, what an adventure as this company provides transportation. First you get fitted with your choice of ATV or UTV, which is a bigger version and safer than the ATV.  You drive on offroads with plenty of bumps and hills which make this an adventure in itself.  Then park and go horseback riding on the beach where your guide will let you run your horse a bit if you have experience.  What a blast and the most fun I have ever had horseback riding.  Then get back in the ATV or UTV and drive back to base.  Their staff takes pictures of you or bring your own camera for some unforgetable shots.  More at http://g-forceadventures.com/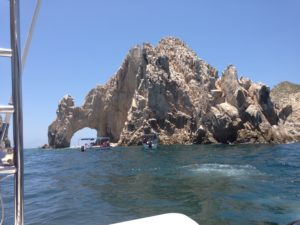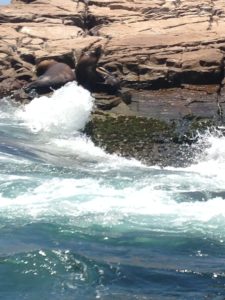 One other excursion I did was the snorkeling at 2 beaches trip by Cabo Expedeitions.  They also offer transportation and take you to Santa Maria and Chileano beaches where you spend about 30-40 minutes at each destination before having a light lunch.  

http://www.caboexpeditions.com

.mx/
The most famous company was Cabo Adventures but I was disappointed with them and found them not reliable or prompt on getting back to me.  Maybe they are so big that they don´t care but that was a turnoff so I passed on them.

Restaurant Suggestions:
One must is the authentic Mi Casa located in downtown.  They have been there for 20 yrs and I can see why. The place is enourmous and can hold quite a few hundred people at a time.  The staff was fantastic with server Poncho taking great care. The manager Guerillmo is nearby to greet and help with anything you need.  The food was incredible. Start with the queso fondido made with tequilla. Served with salso, pico de gallo and fresh homemade tortillas.  Make sure to order the guacamole and this could be a meal itself.  Just fantastic.
The menu has a big variety of meats, spanish dishes and more.  I went for the seafood platter served with shrimp skewers, octopus, scallop quesadillas, shrimp tacos and fresh sea bass. Also had to try the small lobster from Baja.  Both dishes were off the charts.  I had the fresh fruit strawberry/mango daquiri which enhanced the meal.  This place is not to miss.
Common Table in the Marina by chef/owner Miguel was just a great dining experience. The high quality products they provide put them ahead of most all other places. You can taste the freshness and delicious taste.  Start with their braised or grilled to perfection octopus that is very tender. The pork belly appetizer was also nice.
For entrees, the local seabass fish was outstanding as well as the unique squid ink shrimp dish.  Another not to miss place overlooking the marina with the great view, great food, beautiful atmosphere and over the top service.
Lastly, a fixture for over 20 yrs is Ole Ole right in the marina as well.  They have been around for 20 yrs and Gabriel, the manager, is most welcoming and knowledgeable.  They have expanded to serve not only Mexican food but seafood, meats and have opened the adjacent Arts and Sushi.  You can sit anywhere in the restaurant with the fantastic view of the marina and enjoy the delicious food from either menu.  No place has the variety like they do.  I highly recomment the signature entree off the mexican menu which comes with flank steak, chicken breast and shrimp in a hot clay bowl with veggies, salsa and tortillas.  The no name roll and fresh seabass fish yakatori were absolutely delicious.  You will need to come twice to choose from the huge assortment of choices.