Nathalie Berton-Jacob's "Bouche" Collection Party in Venice, Dec 3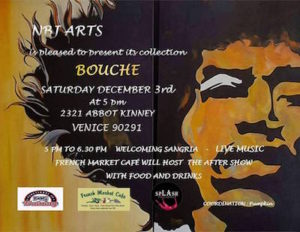 Showcase of New and Existing Works will be on Display Followed by Live Music and Small Bites at the French Market Café
Artist Nathalie Berthon-Jacob moved to the United States three years ago, starting a journey as an artist when certain aspects of life sparked her creative soul like "A thunderbolt"! Nathalie's work is intense and colorful. Since diagnosed with cancer in 2011, Nathalie paints with a passionate heart and is inspired by Hollywood legends and current pop-culture icons for this collection. She embraces life in California as much as she appreciates being in the heart of emerging Contemporary Art. 
The new collection "Bouche" offers a range of acrylic paintings and sizes showcasing her signature style of vibrant colors and expressive characters. The gallery of works will be shown in F45 Training, during a live music organized by NBJ Arts with Sangria and snacks at the festive party provided for guests by the French Market Café next door. Following the opening an after party will continue with beer, wine and small bites at the same venue.
Nathalie's artistic expression emphasizes the mouth of her subjects because it's an area that explains a lot without ever uttering a word. A person's teeth and smile reveal a deeper meaning behind one's feelings and true character. Focusing on "rebels" like Mick Jagger and Jimi Hendrix, Nathalie represents opinions of "not what you want to hear but what I want to say."
The event takes place Saturday, December 3, 2016, 5 to 10 p.m. 
The site is the F45 Training and French Market Cafe 2321 Abbot Kinney Boulevard, Venice, CA 90291