LA Angel City Chorale Concerts and Sing-Alongs Dec 3, 4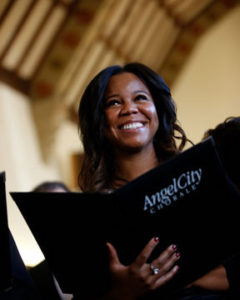 Angel City Chorale (ACC), the celebrated Los Angeles choir led by Founder/Artistic Director Sue Fink, will jump-start the season in style with Bring on the Joy, the choir's 23rd annual set of holiday concerts and sing-alongs during the first weekend in December.
The festive evenings will bring together talented Los Angeles-area singers and instrumentalists with a tapestry of seasonal favorites featuring musical textures from diverse traditions.
The inclusive, family-friendly concerts will take place at Wilshire United Methodist Church in Los Angeles over two very special nights on Saturday, December 3, and Sunday, December 4, 2016.
Tickets range in price from $22 for children to $75 for VIP packages. The performances start at 7:00pm and include a 15- minute intermission; a dessert reception follows each performance. For additional information on ACC, please see below and also visit http://www.angelcitychorale.org.
The vibrant performances feature a 25-piece live orchestra and an array of seasonal favorites with musical textures from diverse traditions. Audiences will also get the chance to sing with the lively 160+-member choir on familiar songs during the popular sing-along.
The international musical program of choral exploration features Classical, Traditional, Spirited Contemporary, and Gospel R&B.  In addition to popular American Christmas carols, African, Chanukah, Celtic, Medieval, Beatbox, Pop, and British vibes will be presented.
Selections at these joyful evenings include works by Gustav Holst, Amy Grant, John Rutter, Pentatonix, Nat King Cole, and more. Angel City Chorale is also proud to present the world premiere of "Feast of Snow" by gifted Los Angeles composer/former ACC choir member Philip White (Ray Donovan [Showtime], Agent Carter [ABC], Revolution [NBC], Supernatural [CW]). This will be the second time ACC premieres a work by White, who is a composer for film, television, interactive media, and the concert stage. The Los Angeles Master Chorale has also performed two of White's choral works, the last of which was a commission.
Angel City Chorale, conducted by Founder/Artistic Director Sue Fink, is a multitalented, multicultural group of 160+ men and women that truly reflects the spirit of Los Angeles, the city it calls home. Formed by Fink in 1993 at the world-famous McCabe's Guitar Shop with just 18 singers, the choir offers a diverse selection of musical material including Classical, Jazz, Folk, Gospel, Rhythm & Blues, and more. ACC performs two concerts seasonally, in spring and winter every year, to standing-room only crowds at the historic Wilshire United Methodist Church.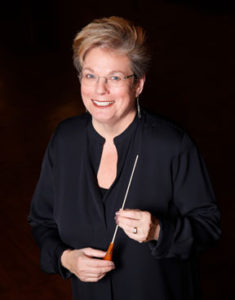 Sue Fink, ACC Founder, Artistic Director, & Conductor, brings a dynamic energy to Angel City Chorale that distinguishes it from other choral groups. She has worked with acclaimed composers including Morten Lauridsen and Christopher Tin. In 2016, she conducted the Royal Philharmonic Orchestra in London and the Mowbray Orchestra at the Harrogate International Festival in York, and recorded at famed Abbey Road Studios. Fink has also conducted in Ireland, South Africa, and many distinguished venues in the U.S. from the Walt Disney Concert Hall in Los Angeles to Carnegie Hall in New York.
The choir was featured throughout Grammy-winning composer Christopher Tin's 2014 album, The Drop That Contained the Sea. ACC's  version of "Africa," the 1982 hit song by the band Toto, also went viral on YouTube in 2016, with over 3,500,000 views to date.
Wilshire United Methodist Church is located at 4350 Wilshire Blvd., Los Angeles, CA 90010 (between Highland Ave. and Crenshaw Blvd.; map). Free parking is available in the venue's small parking lot and on neighborhood streets. Early arrival is strongly encouraged.
For more information on the church, which is not affiliated with any denomination, please visit www.ewilshireumc.org.
Photo Credits:
• Angel City Chorale in concert 2015. Photo credit: Mel Stave.
• ACC's Jennifer Childress. Photo credit: Moloshok Photography, Inc.
• ACC's Founder, Conductor & Artistic Director Sue Fink. Photo credit: Moloshok Photography, Inc.