Dining in Honolulu, Hawaii including the fabulous Hawaii Food and Wine Festival- November 2016

Besides the fabulous Hawaii Food and Wine Festival which I highly recommend, here are some other great options for dining during your next visit to Honolulu, Hawaii.   You can see more on the Hawaii Food and Wine Festival on our festival page or go to.  The Urban Luau was a cool setting with about a dozen chefs providing samples of a variety of dishes.  It was simple and a fun first event to attend.
The Hungry Monkey was a notch above featuring 13 chefs, fantastic cocktails and tastier samples.  It was a very enjoyable night with delicious food and ambiance at the Modern Honlulu Hotel.  The event featured upstairs and downstairs in the outdoor pool area overlooking the ocean with the food stations split up in between popular Mixologists.  They were serving a variety of drinks from rum, vodka and a special whiskey bar.  A fabulous time overall meeting celebrity chefs Roy Yamaguchi and Alan Wong among others.
Our favorite event was the Culinary flight of 20 top celebrity chefs and 20 top winemakers in this beautiful roof top setting of the Hawaii Convention Center.  From lobster, shrimp and other popular seafood and land dishes to a mix of fantastic wines, this was overall the best in my opinion.  Great views and a beautiful cool breeze on the beautiful night with great people watching with a huge crowd.
On Sunday, we headed to the Outrigger Reef Waikiki Beach Resort for the Battle of the Brunch.  A fun event where guests got to vote for their best dish by dropping tickets in their favorite chefs bowls.  Smaller samples and a more low key setting outdoor at their pool.  Fun drinks and a nice atmosphere to finish off our festival.
www.hawaiifoodandwinefestival.com
ROYS
Upon being seated, you are welcome by your server with a nice bowl of Edemame.  Photos above.
Roys is one of those restaurants you have to visit when you come to Hawaii. With locations in all the islands we visited the Oahu location this time. The staff was friendly and the atmosphere was beautiful, you get the real Hawaiian feel with a fabulous island experience.
Start with the Ahi Poke with avocado served on a Martini glass. The sushi/sashimi is off the charts and not to be missed. The salad with fresh Hawaiian tomatoes and cheese was very light is also recommended.
For entries the Miso Lays butterfish is their signature fish along with Opakapaka, make sure to save some room for dessert and order them thirty minutes in advance.
The Upside down Pineapple cake and chocolate souffle
The Joy of Roy's. Roy's Restaurant features the very best in Hawaiian Fusion food. One other staff of mine Mitchell Scott had dinner at the Roy's Ko Olina,  which is set on a golf course and located down the street from the brand new Four Seasons Resort and the Disney Resort. Roy's Ko Olina is beautifully appointed and the staff is wonderful, perfect for families or a romantic dinner.

Begin with one of their signature cocktails like Roy's Island Mai Tai. For starters we shared one of my favorite Roy's signature dishes Smoked Mongolian Spiced Baby Ribs, along with the Roasted Organic Beets Salad. Part of the menu classic never changing signature dishes but there are also ever changing new additions and from here we chose the Ahi Wantons, fresh chopped Ahi Tuna seasoned on six crisp wonton's, perfect for sharing. Our party of five had two children and It's the small touches that makes Roy's a cut above the rest, such as bringing each child a complimentary Cheese Quesadilla within a few minutes of arriving.

We all know kids get cranky when they are hungry, but only Roy's solves that problem. And yes they have a nice children's menu which features a complimentary ice cream cookie dessert as well. For our main dishes I love their Roy's Original Blackened Island Ahi. We also loved the Filet Mignon along with the Classic Duet, featuring Macadamia Nut Crusted Mekajiki and Misoyaki Marinated Butterfish. The fish and sushi choices are outstanding with many local caught fish added and changing all the time. A few months earlier when i was here I had the special of the day which was a local caught island fish prepared in a coconut curry sauce that was out of this world. There is also on the menu lamb, short ribs, a vegan dish and a large variety of choices to satisfy everyone.

The food is spectacular in it both its presentation and taste. Save room for dessert the Roy's Melting Hot Chocolate Souffle served with ice cream is great. Like fresh Hawaiian Lava it has a hard crusted chocolate cake on the outside soft chocolate on inside. There is also a great Pineapple Upside Down Cake A La Mode, bread pudding and other desserts. With their wonderful aloha spirit I hope you find your way to Roy's Ko Olina location soon. go to  www.royshawaii.com  to learn more.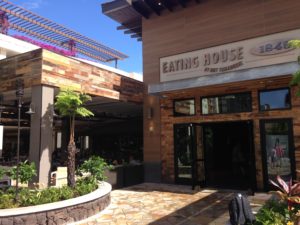 The Eating House 1849 opened about 3 months ago when the International Market Place opened in downtown Waikiki.  This new establishment by Roy Yamaguchi has a great indoor and outdoor dining area for lunch or dinner on the top floor.  For starters, we had the steamed clams in a soup-like delicious red sauce and the healthy kale salad.  For our main courses, we had the large plump prawns in a spicy garlic sauce as well as the mixed fresh seafood poke, the best we had on the island.  The staff and service were very good and we thoroughly enjoyed the atmosphere and superb lunch.
There is another Eating House opening up in Ohau in the next week we were told in another area of the Island to keep an eye out for.    http://www.eatinghouse1849.com/
Alan Wongs restaurant has been a staple and recognized as one of the best dining experiences on the Island for quite some time.  We can see why as the food and top notch service are fantastic. As you enter the building, you take the elevator to the 3rd floor where you enter to indulge your incredible meal.   Alan Wongs has won so many dining awards and this place is not to miss.  Trust me. Start with the Seafood cakes loaded with lobster and shrimp along with the fresh ahi poke with avocado for appetizers that blend to perfection in your mouth.
For entrees, you can't go wrong but the fresh Opah or the shrimp and clam linguine with black bean sauce are out of this world.  If you are in the mood for meats, the macadamia nut/coconut crusted lamp chops or the twice cooked soy braised short ribs are the way to go.  Enjoy one of their great wines or pineapple infused vodka to enhance your meal.
More at http://www.alanwongs.com/alan-wong%E2%80%99s-honolulu
The Seafood Village restaurant in Waikiki offers up the best Chinese food you will have.
This establishment looks a bit modest when you walk in but don't let that fool you as the live lobster and crab tanks showcase the fresh shellfish.  Everyday they have dim sum which was out of this world.  The selection was diverse.  Favorites were the shrimp and seafood dumplings.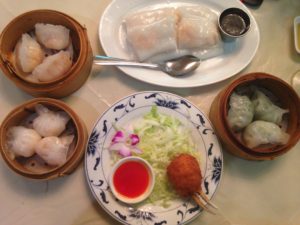 The lobster was cooked to perfection in a garlic and butter sauce.    The Seafood pan fried noodles accompanied all the dishes.  Do not miss the Peking duck prepared and served table side with green onions, plum sauce and buns.
The service was great and everyone was very friendly coming around to make sure your meal was fine.  There may be many other Chinese restaurants but Seafood Village was authentic and we highly recommend it.
http://www.seafoodvillagehawaii.com/
HARD ROCK CAFÉ
This place is based in Waikiki, this casual chain offers a big selection of drinks and comfortable dining. It also faces one of the main streets of Waikiki while you can enjoy a great steak or a salad.
We had a Cowboy Steak and Fish Tacos.
They offer some signature cocktails with take home glasses. Big bear selection and light music at night. This high energy vibe rock and roll theme establishment creates a nice dining experience.
http://www.hardrock.com/cafes/honolulu/
ROCKAHULA SHOW
You enter your Rockahula experience choose from an outdoor style luau or inside VIP sit down dinner. The VIP start with walking on the red carpet and enjoying appetizers and Mai Tai cocktails. From there you head to the main show room and start with your sit down dinner.
The stage side VIP starts with a cold main lobster salad, for entries you get both the Tenderloin Steak and Salmon dinner with a side of vegetables and truffle mash potatoes.
Enjoy two premium drinks as well as dessert. After your forth court meal finishes a fantastic show starts. A tribute show was a combination of Elvis, Michael Jackson and Celine Dion performing with a live band.  The sing some Hawaiian songs and some of their classic hits, impersonations are implacable and the show was very entertaining.
Traditional dancers and topical outfits and a lighting special effects make this show a must see. Anywhere from Hula dancing to acrobatic moves. After the show you can meet the cast for pictures, everyone is very friendly.
If you are not interested on a VIP ticket you can always sit on a higher up area to enjoy the show which is still a great option.   http://www.rockahulahawaii.com/
The Kahala Hotel & Resort
This place is located on a beautiful area with sand and ocean almost of exclusive use for their visitors. We had their incredible buffet breakfast which included made to order omelets, fresh fruit and their signature thin pancakes and cinnamon buns among other delights.
You dine with the open doors facing the ocean. They have an award winning on Sundays upstairs.Take a swim in the beautiful ocean on a big floating raft, and also enjoy their kayaking rides.The Cabana gives you a personalized area to spoil yourself, they are located by the beach so you will have a comfortable place with a little of shade. We would definitely recommend this place.   https://www.kahalaresort.com/
Dukes may have been the highlight dining experience of our whole trip. Their sister restaurant The Hula Grill is right above Dukes.  Let's start with the location right on the beach in Waikiki, this indoor/outdoor chain offered up as good of fresh seafood as we had anywhere else. We came on a Sunday afternoon and got a seat on the patio rail to overlook the outdoor concert from 4-6  by famous Henry Campano.   While it got a bit crazy and crowded as it is standing room only down there, we had the best seat in the house also over-looking the beach and sunset.
We started with their awesome ahi poke tacos.  Try one of their cocktails consisting of their famous mai tais, endless summer vodka drinks or the blended lava flow with a rum floater.  We then headed to their extravagant salad bar (only a ridiculously low $4 extra with your entree). That can be a meal by itself.
We loved our main courses and went with all the fresh fish choices. They have special preparations for their various fresh catches each day.   The Mahi Mahi, Opah and Monchong were all fantastic and served with either jasmine or black rice and green beans or other veggies. Our server Cal was excellent and informative with the menu.
Overall, Dukes has it all.  Great view, live music (every night but Sundays is more of a bigger concert type), fun atmosphere, great service and best of all, incredible food.  http://www.dukeswaikiki.com/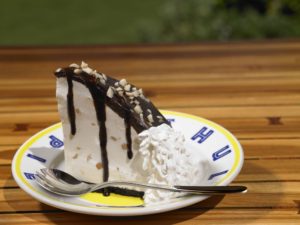 The Hula Pie available at both Dukes and The Hula Grill is not to miss
HULA GRILL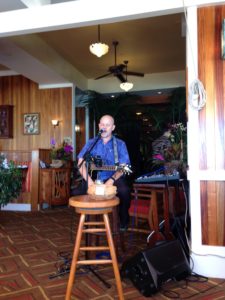 This was one of our favorite dining experience if you go for breakfast or lunch do not missed the banana macadamia nut pancakes. Try some of their coconut sirup besides the maple as they are both delicious. The side bowl is another specialty of fruits and homemade granola.
We also highly suggest coming for dinner and sit on the outside patio to enjoy the sunset beach view while you enjoy some of the fresh in the island.The fish selection varies from day to day depending on the day, some of them are like Mahi Mahi, Monchong, and the Hawaiian sore fish.
Start with a salad or some Ahi Sashimi which is some of the best in the island. They also bring daily farm vegetables. Grilled zucchini and maui onion were some of the best sides dishes.
They have many preparation for the fish but you can change to your preference, don't miss their signature moon shine pineapple cocktail or famous Mai Tai while you enjoy the view and dining experience.
Our server Valerie was supper and the manager Christina was very hospitable. This place is not to miss, they also have the happy hour and live music in the bar and they are open all day.
This is one of the most authentic Hawaiian experience and the feel you will get from any other place in the island.   http://www.hulagrillwaikiki.com/