Chicken or the Egg recently open in Playa Vista for breakfast, lunch- November 2016
Just recently opened, yes you guessed it, they specialize in egg and chicken dishes.  The cheesy eggs were delicious over the english muffin and side of tator tots and bacon for my daughter.  The adult version is a bit more fancy with other ingredients.  The chicken salad sandwich was tasty but the portion could be a bit bigger. The bucket of fried chicken and a side of sweet potato fries was very good if you don't mind the calories.  The cooked brussel sprouts were sweet.  Very clean atmosphere indoor and outdoor. The staff was friendly.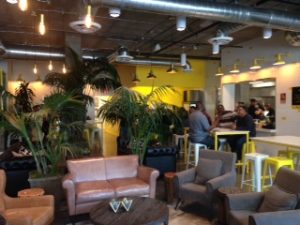 We really liked the drinks where you had a nice variety of juices, lemonade and milks to help yourself.   They are open for breakfast and lunch every day but only till 4 or 5pm depending on which day.  Check it out next time you are in the area.  The concept is easy as you order when you walk in and then find a seat. The staff brings you the food.  They even have a section with comfy chairs and couches.