German "Just Spices" Travels to the USA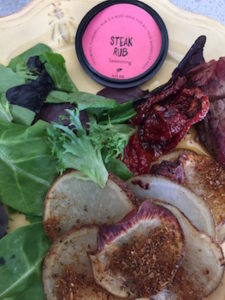 There was a window of time when buying spices between purchasing fresh spices and spices "in a bottle" was such a matter of simply buying a "rack of ten" for a kitchen cupboard.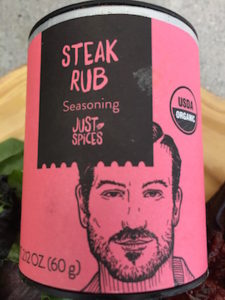 These days Germany-based Just Spices brings a new approach to American shores with 20 organic spice blends and two everyday essentials, available exclusively through its website, www.justspices.com.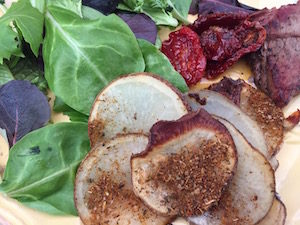 Rubs are a part of the essentials.  The first spice in the set featured the Original Steak Rub.  We loved it on ribeye steak and also sprinkled on thinly sliced, toasted Idaho potatoes.
It contains only organic, natural ingredients.  It is meant to infuse the famous Teas flavor and charred crust on meats whether it is beef or pork or lamb.  Brown cane sugar accounts for the crust; lemon peel accounts for an elusive but definitely intriguing flavor, and natural smoke makes it taste as though it is just off the fire.  The combination also includes  black pepper,  paprika, garlic salt, natural smoke flavor, onion, crushed pink pepper, oregano, earthy cumin, a bold mustard with a bite.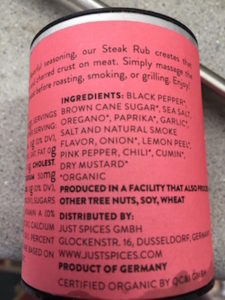 Seafood Rub packs in the flavor of fish and shrimp dishes with intense citrus flavors, crushed chili pepper, and fragrant fennel seeds.
The classic Pork Rub was created for baby back ribs or pulled pork, balancing the subtle sweetness of the brown sugar and the sharpness of the spicy cayenne pepper.
Fourth and last, we have a true classic, our Hickory Rub, which is responsible for creating that perfect smoky flavor. Smoked salt and sharp black tellicherry pepper make it really savory so we countered it with zesty orange peel, exotic cardamom, and warm brown sugar. The Hickory Rub is designed for making smoked salmon or turkey and anything else you're inspired to smoke  For the Love of Rubs, $26.99
Just Spices has impressive sales across Europe since its founding in 2012, when university friends Florian Falk, Ole Strohschnieder and Bela Seebach realized that there was a significant need for authentic spices with nothing else added. The trio traveled the world, visiting home chefs everywhere and cooking local dishes with them. Many Just Spices labels feature illustrations of the real people that inspired the products.
Plain wrap, no-nonsense labels wrap around the stackable, opaque canisters, which  protect spices from the sun, complemented by aroma-tight and recyclable paperboard and aluminum-lined packaging that maximizes freshness.
Sourced from around the world, all Just Spices products are certified USDA organic, with no flavor enhancers, each a standard 100 milliliters (between .88 to 3.17 oz. in weight) and ranging from $5.99-$7.9  Detailed information on the flavor profile of each blend can be found on the website.
In Europe, after four years in business, Just Spices today offers close to 120 spices and around 100 unique house blends, and ships to more than 30 European countries, with a growing retail presence and a strong social media following. Now, Just Spices is finally coming to the U.S. with the vision to transform how customers "on this side of the pond" feel about spices as well.
Just Spices' U.S. portfolio offers a diverse selection of spices – including options for sweet breakfasts and savory dinners, blends for meat lovers, vegetarians and omnivores alike. The initial 20 U.S. house blends comprise BBQ Popcorn Seasoning, BBQ Seasoning, Extra Spicy Seasoning, Flavors of Italy Seasoning, Flavors of Mexico Seasoning, Guacamole Seasoning, Hickory Rub, Oatmeal Spice Blend, Pancake Blend, Pizza Seasoning, Pork Rub, Savory Eggs Blend, Seafood Rub, Smoothie Boost, Spicy Garlic Blend, Spicy Popcorn Seasoning, Steak Rub, Sweet Potato Seasoning, Texas BBQ Dip Seasoning, and Vegetable Broth Seasoning. In addition, Just Spices makes the ordinary extraordinary, offering salt and pepper – the two essentials that no kitchen can do without – with a twist: Murray River Salt, lovely pink flakes from Australia with a mild flavor, and crushed Tellicherry Pepper, a slight nutty variety sourced directly from India's Malabar Coast.
Just Spices is headquartered in Dusseldorf, Germany, with newly opened offices in Los Angeles. For more information, please visit the website: www.justspices.com. Follow on Facebook, Instagram and Pinterest. Keep on Spicin'…