Doma Kitchen in Marina del Rey delicious European Fusion Restaurant- February 2017
DOMA KITCHEN
Written by Lisa Rosas
Doma Kitchen in Marina Del Rey has been opened less than a year and the word is getting around.  As they are becoming more popular.
It is a mix of world flavors with middle eastern and eastern european influences.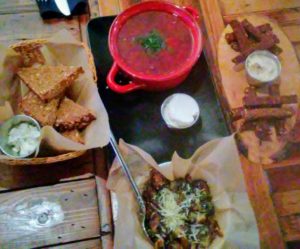 The owner Angie is Russian so there are some known dishes from Russia on the menu.  Such as, the borscht beets and cabbage soup and the chicken kiev.  We tried both of these dishes and truly enjoyed them!  We also tried the charred brussel sprouts which were delicious. You can start with the crunchy Bulgarian garlic bread which was very tasty.  Some other specialties are the variety of dumplings, lamb stroganoff and cheese & meat sharing boards.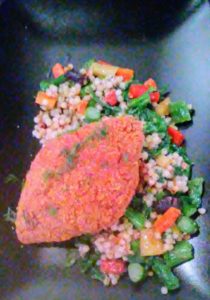 The menu consists of a variety of salads, some small plates, pastas and seafood.
We had the delight of trying the dessert.  Don't miss the eight layer Russian honey cake and the cake in a jar: consisting of chocolate cake, whip cream, strawberries and blueberries.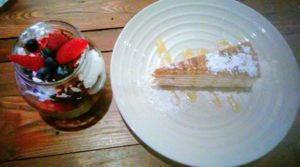 They are also open for breakfast and lunch serving a variety of eggs, waffles, euro-tacos, burgers, sandwiches and other entree choices.   Below is the meatball sandwhich and sweet potato fries.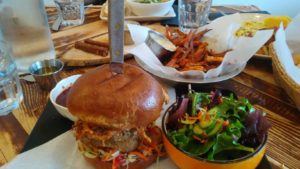 The casual setting with an open kitchen gives a feeling of warmth and comfort.
We have not found any other places like this in Los Angeles.
The mix of foods & cultures and friendly staff make this a unique spot.
It is a must visit! They also do to go orders and catering.
There was also unique art and stuffed animals which gave it a fun and inspiring setting within the two rooms.   Even some music on certain nights.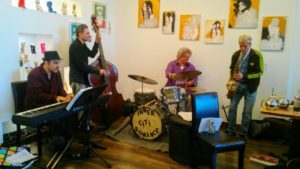 Doma
Kitchen is located in the Villa Marina Shopping Center.
Open everyday but
Monday
.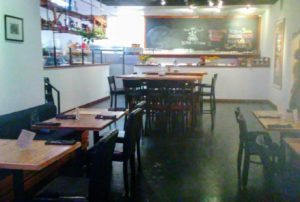 4325 Glencoe Ave.  #8
Marina Del Rey