Gamble House Offering Four 'Family' Tours Series Summer 2017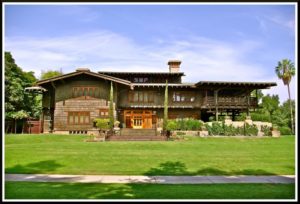 For a limited time only, the Southern California historical gem,  Gamble House, in Pasadena will be offering four 'Family' Tours geared towards younger guests, ages 5-16.  'Family' Tours.  The tour coincides with the PBS special that will be aired this season.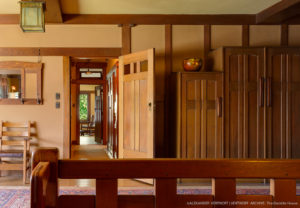 The tours will take place on July 9, 16, 23, 30 at 11:00 a.m. and last 60 minutes.    Children 16 and under are free.  Advance reservations strongly recommended, space is limited.
A trained, former junior docent (now an 11th grader) will lead younger guests on a 60-minute tour of the Gamble House using visual learning aids and a "find and seek" handout to capture the attention of younger guests as they explore the exquisite architecture and craftsmanship of Greene & Greene.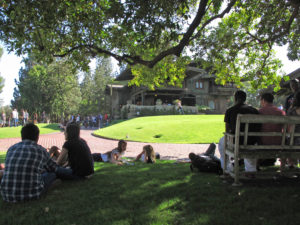 At the conclusion of the tour, families may show their tour stickers at the Gamble House bookstore to receive a copy of Greene & Greene for Kids for the discounted price of $4.
Molly Schwartz, a former junior docent who will be beginning her senior year at La Canada Flintridge Prep in the fall, will be leading these special 'Family' Tours this summer. A graduate of the Gamble House Junior Docent program, Molly was interested in returning to the Gamble House in some volunteer capacity and the timing was perfect for her to step in and help launch this series of tours geared towards younger guests, ages 5-16.

Parents may elect to join a regular Docent-led Tour while children take the Family Tour
(except those who bring children under 8)
Family Tours – Adults $15; seniors (65+) $12.50; FoGH Members – FREE
More info:  http://gamblehouse.org/family-tours/

About the Gamble House Junior Docent Program:
Since 2007 the Gamble House has The Gamble House Junior Docent program partners with the Pasadena Education Foundation's "My Masterpieces" program. The Junior Docent Program trains 7th and 8th grade students to conduct tours for elementary school classes that visit the House.
The Gamble House has much to offer students of all ages. Learning about this important house helps them to gain a sense of pride in their community and themselves, and helps them realize the importance of preserving its rich heritage. Conducting house tours for younger visitors gives these junior docents confidence in themselves and promotes quick thinking and self-assurance.
WHAT:  'Upstairs Downstairs' Tours
July 27 – August 13, 2017 – 90 minutes
Thursdays-Saturdays on the hour from 11:00 a.m. – 2:00 p.m., and Sundays on the hour from 12-noon – 3:00 p.m.

This summer the Gamble House will once again open its servants' quarters for exclusive "Upstairs Downstairs" tours. Visitors to the Gamble House from July 27th through August 13th will be able to compare the living quarters of the Gamble family with those "in service." New information recently emerged about the Gamble family and their servants allows us to share more of the personal history of those who lived and worked at 4 Westmoreland Place. Come learn how the Gamble family and their staff lived in and maintained an architectural masterpiece of the early 20th century!
– Visit the original laundry and coal rooms in the basement.
– The surprisingly light and accommodating servants' bedrooms.
– Learn about the multi-ethnic staff that helped make the Gambles' lives in Pasadena more comfortable.
– Tour the public spaces and family rooms that make the classic 1-hour tour so popular. This includes the meticulous craftsmanship of Greene and Greene furniture, the specially-designed leaded art glass light fixtures, and the unique architectural features designed by the Greene's exclusively for the Gamble family.
Upstairs Downstairs Tours – Adults: $20, Children under 12: FREE
More info:  http://gamblehouse.org/upstairs-downstairs/
The Gamble House in Pasadena, California, is an outstanding example and the most complete and best-preserved work of American Arts and Crafts style architecture. The house and furnishings were designed by architects Charles and Henry Greene in 1908 for David and Mary Gamble of the Procter & Gamble Company. Designated as a National Historic Landmark in 1978, the Gamble House is owned by the City of Pasadena and operated by the University of Southern California, and continues to inspire the public's appreciation and understanding of fine historic architecture.

WHERE:  The Gamble House, 4 Westmoreland Place, Pasadena, CA 91103

TICKETS/INFORMATION: Call 626-793-3334; or visit www.GambleHouse.org for more information on the limited 'Family' and 'Upstairs Downstairs' Tours and all of the other tours offered at The Gamble House. Children under 8 must be accompanied by a parent or guardian; and no food, drinks, pets or strollers are permitted on tours.