Marcelo Álvarez, tenor An Evening of Tango at The Broad Stage With Tango Spleen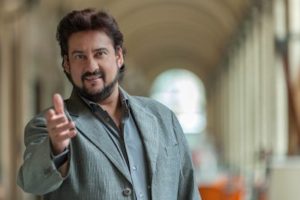 The Eli and Edythe Broad Stage in Santa Monica presents world-renowned Argentinian tenor Marcelo Álvarez: An Evening of Tango at The Broad Stage with the six-piece ensemble Tango Spleen on Wednesday, July 5 at 7:30pm.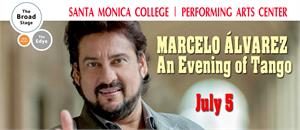 In this unique concert honoring Argentina's greatest tango composers, including Carlos Gardel, Álvarez will showcase his deep versatility performing an exciting selection of tangos.
The New York Times calls Álvarez "one of the Met's most prized tenors … [his voice] has a virile beauty of uncanny power and depth."
Marcelo Álvarez: An Evening of Tango at The Broad Stage is part of The Celebrity Opera Series and is supported by a generous gift from Lloyd E. Rigler – Lawrence E. Deutsch Foundation. The Foundation continues to make contributions to strengthen the concert series at The Broad Stage and enrich the cultural life of Los Angeles.
Marcelo Álvarez is internationally recognized as one of the most important tenors of this era and has been acclaimed at virtually all the great opera houses of the world.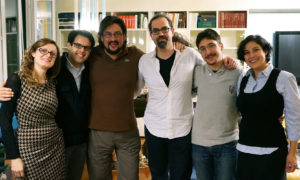 Álvarez's engagements for the current season included Cavaradossi in Tosca at the Paris Opera and Festspielhaus Baden-Baden, Des Grieux in Manon Lescaut and Don José in Carmen at the Metropolitan Opera, Riccardo in Un Ballo in Maschera at the Zürich Opera House, Radamès in Aida at Chorégies d'Orange, and concerts in St. Petersburg and Moscow. Future engagements include Manrico in Il Trovatore at the Vienna State Opera, Calaf in Turandot and Cavaradossi at the Metropolitan Opera, and Riccardo and Manrico at the Paris Opera.
After making his European debut with the Teatro La Fenice in La Sonnambula in 1995, Álvarez established his international reputation in lyric roles such as Werther, Romeo, Faust, Edgardo in Lucia di Lammermoor, Alfredo in La Traviata, the Duca in Rigoletto and Rodolfo in La Boheme. In 2005, Álvarez sang his first Gustavo in Un Ballo in Maschera at the Royal Opera House, Covent Garden. In 2006, he debuted as Cavaradossi in Tosca, also at Covent Garden, as well as Manrico in Il Trovatore at the Teatro Regio in Parma. He sang his first Don Jose in Carmen in Toulouse in 2007 and his first Maurzio in Adriana Lecouvreur in Turin in 2009. That year also included his debut in the title role in Andrea Chenier in Paris, followed by his first Radames in Aida, again for the Royal Opera, later repeating the role at the Metropolitan Opera.
The Broad Stage presents an impressive roster of renowned classical artists and world-class opera singers with the underwriting support of The Lloyd E. Rigler-Lawrence E. Deutsch Foundation established in 1953. The Foundation is one of the nation's most prominent and influential arts philanthropies.
Tickets are on sale at www.thebroadstage.org or by calling 310-434-3200.
Born in Cordoba, Argentina, Álvarez first began to study classical music in his twenties, having already established himself as a successful businessman. Making the decision to pursue a career in opera, Álvarez sold his business, left Argentina and arrived in Italy in 1995.
Within a month of his arrival in Europe, his calendar was already filled with offers for the next two years. Within that short span of time, Álvarez rose to international prominence. He sang his first performances of the Duca in Rigoletto at the Teatro Giuseppe Verdi in Trieste, and he made his French stage debut in Toulouse in June of 1997 and his Arena di Verona Debut in August 1997 in the same role. Álvarez was also heard as Alfredo in La Traviata at the Hamburg State Opera, the Teatro Carlo Felice in Genoa, and the Teatro La Fenice in Venice, and he made his Spanish debut as Tonio in La Fille du Regiment in Bilbao.
The Tango Spleen ensemble based in northern Italy, created and directed by the Argentinian musician Mariano Speranza, is renowned as one of the most acclaimed tango orchestras," performing regularly in Europe, Asia and Argentina.
Due to the character and the versatility, Tango Spleen has embarked on significant collaborations within many other musical genres. In 2014, the Tango Spleen Orquesta shared the stage with the famous tenor Marcelo Álvarez in the show "Tango Álvarez" in Moscow. In 2013, Tango Spleen collaborated with Bernardo Lanzetti and in 2015 Tango Spleen performed with the Uruguayan singer songwriter Malena Muyala during her European tour.
Tango Spleen is internationally-recognized on the world Tango scene including the Festival Nacional de Tango de La Falda in Argentina. They are regularly invited as the principal orchestra in international tango festivals, such as Torino Tango Festival (Italy), Trieste Tango Festival (Italy), Montpellier Tango Festival (France), Tarbes en Tango Festival (France), Tango Rio Festival (Russia), Tango d'Amore (Ukraine), Monte-Carlo Tango Festival (Monaco), Bielefeld Tango Festival (Germany), Misterio Tango Festival Europa (France), Innsbruck Tango Festival (Austria), Blackpool Tango Festival (UK), Tango Especial (Netherlands) and many others.
Tango Spleen has released three albums: "Canto para seguir" in 2015 "un amalgamiento musical y instrumental realmente magnifico" (Radio La 2×4 Buenos Aires), "Típico" for Abeat Records in 2011, "Tango Spleen" in 2010 which contains the original piece "Milonga Schupi" winner of the national competition "Suoni Senza Confini" in 2010, promoted by Fondazione Pubblicità Progresso, under the high patronage of the Presidency of Italian Republic.
Marcelo Álvarez, An Evening of Tango, The Broad Stage, 1310 11th St. Santa Monica CA 90401. Parking is free. For details, please check www.thebroadstage.org,  Box Office at 310.434.3200