IL BOOM: The lost comedy by legendary Vittorio De Sica
Rialto Pictures presents Vittorio De Sica's 1963 comedy IL BOOM, never before released in the US, at the Ahrya Fine Arts in Beverly Hills and Laemmle's Playhouse.  (www.laemmle.com/theaters/25) Film Website: http://www.rialtopictures.com/catalogue/il-boom
The film will  IL BOOM will have a one week-only engagement from July 21-27, 2017  at the Ahrya Fine Arts by Laemmle, 8556 Wilshire Blvd., Beverly Hills, 310-478-3836
IL BOOM long remained one of the most undervalued of all the films to emerge from director Vittorio De Sica's long and fruitful collaboration with screenwriter Cesare Zavattini, that include the landmark neo-realist films Shoeshine, Bicycle Thieves and Umberto D. Other De Sica films as director include Two Women, Gold of Naples, and The Garden of the Finzi-Continis.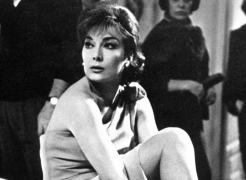 Forgive me the editorial, but I guarantee you that Vittorio De Sica is one director whose pictures will  astonish you, will make you laugh or cry, and will always make you think… long after you have seen a film of his.   De Sica directed Sophia Loren in the Academy-Awarding performance in  Two Women. The Garden of the Finzi-Continis still brings tears after the fifth viewing for me.  I almost can't watch Bicycle Thieves and I am a toughie.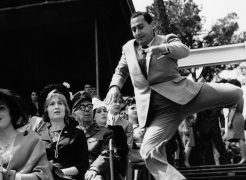 This one is just plain fun — and shows Italy in the economic boom after WWII.  It's a socio-cultural lesson, too.
Italian film historian Enrico Giacovelli has re-evaluated IL BOOM as not only one of the duo's finest films but also as something of a minor masterpiece of the commedia all'italiana, that particularly mordant form of film comedy that arose in Italy in the late 1950s as a reflection upon the profound moral dilemmas and social contradictions brought about by the so-called Italian "boom" or "economic miracle."
In IL BOOM, Giovanni Alberti (Alberto Sordi), a mid-level executive during the economic boom following World War II, goes to absurd lengths to maintain his wife Silvia's (Gianna Maria Canale) standard of living.
When Signora Bausetti (Elena Nicolai), the wife of a wealthy industrialist, makes him an offer that would wipe out all of his debts, Giovanni is faced with a dilemma that is literally "eye-popping."
Watch the trailer here:
http://www.rialtopictures.com/trailers#