Visiting Catalina, Lodging at the Avalon Hotel, Dining Tips, Attractions- July 2017
Looking for a great destination not far from Los Angeles? Catalina Island is the place. Take the Catalina Express as it took a tiny bit more than one hour from Long Beach to get to Avalon. https://www.catalinaexpress.com/ For a more adventurous way to get there or back, try the helicopter as it takes only 15 minutes and what a spectacular view and fun way. I suggest going one way on the boat and one way on the helicopter. www.IslandExpress.com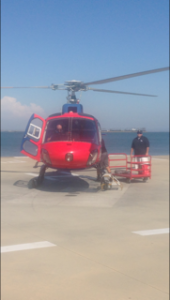 Lodging:
We then went to check in at the Avalon Hotel. This place was a short 5 minute walk from downtown Avalon located on Whitley St up a little hill. The staff was extremely welcoming and helpful. They provided many suggestions, tips and assistance as Laurie, the concierge, couldn't have been nicer. The room was very nice and had a beautiful view of the water and boats. My little daughters loved the outdoor patio and feeding the koi fish. The same location where we had our complimentary morning breakfast from hard boiled eggs, bagels, fruits, juices and the best granola I have ever had. I inquired where it was from and one company makes it just for this hotel. They had snacks in the lobby anytime of the day and samples of their lotions and body butters in the room which we loved.
We would highly recommend the Avalon Hotel on your next visit as it was perfect. They also have a rooftop area to lounge with an even better view of the city. You can also rent it out with a nice bbq for parties.  http://www.theavalonhotel.com/welcome-to-the-avalon
Catalina is getting more popular for activities and we tried a few of them. The aerial adventure was challenging and worth the visit to try. They have 5 adventures and you can try them all if you want after you book a time. You get up to 2 hrs and it will tire you out. There are 2 beginner trails, 2 intermediate and 1 advanced. It is a combination of climbing, balancing, swinging and an incredible workout while being a bit nerve-wracking even though you are harnessed in and completely safe.  
https://www.visitcatalinaisland.com/activities-adventures/land/catalina-aerial-adventure
In the same area, they have a rock climbing wall (my daughters went up) and huge zip line where we kept hearing people screaming from in excitement.  https://www.visitcatalinaisland.com/activities-adventures/land/rock-climbing-wall
From there, we went to the Undersea Expedition off the green pier. You head down below like a submarine and cruise around lovers beach seeing many of the beautiful fish including the bright orange girabaldi. This was a fun and relaxing adventure.    https://www.visitcatalinaisland.com/activities-adventures/boating/undersea-expedition
Our favorite attraction was the kayak tour to frog rock. This 2 hour tour was very professional and fun. Our guide was fantastic and my daughters and I shared a double kayak. It was a great workout while learning about Catalina from our tour guide and seeing some of the sights. We had about 25 minutes to swim and relax right past frog rock on the beach before heading back to Avalon. It was a beautiful sunny day and a great afternoon as I highly recommend this tour. www.KayakCatalinaIsland.com
Dining Tips
Once we arrived, we were hungry so we visited Ben's Bakery for lunch. Very casual inside a mall like space, it was tasty and quick. They have sandwiches, breakfast items, salads and smoothies. https://www.visitcatalinaisland.com/dining-nightlife/avalon/bens-bakery
The Bluewater Grill was outstanding.
Located in the heart of downtown on the waterfront, your view is incredible while you enjoy great service and delicious food. Start with the grilled artichoke, crab cakes, clam chowder and steamed clams. All excellent. For entrees, we tried the sauteed sanddabs and the Alaskan King Crab) as you cannot go wrong. The staff and service were great and the meal was fantastic. Enjoy one of their signature drinks or glasses of wine to enhance your experience.
https://www.bluewatergrill.com/locations/catalina-island
Our other favorite spot not to miss is Steve's Steakhouse and Seafood in downtown Avalon.
The owner Steve is the most hospitable and the whole experience and delicious food sets them apart. These places are not to miss. Just an incredible dining experience. Start with the pan fried tender calamari as well as the artichoke appetizer.
For entrees, the fresh sea bass and swordfish were so tasty and you cannot go wrong with the filet. Great signature drinks and wines to enhance the meal. Overall the decor, view of the water and casino, service and staff were top notch.   http://stevessteakhouseandseafood.com/
Maggies Blue Rose Mexican
The same owner as Steve's Steakhouse and located right downstairs, this Mexican cuisine was fantastic.  Freshly made tortillas, great drinks, fish tacos, grilled corn, chicken tortilla soup and the not to miss shrimp and watermelon salad served in a half watermelon.
Overall Delicious.  Great service and staff too. Also a great view of the water as it is across the street from the beach. http://maggiesbluerose.com/