MY FAVORITE YEAR (1982) 35th Anniversary Screening July 27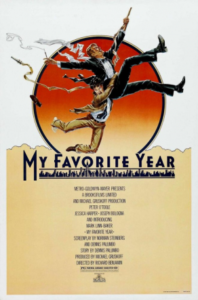 (Gerry Furth-Sides) Laemmle Theatres and the Anniversary Classics Series present a 35th anniversary screening of the popular comedy, MY FAVORITE YEAR, which earned Peter O' Toole his seventh Oscar nomination for Best Actor.
Q & A with Director Richard Benjamin and Co-star Lainie Kazan follows the film
It can be said about a lot of films, as it would with "My Favorite Year" that the plot is clever, the directing if flawless and the acting ensemble seamless.
Yet with this film, like "Tootsie," "Annie Hall" and even "On Golden Pond," AND the not available enough "The Money Pit" and "Mermaids" also directed by Richard Benjamin, the sum adds up to more than the parts.
And no matter how many times, or what part of the film I happen to turn on, I relish watching to the end as I know everyone else watching these films must do.  And this is after a baker's dozen number of viewings.
The year is 1954, and O'Toole plays an aging, dissolute movie star (a cross between John Barrymore and Errol Flynn) who creates havoc when he is hired as a guest star of a TV comedy series modeled on groundbreaking "Show of Shows."  Mark Linn-Baker plays a young writer on the show, assigned to watch Alain Swann for the week of rehearsals and get him in one piece and sober to the live show broadcast.
The extraordinary cast  features Joe Bologna (perfection for the Sid Caesar part), Lainie Kazan (as the young writer's mother – perhaps her best "mother" role to date because of Mr. Benjamin's direction), Bill Macy, Lou Jacobi, Cameron Mitchell and Jessica Harper, with Gloria Stuart in an unbilled cameo.
Norman Steinberg and Dennis Palumbo wrote the screenplay.
Writing in The Hollywood Reporter, Robert Osborne said, "Benjamin keeps everything rolling merrily from start to finish." Variety's Todd McCarthy declared, "MY FAVORITE YEAR provides a field day for a wonderful bunch of actors headed by Peter O'Toole in another rambunctious, stylish starring turn." Peter Rainer of the Los Angeles Herald-Examiner touted the film as "a comic triumph" and added, "It's as jam-packed with invention and eccentricity as a Preston Sturges romp."
After shining as an actor in 'Goodbye, Columbus,' (you only need to hear Mr. Benjamin's voice over narrating the story to start laughing), 'Diary of a Mad Housewife,' 'The Last of Sheila,' 'Westworld,' and 'The Sunshine Boys,'
Richard Benjamin made a successful transition to directing with "My Favorite Year."   He went on to direct such others as 'Racing with the Moon' with Sean Penn, Elizabeth McGovern, and Nicolas Cage, 'The Money Pit' with Tom Hanks, 'Little Nikita' with Sidney Poitier and River Phoenix, and 'Mermaids' with Cher and Winona Ryder.
Lainie Kazan has had a long career as a singer as well as an actress. Her feature films include 'One from the Heart,' 'Beaches,' and the smash hit comedy 'My Big Fat Greek Wedding.' She co-starred in the TV series 'The Paper Chase,' 'The Nanny,' and 'Desperate Housewives.' She was nominated for a Golden Globe for her performance in 'My Favorite Year,' and Newsweek's David Ansen wrote of her performance, "Lainie Kazan as Benjy's mother poses a serious threat to Shelley Winters in the funniest-Jewish-Mama sweepstakes."
My Favorite Year, Director Richard Benjamin, who made an impressive directorial debut had these memories when we asked him what it might be like doing a film about a TV show like this today.
"I always thought about the film, "My Favorite Year," as having the theme of the old versus the new rather than about making a movie about television.
The show in the film patterned after the Sid Caesar "Show of Shows" was live and was one of the first to do the long sketch comedy format on TV.   When the show had movie parodies on they were so close to the movie that it made it even funnier.   And Peter O' Toole's film actor character, an Errol Flynn type, was coming from film world where you had a second and third take if you didn't get it the first time
"When they sent me that script I loved it from the minute I read it I grew up with TV and I was familiar with it.  Being the first movie I directed,  I went to people I knew in the business for advice. I called (Carl) Reiner and he said, 'get funny people….'  He was right. There are funny people and there are not funny people.   And so we got funny people."
And, as Mr. Benjamin has so ably shown on screen "Goodbye Columbus") and in interviews , he himself is funny.  Funny people don't try to be funny… they are "just caught in the act…"  Regarding the "beautiful comedienne" description of his wife, Paula Prentiss,  Mr. Benjamin said, "it goes in straight and comes out of her mouth funny."
What Mr. Benjamin remembered about the Friday night dinner in "My Favorite Year" was not the scene at the dinner table. Neither was it the comical Lainie Kazan as the mother in her wedding gown to make an impression of the evening's importance to her.
However, he did toss out the hilarious throw-away line of our young hero after Kazan kept addressing the Peter O' Toole character as "Swanee" instead of Alan Swann  — "Mom he's an actor not a river."
Mr. Benjamin laughed, recalling  that "art imitated life" in the film's street scene outside for the dinner. In his words, "we were shooting in the street in Brooklyn with hired extras who were supposed to be calling out, 'Alan Swann! Alan Swann' when they spotted the celebrity in their midst.  But instead the actual residents saw celebrity Peter O'Toole and  they were yelling out , 'Peter O'Toole!'Lawrence! Lawrence!' "
That "My Favorite Year" was a film "about a pretty particular time in the history of entertainment," is clear and makes it apparent that we are in a much different one now,  said Mr. Benjamin.  "In our current era not so much necessarily as  "live TV," and reality televison in particular, it the amateur who has become the 'actor.'
"On the old interview shows, people who were not actors were more natural – you can tell by the big gestures, for example.   Today, Mr. Benjamin noted,  " What I'm seeing is that people now have such a knowledge of media.   I'm amazed at is how quickly people become performers. You can tell on the reality show that they are prodded to perform in a certain way. These people know that they have to make the half hour into some kind of conflict. This isn't limited to the performers on competitions.   Today you even see judges who seem to be told to perform in a way looks forced. And, Mr. Benjamin said almost in surprise, so many people (non-actors) have become comfortable being on reality television that they have made careers out of this stuff."
Royal Theatre, 11523 Santa Monica Blvd., Los Angeles CA 90025, 310-478-0401