Phoenix Arizona- Lodging Tips, Top Dining Spots, Attractions- August 2017
Phoenix, Arizona – A Desert Gem in Accomodations, Culinary Excellence and Culture written by Kelly Cowan and Todd Elliot

Renaissance Phoenix Downtown Hotel & Dust Cutter Restaurant
100 North 1st Street / Phoenix, Arizona  85004 
When staying in Downtown Phoenix, it's important to keep cool from the heat and to be able to enjoy an escape from the norm…in luxury.  The Renaissance Hotel in Downtown Phoenix provided just that.  From the valet, with misters to cool you off, to the eclectically-styled lobby…we felt right at home and relaxed.  The hotel staff made us feel welcome and was extremely helpful in advising us on great places to go for night life or local eateries.
The room was spacious and offered a VIP level of comfort, while offering some amazing views of the downtown and the pool downstairs.  Amenities also included a fully equipped fitness center, a 50,000 square foot indoor/outdoor space near the pool area, and Club Lounge (available for upgraded guests), which provided complimentary breakfast, snacks, and light dinners.  The Club Lounge also has computer stations set up to browse the web, check emails, print, or work on business items.
The restaurant on site, Dust Cutter, offers a unique blend of flavors in a Sonoran Desert theme, while concocting delicious cutting age drinks from seasoned mixologists.   There were so many delicious sandwiches and burgers to choose from.  We tried the Grilled Mary's Spicy Chicken Sandwich and the Fish Tacos…both were absolutely alive with unique savory flavor.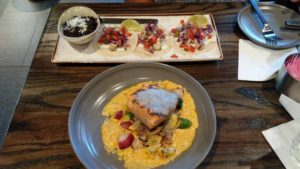 If you are adventurous…you will love the bold cocktail creations the bar comes up with, such as The Cutter (Four Roses Yellow Label bourbon, Ramazzotti amaro, Aperol, and lemon juice)…or the Don Quixote (Don Q Platino rum, Hamilton Demerara rum, Ancho Reyes, passion fruit syrup, basil leaf, and lime.
For reservations or additional information for your next stay in Phoenix, call 1-800-309-8138
http://www.marriott.com/hotels/travel/phxbd-renaissance-phoenix-downtown-hotel/
The Westin Kierland Resort & Spa & Deseo Restaurant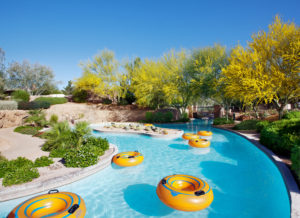 6902 E. Greenway Parkway
Scottsdale, AZ 85254
Just on the outskirts of Phoenix, the Scottsdale area has several amazing restaurants, bars, and of course…to keep cool from the heat…resorts!  One resort that has it all is the Westin Kierland Resort & Spa, a Five Star deluxe destination that provides VIP accommodations, award winning chefs, water park and lazy river, and professional caliber golf course.
The room was spacious and elegant in style and comfort, with a view of the Golf Course and Lake…with the mountains in the background.  Arriving late in the day, it was easy to get a good night's sleep on the world-renowned Heavenly Bed.  The following morning, after a nice breakfast at one of the local eateries, we took advantage of the pool area, which featured the FlowRider Wave Pool and the Lazy River.  Here is where we were able to catch some sun while staying cool, while sipping delicious pina coladas from the poolside bar.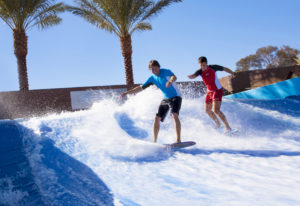 In the evening, we enjoyed one of the resorts incomparable restaurants, Deseo, for some contemporary Latin cuisine that single-handedly proved why Phoenix-Scottsdale is such a rich region for culinary excellence.  The first course began in the bar, where we sampled one of the more popular Bebidas (cocktails) the resort has to offer.  From the Muddle IT Up section of the drink menu, we tried the Berry Grande (Cruzan infused w/muddled strawberries, mint, lime, and house citrus syrup).  The mixology was well balanced for a nice smooth experience for the senses.
This was one of the best and unique hotel restaurants we have ever eaten at. Start with one of there popular ceviche appetizers such as the lobster with avocado, chives and garlic chips. They also have sopas, salads and other fabulous starters.
Once the Dining Room opened, we were escorted to our table which faced the golf course.  While dining, we were pleasantly surprised to hear the bagpipes being played just outside near the putting green.  This is a daily ritual that guests have the benefit of experience each evening as well as a Scotch Whiskey tasting.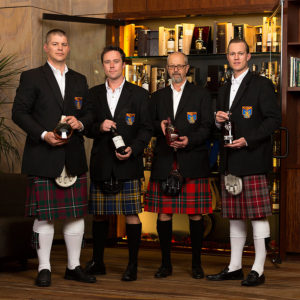 The main course was highlighted by the signature Arroz con Marisco (for two)—a great big bowl of market fresh fish (salmon), shrimp, scallops, mussels, clams, and Arroz Verde with one of the most amazing side dishes giant Peruvian Corn.  To compliment this incredible ode to the senses, we were served the most fresh and soft warmed rolls.  These rolls are baked with care and feature a very special proprietary blend of unique ingredients baked directly into the bread.  Amazing! Don't miss their signature chocolate dessert tray before you leave.

For reservations or additional information for your next stay in the Phoenix-Scottsdale area, call 1-800-354-5892
http://kierlandresort.com/fine-dining-at-scottsdale-restaurants/deseo-nuevo-latino-cuisine/
DINING:
The Gladly Restaurant
2201 E Camelback Road / Phoenix, AZ 85016 
Outside of the immediate Downtown Phoenix area is a sprawling landscape of culture and fine cuisine, unmatched by virtually any other desert community.  One such place is The Gladly—about a 15 minute drive North of Downtown.
Named one of Phoenix's best new restaurants the year it opened, The Gladly is the follow-up concept by the owners of critically acclaimed Citizen Public House.  Chef Bernie Kantak, who has received a nod from the James Beard house offers a menu featuring well-traveled comfort food among a stylish bar boasting a world-class craft beverage program and over 200 whiskies.
Upon entry to the restaurant, the staff held the door open and was very attentive through the entire experience…from the hostess to the wait staff as well.  Our particular waiter was very knowledgeable about the most minute details of every dish and cocktail on the menu.  We began our meal with a couple things from Sharebles section of the menu:  Roasted Brussel Sprouts (served with sweet corn grits) and the Burrata (a cheese with pistachio romesco verde, roasted tomatoes, and toasted country bread).  That was followed up with the Pan Seared Scallops (w/tender belly bacon, pea greens, and sweet corn grits).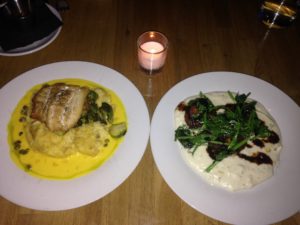 Other delicious items on the menu are the Short Rib Pot Roast, Duck Meatloaf, and the ever popular Chilean Crab Cakes.  Desserts include unique items such as Buttermilk Bread Pudding (w/roasted peach ice cream, bourbon & buttermilk caramel), Fudge Brownie (w/sesame ice cream and chocolate sauce), and Banana Nutella Jar (Banana Chip Streusel and Nutella shortbread).
Aside from the culinary expertise, The Gladly boasts some of the most interesting imbibing experiences, with just about every Whiskey, Scotch, or Bourbon you can think of.  We tried a Whiskey Sour added the Pressed ICE BALL.  With this, the waiter will actually come to the table and create the perfect Ice Ball for your drink by placing a block of ice in the Ice Ball press machine.  This proves to be quite entertaining…and…the ice ball itself works, drink after drink! 
For additional information, call 602-759-8132
La Piazza Restaurant
1 N. First Street / Phoenix, AZ 85004 
While staying in the downtown area, we had the pleasure of enjoying one of Phoenix's finest pizzerias for lunch…and within walking distance of our hotel.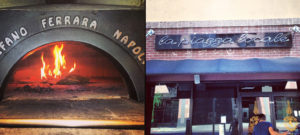 La Piazza PHX is a family owned Italian kitchen right in the heart of downtown.  They are Verace Pizza Napoletana certified (VPN).  The VPN Association is the only non-profit organization that safe guards and promises the culture of real artisan Neapolitan Pizza Worldwide.
Upon arrival, we walked past shaded and rustic café tables situated in the front to offer outside seating.  We opted to sit inside, which provided some unique music selections, which included several familiar cover tunes…in a flamenco style.  The menu features several delicious varieties of handmade pizza's to choose from.  We had the Italian Stallion, which was a combo of San Marzano Tomatoes, house-made mozzarella cheese, Schreiner's Sausage, pepperoni, Prosciutto di Parma (Cotto), and Sopressata.  If you love meat….wow!  You will love it.  We also tried the Bianca and the traditional Margherita…both made with fresh garlic, basil, and virgin olive oil.  The difference is the Bianca features house-made mozzarella, ricotta cheese, and Sicilian oregano.
Other menu items include Panino's (sandwiches w/house-made bread), fresh Insalate's (salads), Antipasti's (appetizers), Cene (pasta entrees), and Dolci (sweets)…such as Cannoli and Tiramisu.
For additional information, call 602.795.7116
http://www.lapiazzaphx.com/index.html#about
For Breakfast, we suggest 2 great places in Phoenix. The first is called Snooze AM Eatery. They offer a wide selection of egg dishes, benedicts, pancakes and healthy options such as the egg white frittata. Try their chai tea or coffee options to enhance your meal. The atmosphere was very relaxed with a friendly staff and great service. http://snoozeeatery.com/az-menu/
The other breakfast place is the Hash Kitchen. Another great selection of options from hash dishes, eggs, pancakes/waffles, smoothies and yes the bloody mary bar.
Attractions:
If coming in the summer, head over to see the Diamondbacks baseball in this beautiful stadium with a roof that opens and closes in the hot heat. https://www.mlb.com/dbacks
Musical Instrument Museum

4725 E. Mayo Blvd / Phoenix, AZ 85050
Phoenix is known for the hot climate, obviously, with average temperatures up around 100-115 degrees.  So it's no surprise that Phoenix is also known for several interesting museums to keep you cool, inside with the air conditioning.  For those looking for something a little edgy with a crash course in music and the evolution of pop culture…look no further than the Musical Instrument Museum.
Here is where you will be self-guided by wearing headphones that interact with each exhibit as you pass by them within close range.  You will see such artifacts as outfits worn by Johnny Cash, Elvis Presley, Carlos Santana…as well as various instruments and the unique sounds that are produced from them to create different cultural ambiances.  You can spend an hour and get a vast overview or spend all day and immerse yourself in the entire fabric of the art that brings all walks of life together—music.
For additional information, call 480-478-6000
If you come in the summer, head over to see the Diamondbacks baseball in this beautiful stadium with a roof that opens and closes in the hot heat. https://www.mlb.com/dbacks
A big thank you to Trish Lanteigne- Media Relations Manager at Visit Phoenix.  You can find everything you need at their informative website.     www.visitphoenix.com