MANOLO: THE BOY WHO MADE SHOES FOR LIZARDS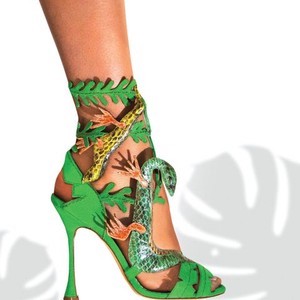 Opening September 15 in Los Angeles and New York,  MANOLO: THE BOY WHO MADE SHOES FOR LIZARDS is the charming portrait of legendary shoe designer Manolo Blahnik.  This artist-consulate craftsman set a fashion standard among celebrities, stylists, and industry icons with his impeccable taste and dedication to his craft.
Anyone who has watched "Sex in the City" knows the shoes and the show, in fact, made the $500 (at the time) beauties a household word. running in 4-inch heels convinced any viewer of their comfort. When Sarah Jessica Parker's character was robbed, she was more upset about the non-replacable shoes than the money.
Longtime fashion journalist, close friend, Michael Roberts presents this never-before-seen peek into Mr. Blahnik's world.  Roberts' footage goes back through the 40 years of their friendship. The delightful  animated sequences that begin and end the film certainly capture the spirit of the movie and of his personality. If there would be a criticism it would be to edit out the artificial-feeing reenactments, which add nothing.
It is more an art piece than a bio-pic, with the feeling of Blahnik's

shoes sewn into the graphics. The transitions from one part of his life to the next are seamless. And since it is a world that lacks tragedy or drama, it leaves the viewer not only in a good mood but a curious one to look up more about the time period – including the tragedies that did befall some of the closest people to him such as Tina Chow. Still, it inspires a nostalgia for a simple time of excess, even should you have lived in it as I did.
And what a world it turns out to be – really not shared by anyone because this is a solitary artist who, like Garbo, prefers to be alone, at least at home. And "home" for him was first a magical time in the Canary Islands, only the first of many charming surprises in the film.

Regarded as a genius by some of the most revered figures in fashion, MANOLO: THE BOY WHO MADE SHOES FOR LIZARDS presents a behind-the-scenes peek into the designer's world, and features a 'who's who' of the fashion and entertainment worlds including Anna Wintour, Rihanna, Paloma Picasso, end of the century, super-models Iman and Naomi Campbell, Rupert Everett, Karlie Kloss, Isaac Mizrahi, and André Leon Tally.  Everyone has something wonderful to say about this artist, and it's just fine.
The artist himself is genuine, amusing and deserving of all this attention and praise just for his work. He remains one of the hardest working and most sophisticated people in the rugged fashion business, though he professes to being a "cobbler". He himself sketches (wearing white gloves) each shoe and oversees last for each and every pair of ($800) shoes.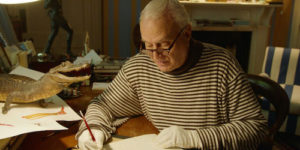 Directed by Michael Roberts.   Produced by UK independent producer Nevision. Producers are Neil Zeiger, Gillian Mosely and Bronwyn Cosgrave. Line Producer is Zoe Loizou and the Executive Producers are James Cabourne, Tiggy Maconochie, Ralph Shandilya and Anne Morrison.
A Music Box Films release.  Running Time: 1hr 29 min