Fogo de Chao Brazilian Steakhouse all you can eat Feast in Beverly Hills- October 2017
Fogo de Chao in Beverly Hills is a beautiful location with 30 foot high ceilings and plenty of space to spread out, relax, and have a great meal.  The service is impeccable as servers are constantly coming by to fill your plate with mouth watering meats or side dishes.
To start, there is a huge market table offering fresh vegetables, grilled vegetables, many salad options, cured meats, and a variety of aged and imported cheeses.  There is also smoked salmon, spicy black pepper and candied bacon, seasonal butternut squash soup, and a traditional black bean stew with sausage that you can enjoy over rice.
There are a huge variety of meat options that are constantly appearing at your table.  You never have to wait long and you will not be leaving hungry!  The trick is to try and pace yourself.  Don't fill up too much before trying the cut from the beef ribs.  They are so tender and flavorful.  The bottom sirloin and lamb chops are also not to be missed. They are seasoned to perfection with that great smoky flavor you can only get from the fire.  There are also seafood options like the jumbo shrimp cocktail and the mango chilean sea bass.  The sea bass is buttery and tender and melts in your mouth.  Just ask your server about the sea bass or seafood tower.  It is not something that comes to your table automatically.  You have to order it.
There are several side dishes that come to your table and are replenished by the great servers as soon as they are empty.  These dishes include the incredibly addicting pao de queijo which is this little fluffy cube of bread with melted cheese in the middle.  Impossible to eat just one!  There are also these rectangle pieces of fried polenta and the sweet and salty caramelized bananas.  You could make a meal out of these sides if it wasn't for all the meat coming to the table!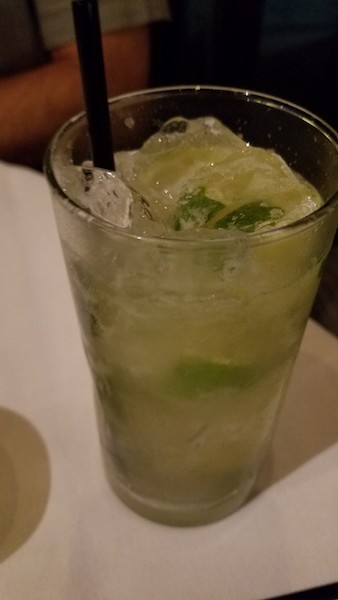 A must try cocktail at Fogo de Chao is the Premium Caipirinha.  It tastes of fresh lime and is the perfect balance of sweet and tangy.  It is not a drink that you notice the alcohol because it is so delicious and refreshing.  Just be careful because they are strong!  You'll have to pace yourself.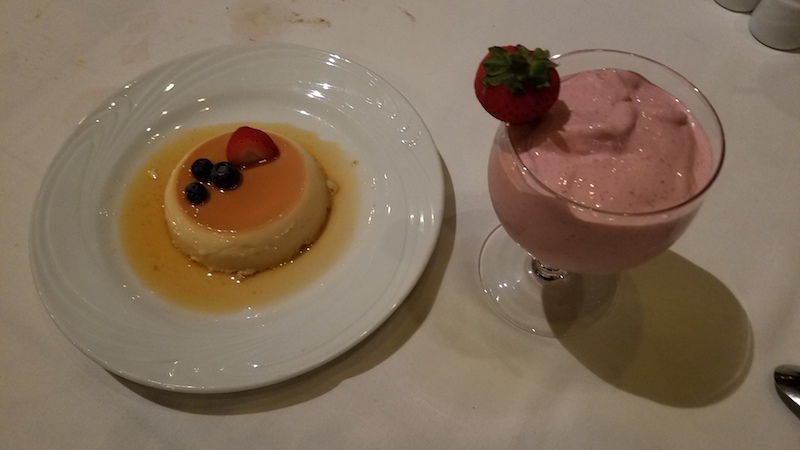 There are many great options for dessert if you still dare to eat at that point.  The strawberry cream is creamy and refreshing and not too heavy.  There is also a molten chocolate cake for the brave of heart!  If you have no more room for food, just enjoy a nice dessert wine like the Dolce Ice Wine from Far Niente.  Spectacular!  We were regularly checked in by Mario (from Brazil) , who is a server/customer service onsite staff who was helpful and super friendly.
Fogo de Chao is a dining experience.  Come hungry and allow at least three hours for your meal.  You will need to take your time so you can enjoy the plethora of fine meats and other delicacies this restaurant has to offer.
Fogo de Chao
133 N. La Cienega Blvd.
Beverly Hills, CA 90211
www.fogodechao.com/location/beverly-hills
Written by Jim Vatcher, Edited by Todd Elliot, Photos by Allen Benetar