Luzia is Cirque du Soleil's new Big Top Production Mexican Theme with Water Integration- December 2017
This Cirque du Soleil is not to miss.  I have seen many of there shows and this ranks right near the top.  It includes incredible acts you have not seen before with a beautiful backdrop and Mexican Theme.  Top that with a waterfall integration and pool of water that disappears quickly to make a dry stage set.  The show has it all with humor, some of the best entertainers, acrobats and performers that keep you on the edge of your seat.  It is very family friendly and very affordable where every seat is a good seat.  High packed energy and a wonderful atmosphere with background music full of fun.  Buy your tickets NOW.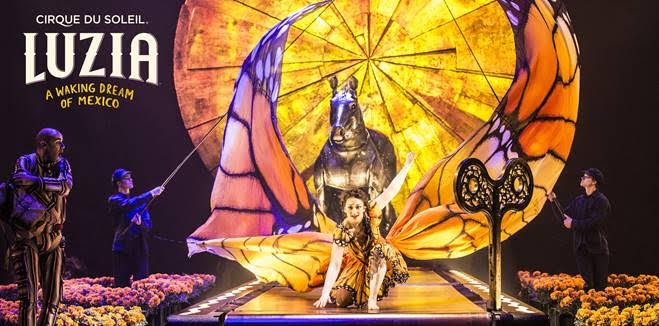 Experience the splendor and wonders of LUZIA!
Cirque du Soleil's astounding Big Top production is coming to Southern California:
Los Angeles from December 8, 2017 at Dodger Stadium
Costa Mesa from February 21, 2018 at OC Fair & Event Center                                                                             
Los Angeles, CA (August 24, 2017) – Cirque du Soleil is pleased to announce the upcoming Southern California engagements of its delightfully imaginative and visually stunning production LUZIA, a waking dream of Mexico. Audiences are invited to a redesigned white-and-gold Big Top in Los Angeles (from December 8, 2017 – January 21, 2018) and Costa Mesa (from February 21 – March 18, 2018) to escape to an imaginary Mexico – a sumptuous world suspended between dreams and reality. Tickets for LUZIA performances at Dodger Stadium and OC Fair & Event Center will be available  online  at www.cirquedusoleil.com/luzia. Tickets start at $50.
In a series of grand visual surprises and breathtaking acrobatic performances, LUZIA takes audiences on a surrealistic journey through a vibrant world filled with wonders, playfulness and striking artistry. Smoothly passing from an old movie set to the ocean to a smoky dance hall or an arid desert, LUZIA cleverly brings to the stage multiple places, faces and sounds of Mexico taken from both tradition and modernity. Rich in awe-inspiring moments, LUZIA enchants by incorporating rain into acrobatic and artistic scenes – a first for a Cirque du Soleil touring production.
"LUZIA (…) is superb. 4 stars!"
The Chicago Tribune
"Dazzle(s) the eye with luminous spectacle and gasp-worthy, derring-do."
Bay Area News Group
"Full of wow feats and gorgeous stage pictures"
The Toronto Star
With mesmerizing and refreshing performances, LUZIA brings traditional and contemporary circus disciplines to a whole new level. A Cyr Wheel artist performs the unprecedented feat of rolling and spinning under the rain, while an aerialist suspended from a Trapeze flies and twirls through pouring showers. Hoop Diving is taken onto gigantic treadmills, expanding exponentially the speed and amount of daring leaps executed. Jaw-dropping highlights include a Guinness World Record holder juggling seven pins at breakneck speeds, a male contortionist skillfully twisting his body in the world's most unimaginable positions, a powerful Aerial Straps specialist defying the laws of gravity above the pool of a cenote (natural sinkhole) and two football (soccer) freestylers deftly mixing street dance with mind-blowing ball manipulations.
More about LUZIA – A waking dream of Mexico
Written and directed by Daniele Finzi Pasca, in association with Brigitte Poupart, LUZIA takes you to an imaginary Mexico, like in a waking dream, where light ("luz" in Spanish) quenches the spirit and rain ("lluvia") soothes the soul.
For more information, visit www.cirquedusoleil.com/luzia.
To watch a preview video of LUZIA, visit www.cirk.me/LUZIA_Preview.
To learn more about the integration of water in LUZIA, watch http://cirk.me/LUZIAWaterVideo.
#LUZIAself – the LUZIA webseries
Discover the unique stories, talent and passions of 14 selected cast members of LUZIA through a series of 10 lighthearted webisodes: http://cirk.me/LuziaSelf.
Follow #LUZIA and #cirquedusoleil on social media: Facebook | Twitter | Instagram | YouTube
Photo credit : Matt Beard / Costumes: Giovanna Buzzi / 2016 Cirque du Soleil
Prestige VIP Packages
Various Prestige VIP Packages giving access to the best seats and a delectable culinary pre-show experience are available for selected performances of LUZIA. The exclusive VIP section extends the show's experience in a unique setting evoking the colors, the flavors and the effervescence of Mexico. For more information about individual packages and corporate hospitality opportunities, visit www.cirquedusoleil.com/luzia.
Partners & Sponsors
Cirque du Soleil wishes to thank MÉXICO, an affiliate partner of LUZIA, and Forsythe Technology, official sponsor of Cirque du Soleil.
Cirque du Soleil
LUZIA is Cirque du Soleil's 38th original production since 1984, and its 17th show presented under the Big Top. The company has brought wonder and delight to more than 160 million spectators in more than 400 cities on six continents. Cirque du Soleil has close to 4,000 employees, including 1,300 performing artists from close to 50 different countries.
For more information about Cirque du Soleil, visit www.cirquedusoleil.com.