Silvio's Brazilian BBQ on Pier Ave in Hermosa Beach is quite the feast- January 2018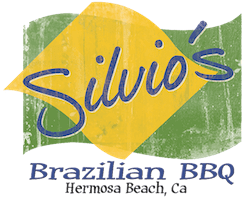 Written by Kelly Cowan and Todd Elliot
Located in the trendy Hermosa Beach Pier Avenue courtyard, surrounded by other restaurants and shops, is the unique cuisine of Silvio's Brazilian BBQ.
They feature a wide selection of delectable and juicy meats….salads…and sides to suit even the most critical food enthusiasts.  If you are a true carnivore at heart…then this is the spot to sit down in a relaxed setting…check out the menu…and allow the staff to put together a meal tailor made for you or a group.
We opted for one of their platters which included a fresh chopped house salad with a unique dressing. The four different Meats included tri-tip which was very savory, marinated steak which melted in your mouth it was so juicy, chicken that was moist and not overcooked in fact it tasted almost as Savory as the steak… And finally the shrimp which was marinated in a sweet yet spicy glaze.

The concept is to the point- delicious bbq from chicken and a variety of meat dishes with all the sides to accompany. The atmosphere is casual and the staff is friendly.
Besides the food choices, Silvio's also prides themselves in providing some of the most creative and tasty drinks from the bar.  My personal favorite was the Watermelon cocktail…which features a vodka-like spirit over ice and infused with blended chunks of watermelon.
They also do catering for events.
Silvio's Brazilian BBQ