Benihana Hibachi Grill Santa Monica delivers tasty food, fun experience- 3/18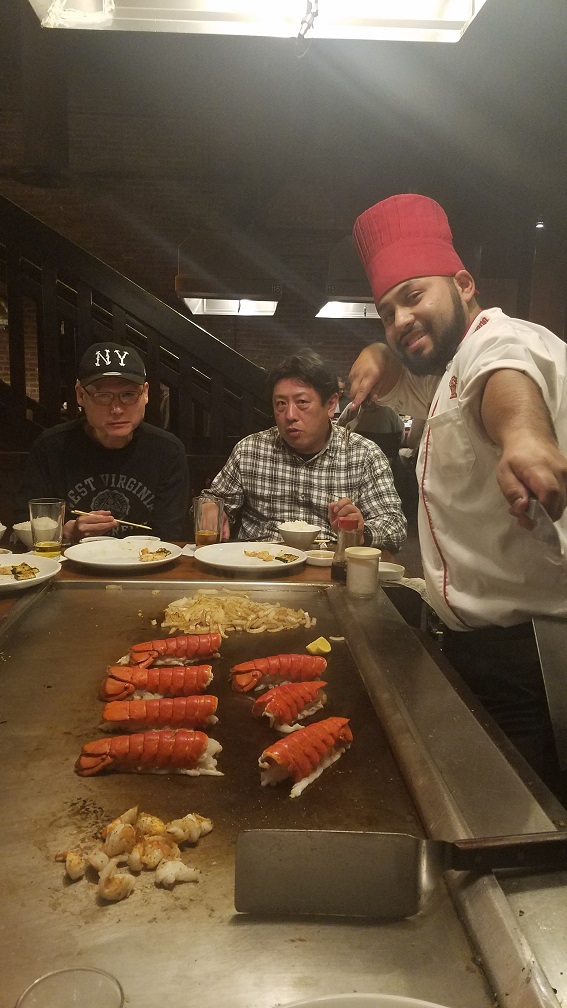 Benihana in Santa Monica is quite the experience. Definitely make a reservation especially if you are planning on going on the weekend. The place was packed wall to wall. As you share a community hibachi grill with people you don't know. We got to share our table with 6 Japanese people that didn't speak English which actually was very fun. You can start with one of their appetizers or sushi. There is a full menu of assorted rolls, sashimi and other appetizers. The multi-course meal starts with onion soup and then salad. While your hibachi chef starts grilling the shrimp appetizers and fresh vegetables (onions and zucchini).  Our server took our order earlier so our chef knows what he is cooking for everybody. We chose the combination lobster, scallop and shrimp entree along with the hibachi salmon. I recommend the vegetable fried brown rice to accompany your meal.
Everything is so delicious and you are given two sauces a mustard and a ginger dipping sauce. To save some calories order your food without butter as I don't think you would notice the difference in taste.  It's hard not to over eat at this extravaganza of tasty food.
Besides the great food your chef will put on a demonstration show while he is cooking to enhance your meal. If there is a wait head up stairs to the sushi bar and have a drink or appetizer you can also dine up there but you don't get the show with the hibachi chef. This is a great place for Birthday's and celebrations.  If you have never been to Benihana you definitely have to experience it. The place gets a bit rowdy in a good way.  There are various locations but we dined at there Santa Monica restaurant at 1447 4th St.