Curious George kid's musical at the Morgan-Wixson in Santa Monica- March 2018
CURIOUS GEORGE IS VISITING THE MORGAN-WIXSON!
The Morgan-Wixson Theatre's Y.E.S. (Youth Education/Entertainment Series) proudly presents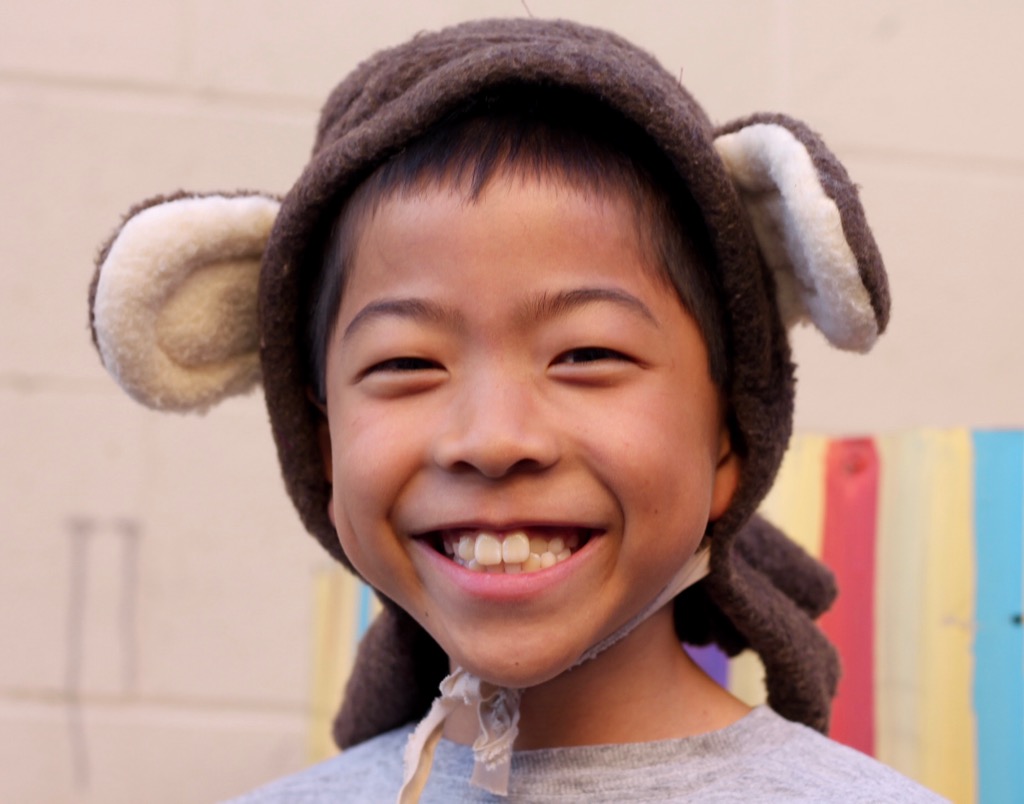 Curious George:
The Golden Meatball
Santa Monica, CA –
Curious George, the lovable monkey who has starred in books, movies, and on television, cooks up a delicious adventure in this musical tale.
Based on the books by Margret and H.A. Rey and the play owned by Universal Stage Productions, book and lyrics by Jeremy Desmon, music by John Kavanaugh, directed by Eve Keller, music directed by Zoë D'Andrea, choreography by Eileen O'Donnell, and produced by Teresa Senior & Lara Schrader.
All-You-Can-Eat Meatball Day comes around just once a year, and for an inquisitive little monkey named George, the day ranks right up there with his birthday. George loves helping his friend, Chef Pisghetti, cook up delicious meatballs and serving them to a hungry crowd. On this Meatball Day, however, something is different. The crowd has vanished! Something is keeping people away. Something pretty big.
The culprits: Phinneas T. Lightspeed and his "Meatballs O'Matic" machine. Chef Pisghetti is so upset that he vows never to cook again. Determined to motivate his friend, George enters the chef in the world-famous Golden Meatball contest. With the help of the Man in the Yellow Hat, George learns about Rome, meatballs, the secret ingredient to good cooking, and friendship.
Veteran director Eve Keller is thrilled to be helming her first Y.E.S. show. She has a special affinity for the title character and for his sense of adventure. "As we get older, we tend to lose our sense of wonder. We are too busy or we think we already know how things will turn out," Keller says. "I love the idea that we can all call upon our 'Inner George' to remind us to stay open to all that life has to offer!"
As the daughter of an elementary school teacher, choreographer Eileen O'Donnell read and re-read all the Curious George books and has loved the little monkey her whole life. "The sense of wonder that George has is super charming. Even when he gets into trouble, he always means well. He is a kind monkey."
The cast, in alphabetical order: Lilianah Barton, Sadie Fisher, Hannah Hirshland, Tess Hubbard, Mira Keller, Ethan Kuwata, Ruby Lapeyre, Thea Lawson, Lucy McLoughlin, Lexie Palmer, and Lexi Sexton.
For any additional information, please contact Miriam Billington at [email protected].
JUST THE FACTS
Curious George: The Golden Meatball
Based on the Books by Margret and H.A. Rey and the play owned by Universal Stage Productions
Book and Lyrics by Jeremy Desmon, Music by John Kavanaugh
Directed by Eve Keller
Choreography by Eileen O'Donnell
Produced by Teresa Senior & Lara Schrades
WHAT:            Starring in his own musical, Curious George is on a mission to help Chef Pisghetti save his restaurant by winning a world-famous meatball competition. With guidance from his friend, The Man in the Yellow Hat, George's adventures take him to Rome and The Golden Meatball Contest.  With every swing and flip, George takes the audience through a fun-filled, entertaining story filled with music, dance and delicious fun. Parents and grandparents who grew up with Curious George will enjoy it just as much as the kids!
WHEN:            March 31 – April 15, 2018, Saturdays and Sundays at 11 a.m.
Press members are invited to attend the
            opening performance on Saturday, March 31, at 11 a.m.
WHERE:         The Morgan-Wixson Theatre, 2627 Pico Boulevard, Santa Monica 90405. (Street parking or at the Venice Family Clinic, just west of the theatre.)
HOW:               Reserved seats available at www.morgan-wixson.org
or by phone at 310-828-7519 or by email at [email protected].
Adults $12, Children 12 and under $10.
WHO:            Recommended for ages four and up.
ABOUT THE MORGAN-WIXSON'S Y.E.S.
(YOUTH ENTERTAINMENT/EDUCATION SERIES)
The Morgan-Wixson Theatre's Youth Education/Entertainment Series (Y.E.S.) is part of the theatre's commitment to engaging young audiences, training young talent, and supporting literacy. Participants range in age from 8-18.
Y.E.S. presents four youth productions each year and one full-length Youth Musical each November/December. Past Youth Musicals include A Winter's Tale, Thoroughly Modern Millie, Shrek, and White Christmas. Most Y.E.S. shows are selected to support national and local school reading lists, like E.B. White's Charlotte's Web, Hans Christian Andersen's The Ugly Duckling ("Honk"), and Margery Williams' The Velveteen Rabbit. Y.E.S. productions are open to all and there are no fees or dues for participation.
Y.E.S. was named Outstanding New Children's Theatre Company in 2008. This prestigious national award honors a theatre company serving young audiences. Criteria include a high level of artistic production, sound management practices, and community engagement. AATE is the leading national organization in the U.S. for theatre educators and artists who use drama and/or theatre in the classroom.
In his recommendation of Y.E.S. for the award, Tom Whaley, the Visual and Performing Arts Coordinator for the SM–Malibu Unified School District, said: "I see it as a win-win in terms of younger students seeing older students and adult actors on stage, reinforcing literacy, and inviting students to attend a live theatre performance in a real theatre!"
This year's Y.E.S. season continues with The Little Mermaid, Jr. (May 19-June 3) and ends with Junie B. Jones is Not A Crook (July 14-29). Read the book! See the show!