GBK's Oscar Gifting Suite was their best event with great sponsors, celebs- March 2018
The GBK Oscar Gifting Suite 2018 may have been their best event yet that I have been to.  The rain didn't stop the great turnout of celebs and fantastic vendors showcasing their newest products in the hear of Beverly Hills.   Some of the not to miss vendors included Il Pilato, GE Lighting, ADM, Diamonds International and Healing Salt.    Sponsors below as Il Pilato provided delicious catering for the event besides the generous donation for celebs.  C by GE Sol was our favorite as they gifted the fabulous light fixture with Alexa Amazon voice control for questions, smart devices and much much more.  Here are some other highlights below with pics.
Photos below of some great celebs that attended including Robert Herjavec,   Anthony Anderson, Doc Rivers, Susan Sarandon and Mark Hamill to name a few.
Il Pilato   Il Palato Italiano is an international club committed to raising awareness of Italian culinary arts through cultural activities and selected products. Gifting a private dinner for up to 16 people. (Value: $10,000)www.ilpalatoitaliano.it 

Diamonds International, Tanzanite International

Founded in 2010, Safi Kilima Tanzanite is a global leader in tanzanite. The premier brand is exclusive to Diamonds International and Tanzanite International stores; the largest tax and duty free jewelry retailer in the Caribbean, Mexico and Alaska. In 2017, Tanzanite celebrated its 50th anniversary and the timeless quality, superior grade and value that has become synonymous with the rare, blue and violet colored stone. We are gifting the "Safi Kilima Tanzanite bolo bracelet" at the gifting lounge. This trendy bracelet features five tantalizing oval tanzanite stones joined by an infinity motif and finished with a unique sliding adjustable clasp. (Value: $200)www.safikilima.com
www.diamondsinternational.com
 

GE Lighting's C by GE brand Lights the Way You Live with outcome-driven, all-in-one lighting solutions to solve real-world challenges and tap into new potential at home, enabling homeowners to do more and be better. Part of the GE Lighting portfolio, C by GE products build on the company's century of innovation, invention and imagination at work. Our deep understanding of the home and our expertise in the connectivity of things results in simple, connected designs to help people thrive. Gifting GE Lighting's C by GE Sol, an all-in-one smart light with a sleek modern design that has the features, functionality, and voice control of Amazon Alexa.
www.CbyGE.com/sol
www.CbyGE.com
| | | |
| --- | --- | --- |
|   | Healing Salt Through Salt Caves Canada, a business focused on designing, installing and creating Salt Caves, The Healing Salt Cave Halotherapy Wellness Centre and Holistic Spa was formed; a Wellness Centre that offers various types of salt therapies and holistic treatments for an all body rejuvenating and relaxation experience and for individuals with asthma, allergies, bronchial infections, pneumonia, COPD and cystic fibrosis. Gifting a gift certificate valued at $350 for any Healing Salt Cave in Canada & the United States & two shot glasses made from pure pink salt (perfect for tequila shots). | www.healingsaltcaves.com |
| | | |
| --- | --- | --- |
| | Bouvery LLC is responsible for the production of 'Bouvery CV, a luxurious dark chocolate vodka made with gluten free vodka and organic fair trade cocoa. Produced in CT USA at a family owned craft distillery using only the finest ingredients, hand bottled and numbered in small batch. Gifting a  375ml bottle of Bouvery CV (Chocolate Vodka) in a BCV branded velvet bag. (Value: $40) | www.bouverycv.com  |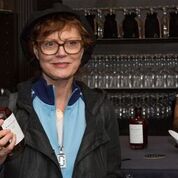 | | | |
| --- | --- | --- |
|   | Shapa is a display free scale with unique combination of novel hardware and consumer/enterprise platform with a user-friendly app to analyze, track and motivate the insured person and the entire family toward healthy lifestyle changes. (Value: $146) | www.shapa.me |