Ana Paula, Spiritual Creator of Soulshape Offers Free Webinar
Many high performers know how to get things done. In short, they "crush" life. And in spite of all that they find,"something is missing." At the same time, many people have world-changing ideas who cannot transform those ideas into reality.
Ana Paula, Spiritual Architect and Creator of Soulshape has the solution to both of these challenges.Ana herself falls into the first category.  A trained architect with a master's degree from Sci-ARC, one of the most innovative schools in the country, she went on to secure the "dream" position of working on projects for world renowned architect, Frank Gehry.  And she found herself wanting something different.
After exploring a number of modalities, and earning her yoga certification, Ana Paula has combined all of her learning into a combination of coaching and teaching.  She works one-on-one with clients, and also with groups, both in Los Angeles and on retreats  with potential high performers, or unfulfilled ones.
This summer  she will be sharing a variety top practices and tools for leading a life of deep connection and massive impact in a free upcoming webinar, "Spiritual Practice for High Performers" free online beginning August 20.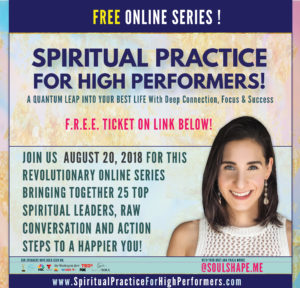 Reserve Your Spot Here For FREE! 
• How to FINALLY free themselves from limiting beliefs that keep them stuck.
• Specific tools and techniques they can use right away to be more effective while feeling more connected.
• How to STAY MOTIVATED with their spiritual practice
• Access their INTUITION so they are able to make decisions quickly and confidently.
• Release stress and overwhelm that keeps them from enjoying their life.
• Become empowered to BE their authentic self, overcoming adversity whenever they face it.
• And more! Take the first step… Reserve their spot for Spiritual Practice for High Performers here, now: → http://bit.ly/SpiritualPracticeJK
Ana is a fantastic interviewer who's known for sharing her own great insights and strategies that your audience can use right now to gain clarity, create positive, lasting change, and live your purpose.
Sometimes they may simply feel like they're stuck in a never-ending cycle of "doing" and not enough "being." The energy is always going out and not enough coming back in. It starts to feel hollow, robotic and even empty. And while we've never been more "connected" in this digital age, they feel somehow more disconnected on a deeper level. Sometimes in the middle of all this "connecting" and "crushing" they may even feel completely alone. It's a scary feeling.
Ana Paula, Spiritual Architect and Creator of Soulshape helps design where an individual wants to go so that they can build a life they love from the inside out.
She understands when individuals feel disconnected because she too has been there. Wanting to "get out of her head," and push past the fear, that she could move mountains. Ana believes when one has a spiritual practice that resonates with them and is authentic with what they LOVE that they will connect more powerfully with people. That CONNECTION is what will support them in creating a massive impact beyond what they would've been able to do on their own.