Cinema Italian Style opens DOGMAN with Gourmet Meal from Italy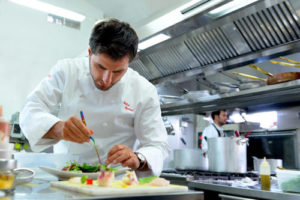 (Gerry Furth-Sides) What's it like to attend One Michelin-starred chef Italian dinner?  Italian One Michelin-starred chef in 2014, 2015 and 2016, Felice Sgarra, Executive at UMAMI Ristorante, Andria, Italy, and his brother Roberto, sommelier were flown all the way from Italy to prepare the post-premiere dinner for Cinema Italian Style opening night movie DOGMAN by Matteo Garrone, Italy's entry to the 2019 Academy Awards Foreign Language category.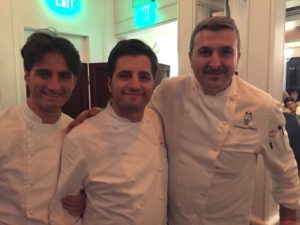 Felice – one Michelin-starred chef in 2014, 2015 and 2016 – was born in Andria (in Apulia) in 1982. He studied in Roccaraso, in the Abruzzi, a harsh and challenging climate where he made a name for himself thanks to his creativity and skills.  Brother Roberto, maître and sommelier, studied in Roccaraso, in the Abruzzi, where he earned the Diploma in Maître D'hôtel and Sommelier.
The posh four-course event held at Mr. C's in Beverly Hills began with a delicate Tartare of Striped Bass with almond and Pomegranate Juice, Mixed with Herbs that made a one-star Michelin announcement.   This was the highlight of the dinner.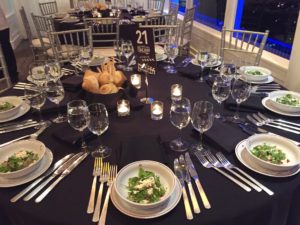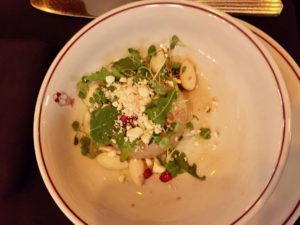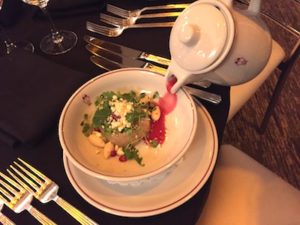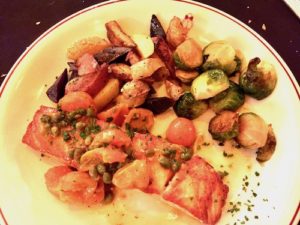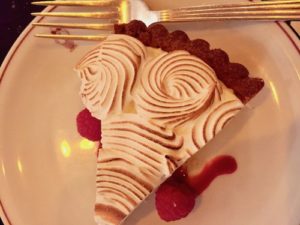 Wines includes Cosumano, Nero D'Avola dan Gave di Avi, white Label, La Scola. Mr. C Prosecco was served during the opening reception and upon request.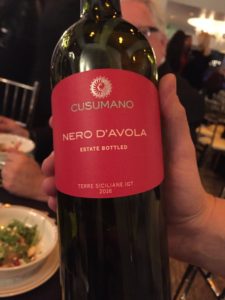 Umami Ristorante, Via Trani 103 – 76123 Andria BT Italy, Tel. ( 39) 0883 261 201, Mob. ( 39) 393 547 81 80.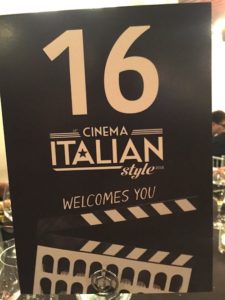 Cinema Italian Style's lineup of films screened as part of their 14thannual showcase of contemporary Italian cinema which celebrates Italian actors and filmmakers whose movies were screened at the 2018 Cinema Italian Style, such as Marcello Fonte, winner of the Palm d'Or – Best Actor in Cannes this year and Valeria Golino, presenting her second movie as director, after a bright career as actress.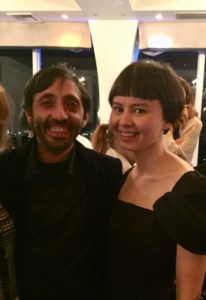 Cinema Italian Style2018, opened with Italy's submission to the 2019 Academy Awards' Best Foreign Language Film category, Matteo Garrone's DOGMAN (Full descriptive further down).  The  2018 Italian drama film directed by Matteo Garrone. It was selected to compete for the Palme d'Or at the 2018 Cannes Film Festival.  At Cannes, lead actor Marcello Fonte won the award for Best Actor.[3]It was selected as the Italian entry for the Best Foreign Language Film at the 91st Academy Awards. The story is about a gentle dog groomer who becomes involved with a violent boxer terrorizing the neighborhood.
Cinema Italian Style 2018, produced by Luce Cinecittà, Rome (the government agency tasked with promoting italian cinema around the world), and the Amercian Cinemateque,  in partnership with AFI FEST presented by Audi18, invitesall cinephiles to indulge in one of Italy's greatest exports, transcendent cinema.  The event is hosted under the auspices of the Italian Ministry of Cultural Heritage and Activities, in collaboration with the Consulate General of Italy in Los Angeles, the Italian Trade Agency and the Italian Cultural Institute.
Cinema Italian Style, created in 2004 by Gwen Deglise, Dennis Bartok (American Cinematheque) and Camilla Cormanni (Luce Cinecittà), is co-presented by the American Cinematheque and Luce Cinecittà, under the auspices of the Italian Ministry of Cultural Heritage and Activities, in collaboration with the Consulate General of Italy in Los Angeles, the Italian Trade Agency and the Italian Cultural Institute. Supported by The Leading Hotels of the World.
Istituto Luce Cinecittà represents the merge of the historical archive Luce (founded in 1924, one of the oldest and richest of the world, part of the UNESCO memory of the world register) and Cinecittà', founded in 1937, one of the largest European film studios facilities. Its activities include pre and post production labs, promoting Italian cinema internationally in collaboration with the most relevant cultural institutions and festivals of the world, digital restorations, book publications, a cinema specialized on line news agency, distribution.
2018 Features:
BOYS CRY (LA TERRA DELL'ABBASTANZA)by directors Damiano and Fabio D'Innocenzo
NAPLES IN VEILS (NAPOLI VELATA)by director Ferzan Ozpetek.
THERE IS NO PLACE LIKE HOME (A CASA TUTTI BENE) by directorGabriele Muccino.
EUPHORIA (EUFORIA)by director Valeria Golino.
LORO – International Versionby director Paolo Sorrentino.
THE STOLEN CARAVAGGIO (UNA STORIA SENZA NOME)by director Roberto Andò.
NOME DI DONNAby director Marco Tullio Giordana.
LIKE A CAT ON A HIGHWAY (COME UN GATTO IN TANGENZIALE)by director Riccardo Milani.
Short movie:
MAGIC ALPSby director Andrea Brusaand Marco Scotuzzi.
BISMILLAHby director Alessandro Grande.
The full schedule is available online at www.cinemaitalianstyle.com
"We are very proud of this year's diverse lineup of films" said Roberto Cicutto, President and CEO of LuceCinecittà. " They represent the wide breadth of stories being told in contemporary cinema in Italy, while remaining rooted in the traditions of the great Italian classics."
This year, Cinema Italian Style is introducing a student short film contest.Students from Santa Monica College, University of Southern California, Chapman University, and New York Film Academy Los Angeles,e were prompted to create shorts, under 5 minutes, inspired by, or paying homage to, classic Italian cinema.