Visiting Maui & Oahu- Activities, Lodging, Dining, Getting around – November 2018
Attractions and Activities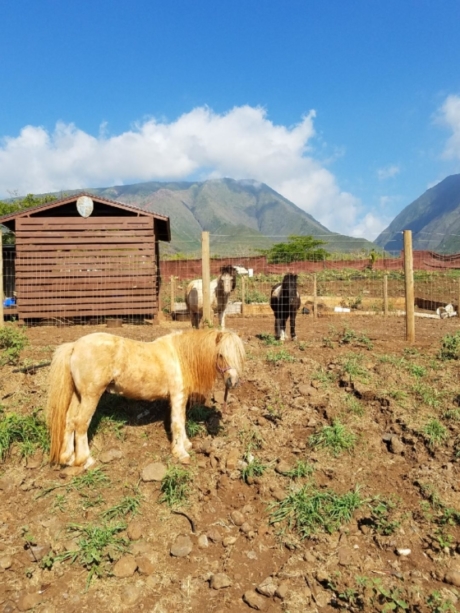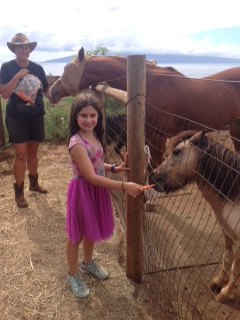 Maui Animal Farm. Located in Lahaina less than a 10 min drive from Lahaina, this is a must visit especially if you have kids. The owner Heidi is the most passionate and super friendly person you will meet on the island. She loves what she does and enjoys giving her daily tours at 9:30am for 90 minutes showing guests her 67 animals.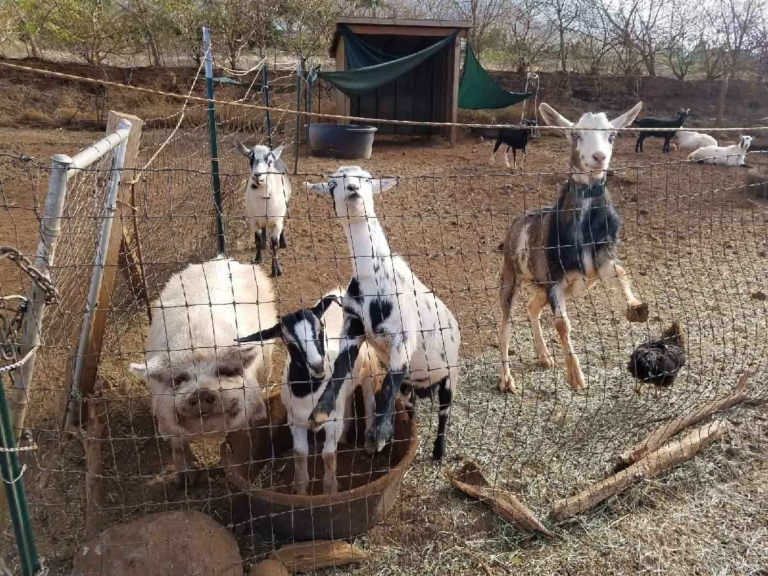 She has a great variety of goats, chickens, bunnies, toirteses, roosters, horses, donkeys, ponies and our two favorites – the one huge pig and duck named duck Vader for his sound resemblance he makes like Darth Vader.   www.mauianimalfarm.com/
The Lahaina Stables offers horseback riding tours about 5 minutes away from the Maui Animal Farm.  They have private and group tours. We went for the sunset ride which was very fun including beautiful views of the ocean and mountains. The tour lasts about 2 and one half hours starting with a video to watch and learn the rules and about the horses. Our guide Jordan was friendly and helpful. 
We went along the trail through greenery with some little hills.  We even got to trot a tiny bit which made it more adventurous. After the ride, enjoy some champagne, macadamia nuts and chocolates.  We didn't get to meet the owner Ray but talked to him on the phone and he was very welcoming.  www.mauihorse.com
Across the street from the stables is Paradise Eco Adventures. It is a big dragonfruit farm expanding to many other exotic fruits.  The owner Crystal is very positive despite losing a lot of her farm and equipment and buildings in the recent wildfire.  She is very inspiring and has a great tour and activity visit still going. 

Besides the farm tour and fruit tastings, try ziplining and aqua ball right on her farm. That was the main reason for our visit as it was exciting and unique. The big aqua ball is filled with some water as you climb inside and roll down a hill. It is a challenge to stay standing up as it gets slippery as most everyone falls and rolls around inside.   You get 2 rolls down the hill and 4 zip line rides in your visit.   

Make it a full day and do all 3 activities as they are all 5 minutes apart. Start with the Maui animal farm at 9:30 followed by the zip line, aqua ball, farm visit at 11:30am and finishing with the horseback ride tour at 3pm for a full day of fun and convenience  www.paradiseecoadventures.com
We went on another fantastic adventure called UFO Parasailing.  It usually leaves out of Kaanapali but the high waves moved the departure to Lahaina.  What a beautiful and peaceful ride it was as the speedboat first takes you on a nice ride in the ocean.  Then guests take their turns about 8-10 minutes in the sky as you sit down while harnessed and buckled in to the parachute from the boat.  Then all of a sudden you are high in the sky with the boat pulling you. 
It is family friendly as I went with my daughter and not scary at all as you glide through the air taking in the incredible views while breathing fresh air.  You are not going fast as it is very relaxing.   You do get your choice to have your legs dipped in the ocean as the parachute comes down before you get pulled up once more.  Then an easy comfortable landing on the boat.  No experience required and a must visit with the entertaining and funny crew to make this a very fun time.   www.ufoparasail.net
The last great activity we went on was an incredible snorkeling tour by Sea Maui.  This is a must visit as we went right near the island of Lanai to snorkel for about 2 hours.   You may even see whales, dolphins on your ride out there.   After about an nice hour boat ride while enjoying breakfast, the boat anchors and the crew gets you all setup.   Then it is time to jump in and snorkel near and around the boat with plenty of sea life and fish to see in the crystal clear ocean water. 
It is mesmerizing and you will most likely get to see and swim near a turtle too.   I saw an eel and some of the most colorful fish ever.  Just amazing and it was hard to get out of the water even after 2 hrs.   Back on the boat is a buffet lunch with tasty chicken, salad, fruit and drinks (yes alcohol too!).   I have been on other snorkel tours and the food, staff and overall trip was amazing.   I highly recommend booking them on your next vacation to Maui.   

More at www.seamaui.com


Lahaina Stables: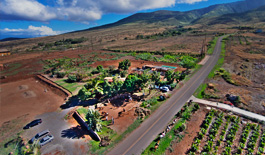 What a fantastic sunset ride we had on a beautiful day on the trails.  We went with a group up and down the trails (its amazing these horses are so stable on steep downhill riding).  The views were fantastic over-looking the ocean for much of it while we enjoyed the ride with a few trots.  I recommend a great ride with Lahaina Stables on your next visit and make it a day out in the same area as the zip lining, aquatic ball and Maui animal farm.  
Lodging: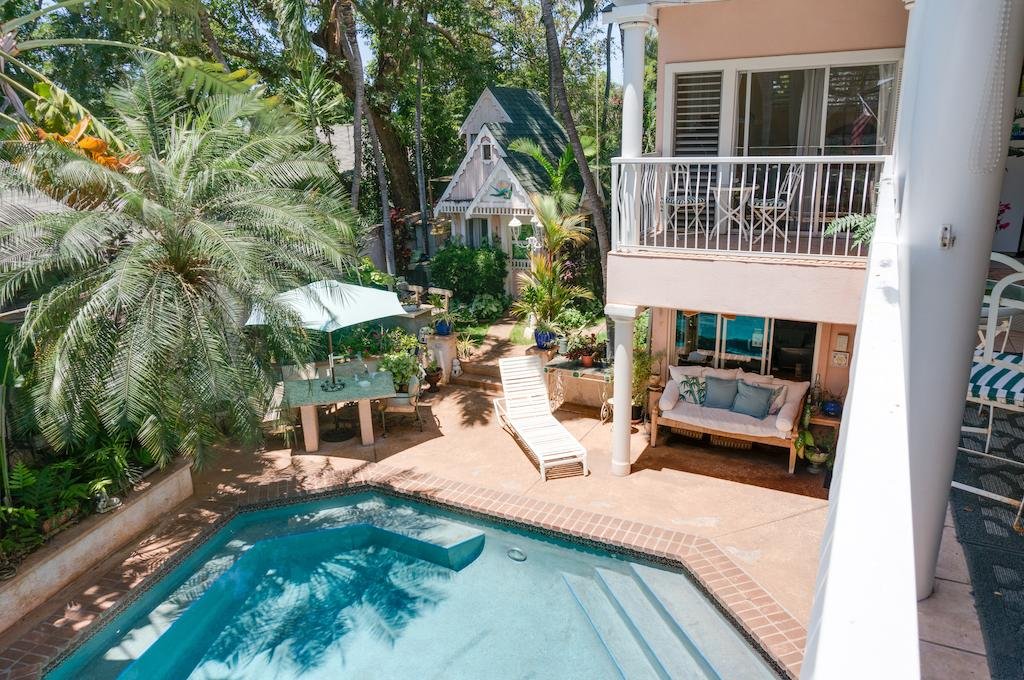 Old Lahaina House– this quaint, cozy place has 4 rooms to rent right past downtown Lahaina 10 minutes walking.  The convenience is great with easy beach and swimming access in the ocean across the street.  We didn't rent a car but they have parking, onsite pool and plenty of items to borrow including boogie boards, surf boards, paddle rackets, balls, snorkeling gear and even bikes.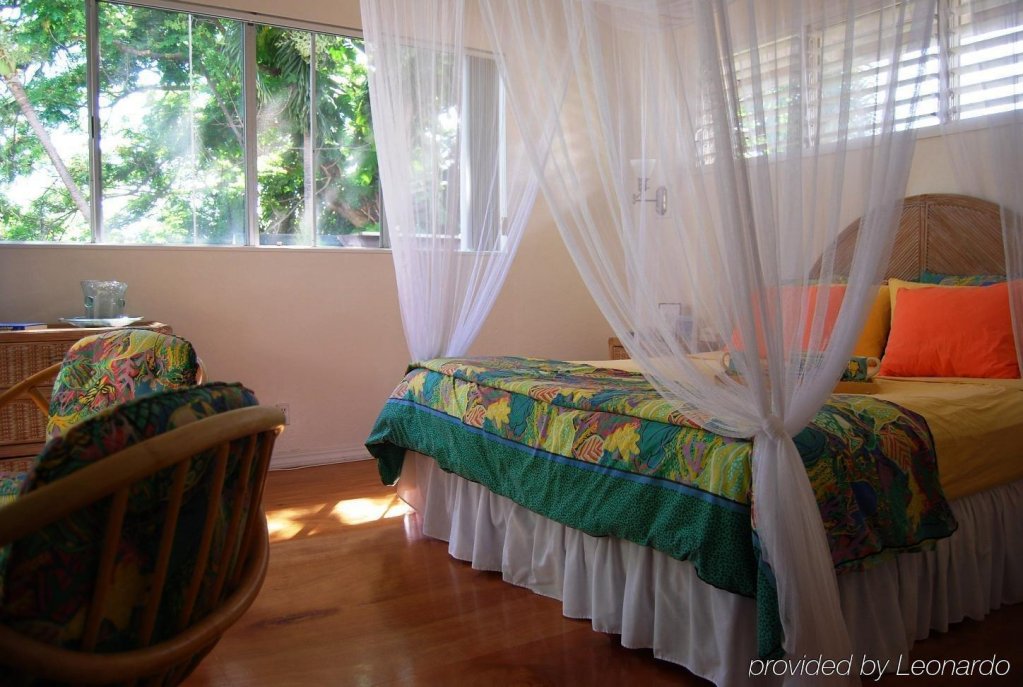 The owner Sherry is the most hospitable helping in anyway she can along with being friendly and welcoming. If you are looking for a bed and breakfast type place ( they don't do breakfast), this place is great.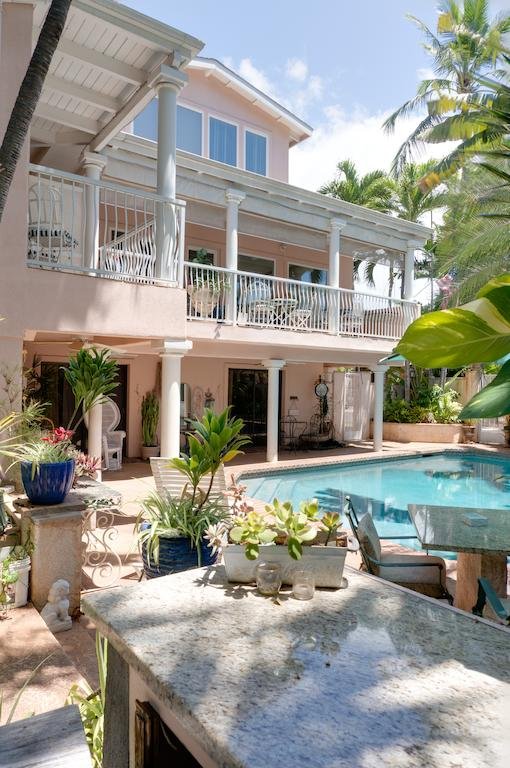 Easy to meet other travelers with the fantastic location near many nearby walking places to eat, shop and get to. The house is family and kid friendly too with dogs and cats.   Sherry also had the Tiki Beach Hostel about a quarter mile away heading towards town ( no kids allowed there) but great if you are on a budget and don't mind sharing a room or bathroom on the beach.  www.oldlahaina.com
Dining-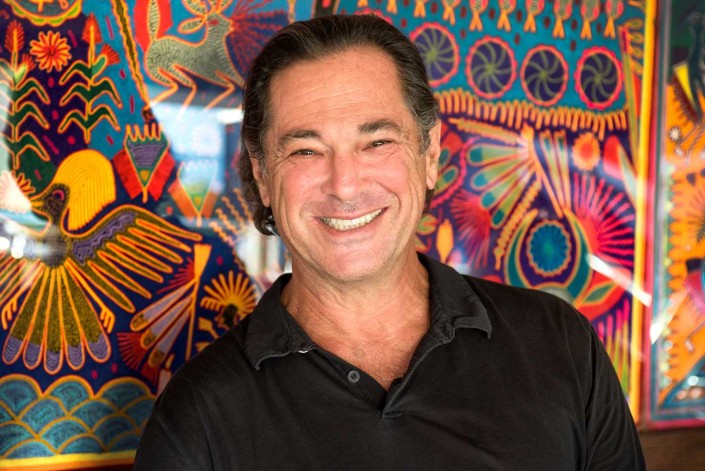 Some great dining suggestions in Maui are below.   Honu is owned by long time famous chef Mark Ellman- pictured above.  As soon as we arrived, we knew we were in for a treat.  The incredible ocean view, comfortable setting atmosphere and delightful staff made us feel very welcome.  Start with one of their signature drinks.  The menu is so extensive and I don't remember too many restaurants that serve fresh fish along with gourmet pizzas but here Honu is.  
They had an abalone starter which was amazing along with their popular house appetizer the ahi bruchetta.  Don't be fooled as there is a reason it is a staple dish there.  A variety of salads from kale to burrata are options.    For entrees, any of their fresh fish, pastas and of course pizzas.  We tried 2 pizzas (the shrimp pesto on the gluten free crust which we really enjoyed) and the regular margherita.  Just an outstanding meal and experience.     www.honumaui.com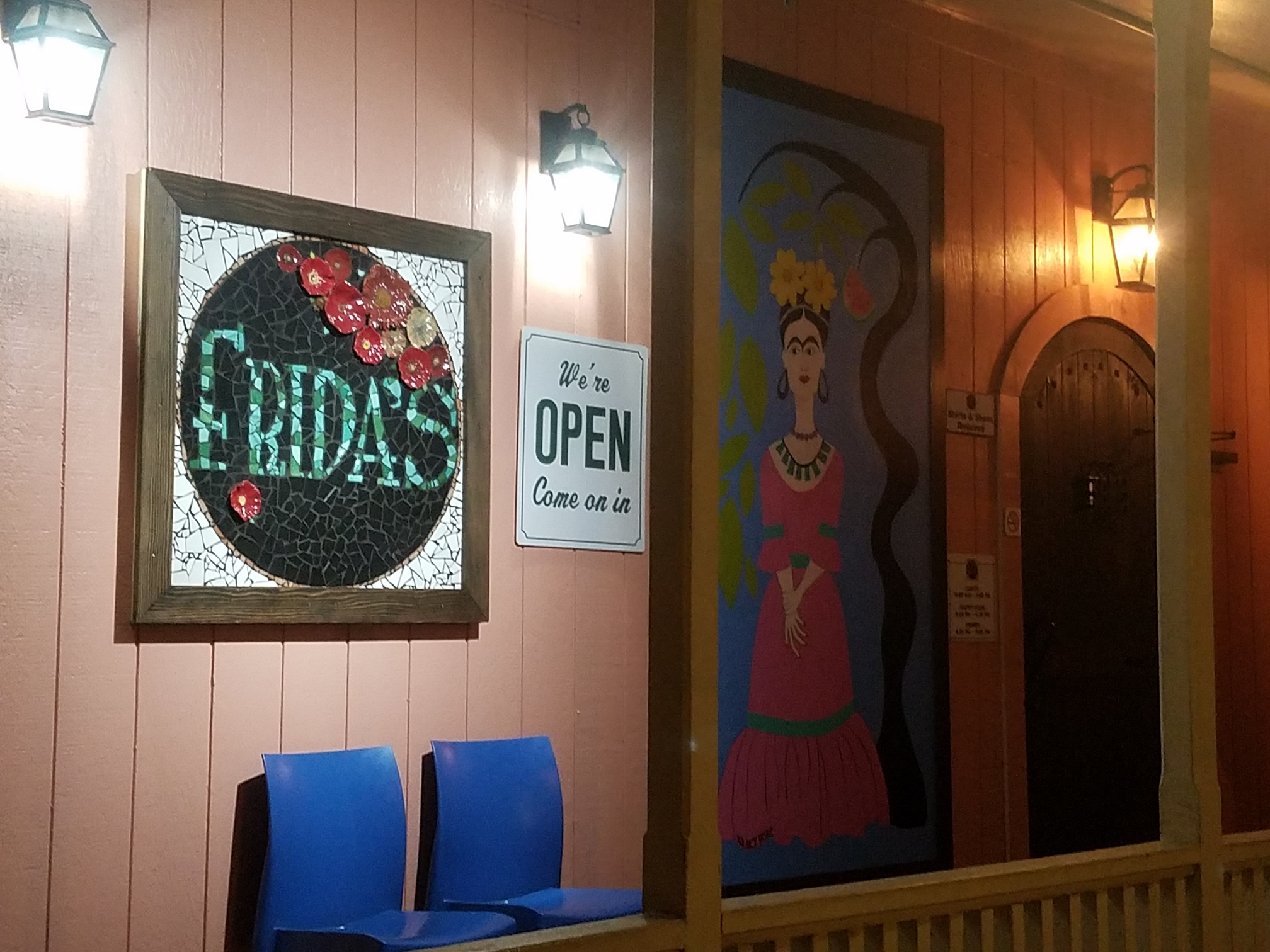 Located right next door is Fridas Mexican Beach House (serving authentic cusine from Mexico and inspiring dishes from Central and South America .  This latin infused restaurant has a nice eclectic menu featuring same style drinks (margueritas, sangria besides a full bar).   Start with the incredible chicken tortilla soup and the manchego crusted quesadilla with shrimp and you cannot go wrong.   
For entrees, we had to try the delectable Spanish octopus and the fresh fish of the day prepared latin style with a side of rice, beans and their popular cream corn.   The menu is very diverse with a wide selection of grilled meats as well.   The view was also amazing over-looking the ocean in just a casual relaxing vibe with friendly staff and great service.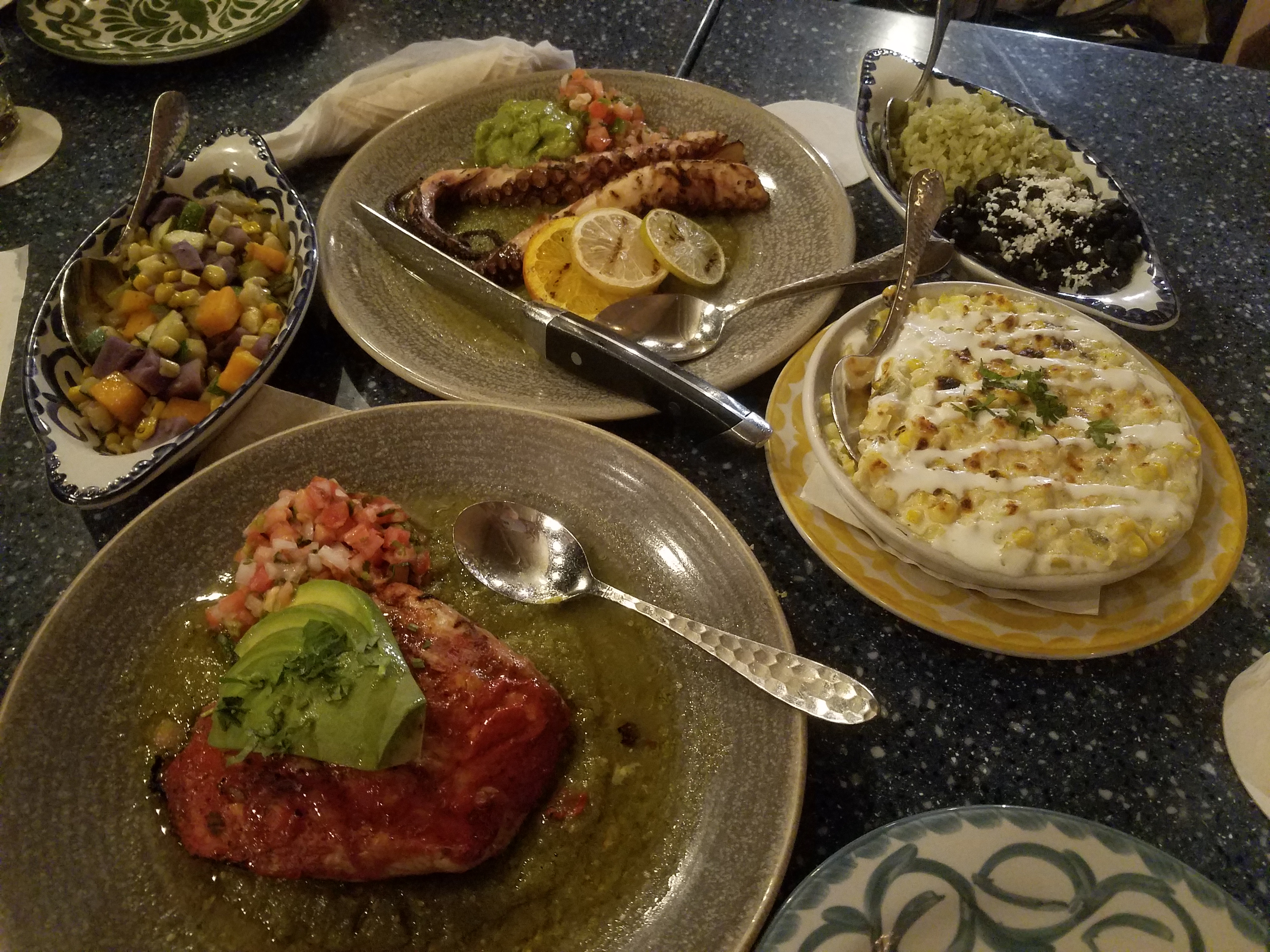 We had a chance to visit with Mark, who is super friendly and down to earth besides being a wonderful chef.   www.fridasmaui.com
The Hula Grill is always a great visit in Maui.  Located right on the beach in Kaanapali, you are in for a treat.  Sit in the barefoot bar that serves the full menu for the best experience while you take your shoes off and let your feet dig into the sand.  The ocean is right in front of you while you listen to some live music and enjoy your feast.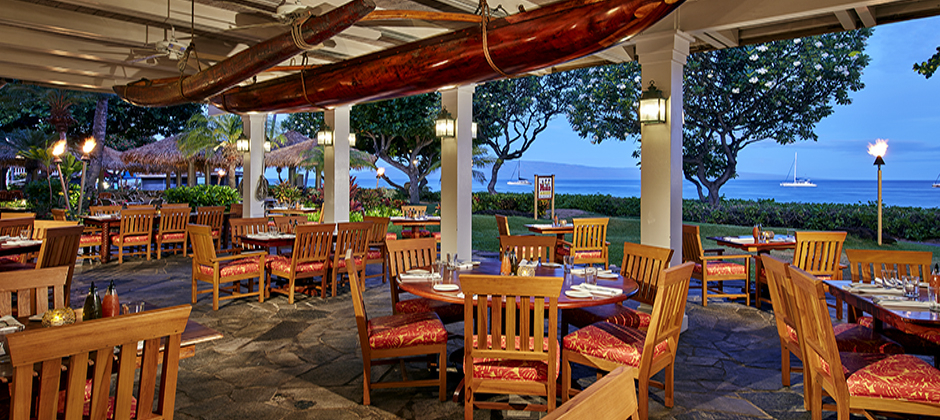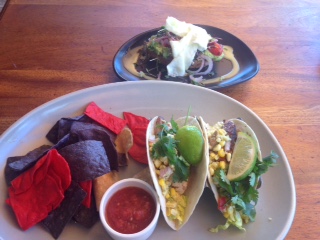 We came for dinner and started with the lobster and scallops potstickers and the localicious salad which is their take on a mixed green salad with maui onions, tomatoes and hearst of palm.   For entrees, we had the local A'U swordfish (a firm fish with local veggies) and their catch of the day and my favorite fish- Opakapaka.   It is the hardest fish to find at any of the restaurants so I jumped on that and it was fantastic.  The flaky snapper was seasoned perfectly.  
For dessert, do not miss the Hula Pie- their signature chocolate sundae pie with ice cream.  Enough to share with at least 2-3 people, you will end your night fully satisfied.  
I also visited the Hula Grill in Waikiki and it was just as amazing.   Pretty much the same menu while you have a great view of the ocean while you enjoy their delicious seafood, service and atmosphere.  You cannot go wrong.  In Oahu, I came for breakfast one day and dinner another and loved the acai bowl to start and the baja grilled mahi mahi tacos and it was blissful along with a signature drink.  For dinner, don't miss the fresh ahi poke, some of the best around.   The pan seared Ono was delectable with a side of fresh veggies.      www.hulagrillwaikiki.com
The sister restaurant of the Hula Grill is Dukes and what a scene and place to be along with the great food.  Come enjoy drinks, fresh fish, people watching and live music many late afternoon-evenings. 
Try their shellfish appetizer and clam chowder to start.   The Ono and Mahi Mahi were cooked perfectly.   We had a great view of the ocean while enjoying the live music outside with our view to enhance our dining experience.   Don't miss one of their signature cocktail drinks to accompany your meal and you will leave fully satisfied.
Down the Hatch in Lahaina-
This casual dining experience had a nice variety of food and drinks in the open air patio.  You order from the counter and go pick a seat then choose a seat and wait for your food to be delivered to you.  It's a popular place so if you go during prime hours you might have a wait to order.  There is live music certain times of the day.  We went a couple times once for breakfast and once for dinner. 
For breakfast they have an assortment of tasty dishes including the Acai bowl, dragon fruit smoothie, and a variety of french toast and pancake dishes. For dinner we had some fresh fish with vegetables and their signature dish the Lava Lava shrimp.  It's located at the end of Lahaina town and worth the visit. www.dthmaui.com
Leilanis in Kaanapali- 
This place is right on the beach as we stopped in for a lunch bite one day.  The staff and service were top notch while we had the local fresh fish of the day over-looking the ocean.  There is a beautiful upstairs they only open at night when they are busy which has even a better view.   Try one of their signature drinks or specialty appetizers to enhance your meal.   Just a fantastic dining experience we had.   More at www.leilanis.com
For one of the most exquisite meals you will have in Maui, make sure you visit Roy's in Kaanapali.  The menu has a selection of great appetizers such as the blackened seared Ahi, and signature Misoyaki butter fish the clam chowder soup was very tasty as was the shrimp starter you cannot go wrong with any of the fresh fish for your entree or meat choices.
We went with the grilled Au (Hawaiian sword fish) on a bed of spinach and side of potatoes and our favorite dish the "Chinese style" jade pesto steamed Mahi Mahi with a side of bok choy and ginger soy sauce that was out of this world.  End your night with one of the most delectable desserts "their signature melting hot chocolate souffle" we recommend you order that at the time of your entree's as it takes a while to make. Roy's is a must visit no matter what island you are on.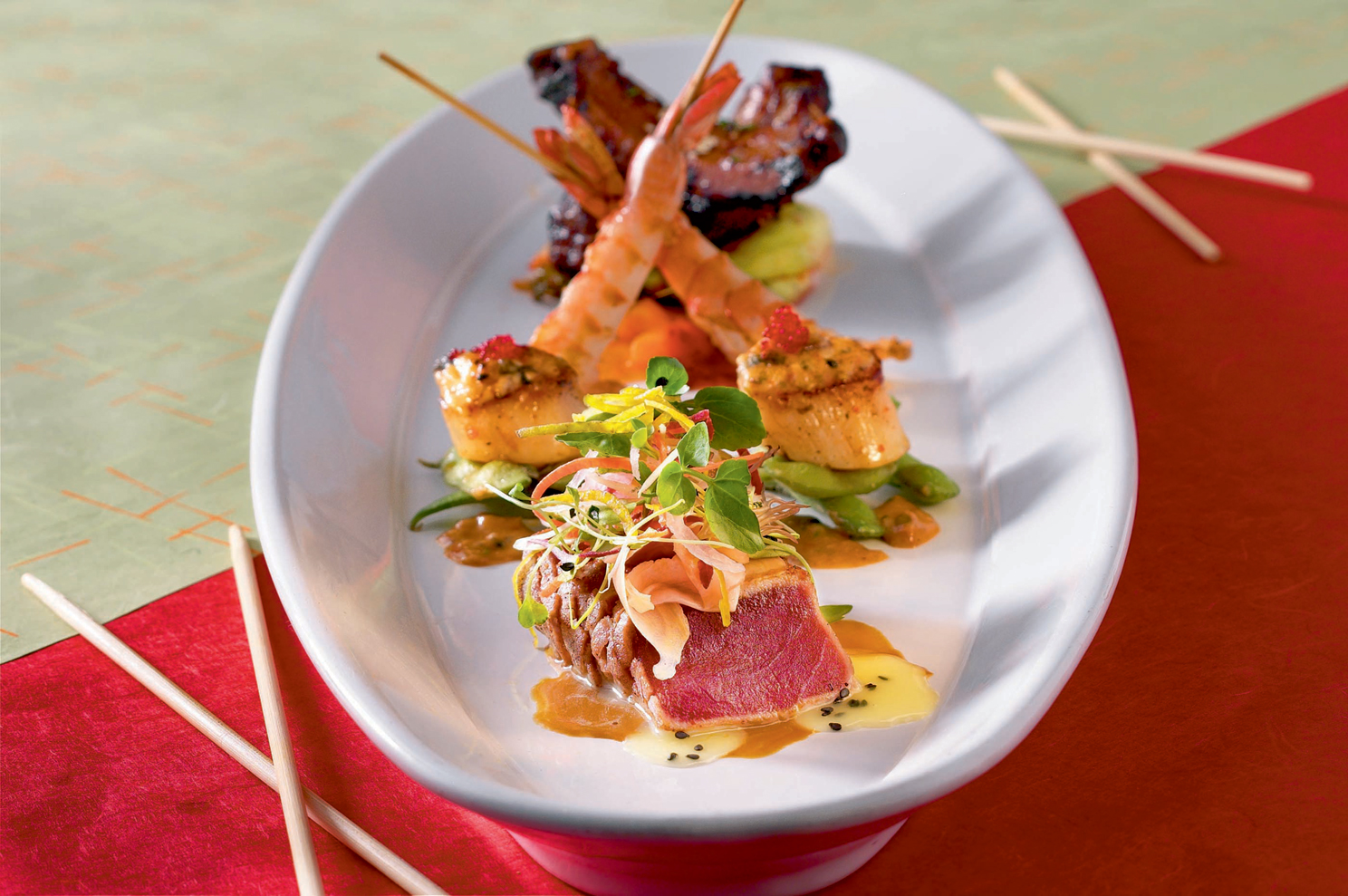 Luau at the Hyatt.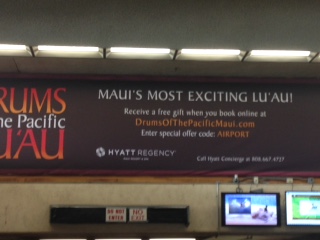 The drums of the pacific Luau is a journey throughout the islands of Polynesia with native Hawaiian cuisine buffet with a selection of salads fruits vegetables island fish  huli huli chicken kalua pork and local purple sweet potatoes and Taro.  Enjoy the open bar and exotic entertainment featuring authentic dances, music and spectacular fire-knife dance finale.   They even include a kids luau lesson on stage before all of the female professional luau dancers perform.  It is and overall fun time with friends and family so catch this local tradition one evening on your next trip to Maui.  www.drumsofthepacificmaui.com
Longhis in Lahaina-
This establishment is an icon and has been in business 40 yrs.  The manager Ken was super hospitable and ensures you will have a great dining experience.  The staff is friendly and attentive.  We came for a nice breakfast and would have loved to come back for dinner and their signature lobster entree.   For breakfast, do not miss the fresh squeezed orange juice to start.  We had a bagel with lox and cream cheese , french toast and the unique egg white crab and veggie omelette.  I highly recommend checking this place out as it is one of the original restaurants in town.  They have a nice upstairs and have themed live music nights and other great events.   www.longhis.com/
Speedi Shuttle–
We took Speedi Shuttle in Maui and Oahu to/from the airport. Overall, they did a very good job. The rep had signs at the airport to find them easily. The trips were efficient and the drivers were welcoming and friendly.  They were very flexible on a couple of changes to the itinerary for timing and location and we highly recommend them on your next trip to the Hawaiian Islands. I would suggest very specific communication for pickups to ensure you are not at the wrong place waiting.   They saved us from renting a car as you don't really need one if you are staying in Lahaina or Kaanapali as there are free shuttles and public buses unless you plan to explore elsewhere.   You can find more info, fares and tours at www.speedishuttle.com
In Oahu, it was just myself so I stayed at the super convenient Polynesian Hostel Beach Club. 
This place was great and you can reserve your own private room.  Very affordable about 2 blocks from the beach and across the street from the zoo so the location is fantastic.  They serve a free pancake breakfast every morning and the staff is very friendly and welcoming.   If you are on a budget and/or single, this is the place to go.   You will not be disappointed but reserve early especially during popular times of the year as they get busy.   If you can spend a tiny bit more, go for one of their private rooms to feel extra secure.   Here are amenities offered by the great hostel.  

24 Hour Reception
Free Breakfast, Coffee & Tea Daily
Free Beach Chairs, Inflatables, Beach Mats and More
Free Linens and Pillows
Free Lockers in All Dorms
Free Luggage Storage for All Guests
Free Wi-Fi
Large Communal Kitchen
Surfboard Rentals
On-Site Parking
Discount Tours available at our Reception Desk
http://www.polynesianhostel.com
One half-block away from the Hostel is Hawaiian Style Rentals and Sales.  They have a variety of regular bikes, E-Bikes and Mopeds.   I highly recommend the E-bike as you can get some exercise yet you get a great boost especially going up hills.  The manager Nathan and the staff will take great care of you and it is the best way to get around.  I went to Diamond Head and all through Waikiki visiting the zoo and aquarium and I recommend them both.  https://honoluluzoo.org/   https://www.waikikiaquarium.org/ .  The Hawaiian bike rentals will give you a map and lock so you will be all set.   
On my last day, I decided to do a day visit to Ko Olina and the Four Seasons about a 45 min uber ride if you don't have a car but it was totally worth it. 
Wow, what a fantastic place.  The beauty, staff/service and atmosphere was off the charts.  I started a swim in their lagoon with no waves.  Then it was time for one of the all-time brunches at their ocean view restaurant.  From made to order omelets,  to a shrimp/crab bar, hot fish station,  breads, breakfast/lunch items, dessert and other treats, it was time to indulge.   It was just an incredible meal and experience. 
Then it was time to digest before heading to the spa for another amazing time with their deep tissue/hot stone massage.  It was like I died and gone to heaven.  The perfect treatment to relax me for the rest of the day watching the sunset go down before heading to the famous Hawaii Food and Wine festival closing night event right at the hotel.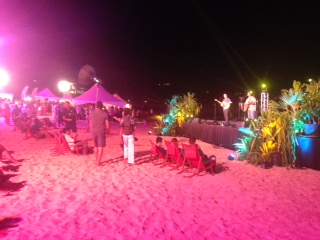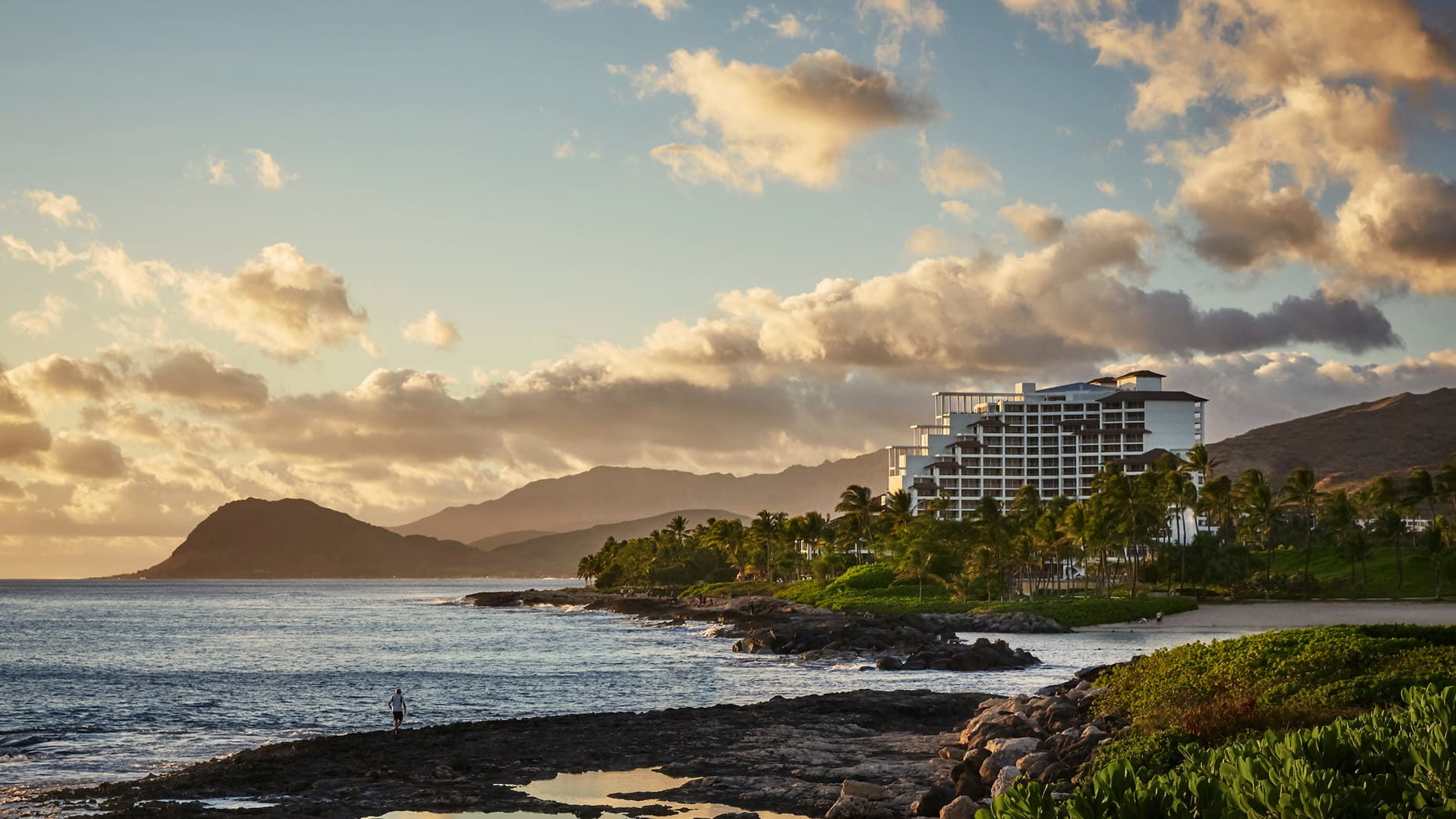 Can't get better than that.   www.fourseasons.com/oahu/