Pirates Dinner Show in Buena Park is worth the Visit & Incredible- March 2020
 
What a fun, interactive family show with plenty of action, acrobatics, dinnr, characters, music and of course Pirates.  The staff was amazing and overall, it was a blast. I highly recommend this dinner show to anyone from kids to adults to companies.   You get to cheer for your colored Pirate where you are sitting and many kids are brought up at different parts of the show to be a part of the action.   The dinner show runs nightly and they have great specials online which make it very affordable in Buena Park, Ca.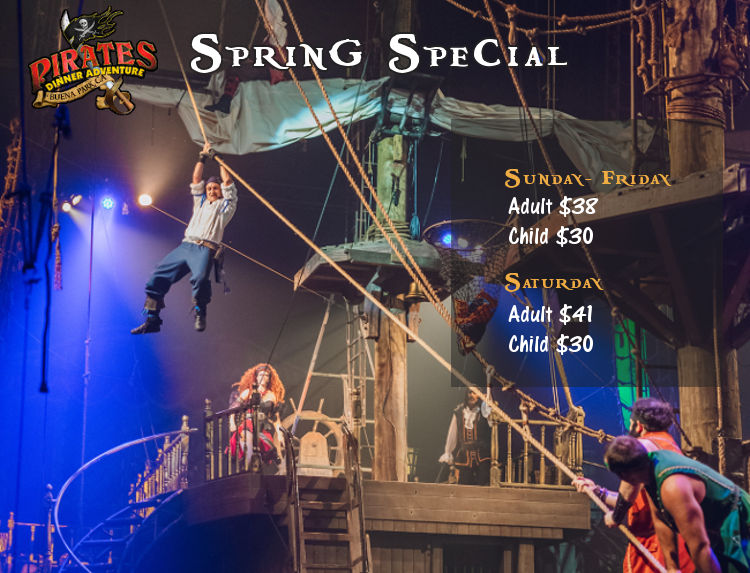 Step into their brand new adventure and experience a taste of the pirate's life!
---
Ahoy there! A missive for you has come from the Royal Chamberlain: you and your family are to be guests of Princess Anita and return to the ship for a celebration on the open seas!
A blessing has come to the princess in the form of a magical mermaid and your presence is requested at once to commemorate the event! A bountiful feast and many royal treats await you on the Galleon. Prepare yourself for a night of revelry and mirth.
That's right, Pirates Dinner Adventure has concocted a new spectacle in their world-renowned interactive theater. Now, as with all good fortune, what glimmers on the surface may tell a different story below. Secrets of the Deep is an action-packed evening of fun and adventure.
You will be entertained with an astonishing display of special effects, death-defying stunts, beautiful aerial artistry, swashbuckling swordplay, and a classic story of good vs. evil.
www.piratesdinneradventureca.com