Bamboozle Bamboo Fiber Plates, Bowls, Cups for Adults, Kids- March 2021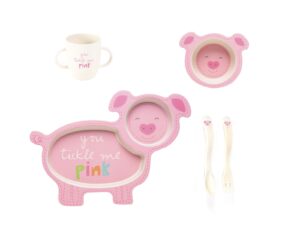 I recently got these great bamboo fiber plate/untensil set and my daughters love them.  The animal themed plates and cups make it more fun for them to eat meals. Bamboozle also has an assortment of other cooking and prep products.  I went for the mixing bowls and measuring cups/spoons which are great.  They come in a variety of sizes and will be great for cooking, baking, prepping and preparing meals.
Are your kids fussy at mealtime? Is it tough to get your child to eat their vegetables? No problem. Bamboozle's eco-friendly mealtime pals are here to take away the hassle and bring the fun back to mealtime! Made from dishwasher-safe bamboo fiber, the Tiny Footprint collection is the perfect eating set for little ones.
Bamboozle's quality products are practical, affordable, and eco-friendly. With a variety of options to choose from, your kid can choose to enjoy each meal accompanied by their favorite animal. Each set comes with a plate, bowl, cup, spoon and fork – what more could a kid need?
Tiny Footprint is a line of eco-friendly bamboo fiber tableware designed specifically for your little ones. Sustainable, biodegradable, and dishwasher safe; Tiny Footprint is the perfect first eating set for mealtime fun. Help them keep their ecological footprint small by starting off "tiny."