Jackson Hole Ski Resort- Skiing, Loding at Modern Mountain Motel, Dining Suggestions- April 2022
Jackson Hole Ski Resort is one of the top destination places to ski/snowboard in the country. We had a nice time but it was late in the season so my best suggestion would be to come between January to early March for your best chance at good conditions and more challenging runs with more snow. The variety of runs and trails with more experienced terrain would have been more challenging during prime ski timing but we stayed on all groom runs off Sweetwater or Bridger Gondolas. A variety of blue runs and groomers off the Apres Vous, Teton chairs and opposite side Thunder and Sublette chairs. Depending on the conditions, some of the better runs were Ampitheater, Rendezvous Trail, Werner and Wide Open.  We didn't go off any black diamond runs and stayed mostly on the blue runs this trip due to the lack of snow.  I can attest that Jackson Hole would be one of the steeper mountains in the USA but still has a nice variety of trails and options.
Check out their trail map here to see the more expert terrain. https://www.jacksonhole.com/maps/mountain-winter
Jackson, Wyoming and its place within the surrounding greater ecosystems of Yellowstone and Grand Teton National Parks, is an exceptional spot on the globe. Few destinations compare. Winter in the Tetons presents its own particular magic with peace, beauty and an uplifting spirit that's treatment for the soul.
UNTOUCHED, WILD, ADV E N T U R E
Jackson Hole Mountain Resort prides itself on uniting the untouched natural
winter environment with big mountain adventures found only in the Tetons.
Jackson has always been a world in and of itself and certainly a world away from urban life, yet now more than ever, we value the capacity to transport visitors to a more peaceful and present outdoor environment that is safe and healthy for all. There are few places on earth where one can arrive via car or air to a wide- open wilderness cherished by the community that calls it home, and be skiing and riding via world class lifts on uncrowded slopes in mere hours.
JAC K S O N H O L E
MO U N TA I N R E S O R T | 0 6
E N D LESS EXPLORATION
Split over two mountains, Apres Vous and Rendezvous,
JHMR's 14 lifts are designed to access every aspect of
widespread and varied terrain for all skier and rider
types. While JHMR is notoriously known for being
challenging and steep, over a decade of enhancements
have seen the development of state-of-the-art
operations, facilities, and programming dedicated to to
the beginner experience. JHMR's philosophy towards
the sport emphasizes everything from developing solid
basics down below in our state-of-the-art Solitude
Learning Center, to facilitating true freedom to explore
and roam the upper regions of Jackson Hole that often
include in-bounds hiking to open bowls and tight trees
and chutes. There's forever something to aspire to. At all cost avoid coming late in the season as it gets slushy and do NOT come on April 1st day as they have a certain dress up day but it is chaotic and dangerous with tons of younger skiers either drinking or doing stupid things.
The Modern Mountain Motel is situated in downtown Jackson and went through a remodel a few years ago which gave it a great new vibe & look.  The convenience of where the location is is great to walk to downtown (see above right photo of the downtown area) and not far from the snow resort Jackson hole in Teton Village about only 15 minutes away. There's a shuttle bus that will take you to the resort the few times burying in the morning and for pick up after. The room was very comfortable and spacious.
Included two queen beds that were super comfortable, a dark out shade, small refrigerator, coffee maker, and a microwave.  They have an indoor heated pool & jacuzzi. They call it a motel because you enter from the outside but the accommodations were more like a hotel & very underrated. We could walk downtown in about five To 10 minutes. The staff were super friendly and helpful with any questions or suggestions. I highly recommend this place for any visitors coming to stay or visit Jackson or Jackson hole. Besides being affordable is quite nice and you'll be pleasantly surprised.
A short walk from Town Square, the Jackson Hole Modern Mountain motel is conveniently located in central Jackson, just 5 blocks from Snow King Mountain, 10 miles from Grand Teton National Park, 12 miles from Jackson Hole Mountain Resort and 55 miles from the south entrance to Yellowstone.  They have 135 modern guestrooms were designed to be your adventure base camp with open floor plans, practical spaces for storing all of your gear, and conveniences like mini fridges and microwaves. Amenities include a heated indoor pool and hot tub, on-site restaurants (Big Hole BBQ & BAPP) and a lobby lounge offering grab-and-go bites, laundry facilities and an on-site salon. Parking and WI-fi are complimentary, as are in-room coffee and tea.  Complimentary Shuttle to Jackson Hole Mountain Resort during winter season.
None of the fluff, all of the good stuff. The guest rooms and suites are great alternatives to traditional Jackson Hole lodging: functional but fun, and simple but well-designed, with a sense of authenticity and play that reflects the spirit of the area. Designed with the adventurer in mind, they're more like mini apartments than hotel rooms, with open floor plans, and practical spaces for storing your gear. We've kept the charm of a traditional hotel room, but added amenities to give you just the right amount of pampering after your day of adventuring.
More info at https://mountainmodernmotel.com
The Bistro located in downtown Jackson at the Cloudveil Hotel is part of the JH fine restaurant group that handles quite a few restaurants in town and at the village in Teton. Eric, the manager was very welcoming and hospitable as was the rest of the staff. Our server Garrett was very knowledgeable and friendly well taking great care of us.
For starters we had the octopus salad which was cooked perfectly, the ahi tuna stack with wonton chips and they're mixed green garden salad.  There were so many great entrée choices but we decided on having a couple items that we very rarely see or have had in the past. The special of the day was the Oso Buco veal shank which was delicious and came with carrots and haricot vert (green beans).  Our favorite dish was the bison fillet with whipped potatoes and Broccolini.   For dessert try the beignets, another item you very really see except if you're in the south and the huckleberry cheesecake which was divine. The decor and atmosphere was very modern and chic. Overall a great dining experience that we highly recommend.  More at   www.thebistrojacksonhole.com
Il Villaggio Osteria is also part of the fine dining restaurant group it located in the Hotel Terra Teton Village. It is led by executive chef Marco MORILLON and offers contemporary Italian and fine dining. There quite a few appetizers and starters but we went with the roasted cauliflower  in a delicious garlic butter sauce and the cheese board.
Not to miss are there popular pizzas with a variety of toppings. We have the pesto tomato and pulled mozzarella cheese pot pizza with its delicious crust.
The second dish , we had the endive  salad and the saffron seafood risotto. For the main course we split the lobster linguine and trout steelhead over black lentils.   Try one of their signature cocktails or glass of wine to enhance your meal. For dessert we had the tiramisu which was their popular Italian dessert and very decadent. Our server Dylan was very professional and friendly. The restaurant had a very nice decor and upscale vibe.  https://jhosteria.com/
We have lunch at the Spur one afternoon and I was a very pleasant experience. I have an assortment of appetizers salads and sandwiches. I started with the mini ahi tacos and the most popular fish seem to be the Wagyu pastrami sandwich and I can see why. It was delicious with melted cheese tomato on marble rye and absolutely delicious.  Our server was very friendly and knowledgeable. It's located near the tram in Teton Village.   Enjoy one of their popular drinks, beers or cider to a company or meal.  https://www.tetonlodge.com/spur-restaurant/
Piste Bistro-
located the top of the bridge or gondola is a fine dining establishment with very beautiful views and tasty food. They had some unique starters as we had to try the duck wings with a hoisin sauce and scallion aïoli as well as a side of their pretzel bites serve with mustard. For the entrées we tried the grilled chicken sandwich on ciabatta bread which was divine. The assortment of salads and other plates looked great but we went with the kale and bulgur salad topped with shrimp as well as the smoked salmon salad. Healthy versions but yet very good.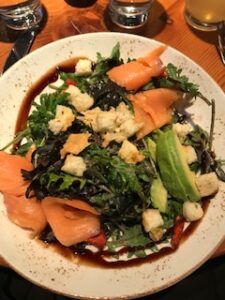 The manager Scott and our server Margot were great and very hospitable. It had a warm atmosphere in the restaurant and we left very satisfied. I also have a selection of beers wine signature drinks and some hot cocktails.  I tried the vanilla hot which was a coffee drink mixed with whiskey and Kahlua. For dessert we had the tiramisu cheesecake and I was a great way to end the lunch.   https://www.jacksonhole.com/piste-mountain-bistro
Photos by JH Ski Resort & Kerry Howell.