Visiting New Orleans-Places to visit, dine and stay at the Marriott Hotel- May 2022
Here are some fun places to visit, dine and stay on your next visit to New Orleans It will keep you active & entertained. Definitely try the Mystic Swamp Wildlife Kayak Tour, which is about a 40 minute ride from Frenchmen Street, which is they will pick you up on the shuttle if you don't have a car for a little added fee but well worth it.
The tour last about two hours after you get there and start with a tour guide and you can fit two in a kayak for this fantastic adventure. You'll definitely see some alligators and other wildlife well check it out all the nature and interesting surroundings. NOLA kayaks tour was just incredible adventure.   Our guide Kylie was super informative and friendly. It's also a great workout , safe & very enjoyable.
https://neworleanskayakswamptours.com/tours/swamp-kayak-tours/manchac-mystic-kayak-tour/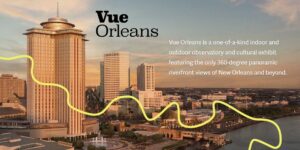 The VUE in New Orleans just open at 2 Canal St. and is definitely worth the visit this interactive venue starts on the ground floor with some touch less screens but very educational information and interactive stations.
Then head up to the 33rd floor for more education and views with monitors to explain all about the city and everything you're looking at. Take the elevator up to the 34th floor to go outside and feel the fresh air while you check out the whole city around. http://www.vuenola.com/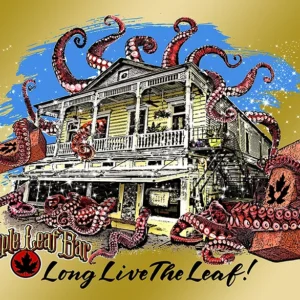 Looking for a great place to go at night from live music head down to the Maple Leaf. I went and checked out legendary New Orleans piano star John Cleary it was a fantastic show. The venue was very cool with an inside and outside area to hang out, have drinks and listen to great live music. https://www.mapleleafbar.com/
Dining:
Ye Old College Inn-  What a fantastic experience at your old college inn. Chef Baker created a variety of great menu items.  Our suggestions to the appetizers are the fried green tomatoes with remoulade shrimp, as it's one of their signature dishes along with the Crawfish over baked brie.  The Caesar salad with a homemade dressing is fantastic and try the crispy fried oysters.
Four entrées the fresh catch of the day go fish was outstanding topped with crawfish. Other suggestions were the shrimp and grits and a delectable sauce. If you're in the mood for meat they have beef, steaks and veal chops. Not to miss for dessert is the fried bread pudding topped with vanilla ice cream along with the toffee cake were a perfect way to finish.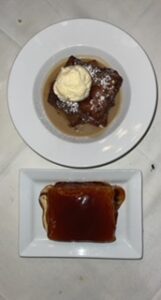 Enhance meal with when their signature cocktails or glasses of wine. The sweet tea vodka cocktail was unique and we have never seen before but highly recommend The staff and service were outstanding in our server Colin to the great job. The atmosphere is very relaxed and the food was delicious.
https://www.yeoldecollegeinn.com/
Cochon restaurant specializes in pork dishes but has many other options.
For starters don't miss the crawfish remoulade over lettuce with a nice dressing and the strawberry spring salad. If you're adventurous, go for the fried alligator. The bread rolls were very addicting and delicious. The shrimp and grits in the Brandy sauce or not to miss. The short roads are very tender and falling apart. The mac & cheese casserole is a must.
The staff and service were very accommodating and friendly. The manager David was super hospitable and we enjoyed talking to him. For dessert, they suggested the strawberry shortcake pie with sweet cream sauce.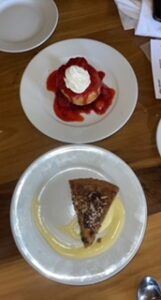 They have an array of specialty cocktails and after dinner drinks that will enhance your meal. Overall the place was outstanding and we would highly recommend it if you like pork or not. https://cochonrestaurant.com/
For lodging I stayed at the Marriott in the Warehouse District. It's newly remodeled and a great location with convenience to many close things such as the French quarter and other attractions. The rooms are spectacular with comfortable beds and spacious living space. They have a fitness center and outside pool which I utilized to work off some of the great food in the city. I recommend staying here on your next visit as a staff is helpful and they have a concierge to give you any suggestions or help. The property recently unveiled their full-scale hotel redesign. The multi-phased renovation includes a transformed guest experience with new public spaces, meeting spaces and guest rooms.
Written & Photos by Todd Elliot, Lisa Rosas, Pat Moore and Celine Coral Isikci
NEW ORLEANS MARRIOTT WAREHOUSE ARTS DISTRICT UNVEILS A REIMAGINED EXPERIENCE
WITH FULL-SCALE HOTEL REDESIGN 
Hotel Celebrates with a New Package, Donation to New Orleans Musician's Clinic
NEW ORLEANS, LA –  February 17, 2022 – New Orleans Marriott Warehouse Arts District unveiled today a multi-phased renovation that includes its transformed guest experience with new public spaces, meeting spaces and guest rooms, as a part of the continued reinvention of Marriott Hotels, the signature flag within Marriott Bonvoy's portfolio of 30 hotel brands.  The design transformation provides a premium elevated experience that speaks to the needs of today's modern traveler.  
"We want our guests to experience forward-thinking, aesthetically pleasing spaces that help foster their inventive nature and allow them to get into their best headspace for success," said Joseph Blanchek, General Manager, New Orleans Marriott Warehouse Arts District. "Our hotel redesign preserves the historic personality of our storied neighborhood while presenting contemporary, modern upgrades to meet the evolving needs of today's travelers."
The reimagined guest rooms offer a sleek and upgraded look complete with locally inspired accents that reflect the atmosphere of the trendy Warehouse Arts District. A functional work area provides flexibility to freely move and use technology wherever the guest desires. Hard surface flooring, chic seating areas, platform beds and contemporary furniture present a sophisticated style. Bathtubs have been replaced with deluxe walk-in showers in most guest rooms and spa-like lighting, marble vanities and rain showerheads provide a relaxed and upgraded bath experience. The hotel also converted its former concierge lounge on the third floor into an additional spacious Presidential Suite that features a lounge area with contemporary furniture including a sectional sofa and a dining table with seating for eight. The suite, which connects to a king guest room, opens to an intimate, private courtyard that's ideal for small weddings, social events, and corporate gatherings.
With the renovation, New Orleans Marriott Warehouse Arts District transformed the lobby into the Marriott Hotels' Greatroom – a stylish hub of the hotel that serves as a social gathering place for both day and night, complemented by elegant décor that ties in the history of the local neighborhood. Artistic scenes of New Orleans, light-colored Herringbone wood floors, dark wooden beams and accents of teal, navy and gold provide sophisticated flair against a neutral backdrop. Professional artwork, hand selected by Kevin Barry Art Advisory, further defines the modern look and feel of the new design. Statement pieces include a selection of contemporary sculptures, mixed media panels, and bold prints. Clusters of lounge furniture and a central bar provide guests with ample space to relax, collaborate with colleagues or grab a night cap. The upscale bar, surrounded by 34 plush teal leather bar stools, sits underneath cascading orb lights, and offers a vast selection of premium spirits and fine wines.
Along with the Greatroom, New Orleans Marriott Warehouse Arts District also features a brand-new M Club designed with a speakeasy vibe. Exposed brick, rich leather seating mixed with blue, green, and gold accents continue the sophisticated look found throughout the hotel. A brand signature, the exclusive area is available to Elite and Club paying members with perks including a range of complimentary food and beverage options featuring hot breakfast, evening drinks and hors d'oeuvres as well as premium beverages throughout the day. The M Club will showcase a collection of delicious snacks and beverages served at various points during the day. Accessible 24 hours a day, seven days a week, the M Club will offer free wi-fi, printing and power supplies to ensure uninterrupted productivity for business travelers.
Meeting planners have a lot to celebrate with New Orleans Marriott Warehouse Arts District's Next Gen Meeting Space, which is tailored to foster collaboration. A total of 21 renovated meeting and event spaces offer planners more than 24,000 square feet of flexible space across from the Ernest N. Morial Convention Center. Pre-function spaces include communal tables for attendees to plug in or network between meetings. Two reimagined ballrooms, housed within a 200-year-old historic warehouse, are adjoined to the modern hotel. With exposed brick walls and stunning crystal chandeliers, the ballrooms present an industrial, yet sophisticated and elegant ambiance for social gatherings and weddings.
When guests are ready to step out and explore, they will have no shortage of award-winning attractions, restaurants, and shopping at their fingertips. Ideally located in the bustling Warehouse Arts District across from the Ernest N. Morial Convention Center, the hotel is within short distance to James Beard award-winning restaurants such as Cochon, Emeril's and Meril and popular attractions including the French Quarter, WWII Museum, Ogden Museum of Southern Art, Harrah's Casino, and Audubon Aquarium of the Americas. Live music venues and bars such as The Howlin' Wolf, Republic and Generations Hall; art galleries on Julia Street; Fulton Alley and The Outlet Collection at Riverwalk create a well-rounded stay for any traveler visiting the city for business or leisure. The hotel is also situated nearby the historic streetcar lines, so guests have easy access to other popular neighborhoods including the Garden District, Uptown, Mid-City, and the Marigny.
To help guests celebrate the redesign, immerse themselves in the Warehouse Arts District, and give back to the local community, the hotel is announcing two new initiatives kicking off over the next few weeks. A Howlin' Good Time in Our Redesign is a new offer that's available now for reservations and includes the following components:
·   Overnight accommodations in a redesigned guest room
·   A 20% discount on food and beverage purchased at the hotel's new restaurant and bar throughout their stay
·   Admission for two to The Howlin' Wolf, a popular local entertainment venue in the Warehouse Arts District that offers live entertainment six nights a week ranging from live music including GRAMMY®-nominated brass bands, burlesque performances, and comedy shows
Guests can book the package online or call (800) 228-9290 and request promotional code, XYO.
In addition to the new package, the New Orleans Marriott Warehouse Arts District is also donating a portion of proceeds from all reservations made during prime festival season, April 1 – May 8, 2022 for stays through Sept. 30, 2022, to the New Orleans Musician's Clinic, a local nonprofit organization that provides comprehensive medical care and social services to local musicians, performing artists, cultural workers, and tradition bearers and their families. 
New Orleans Marriott Warehouse Arts District will participate in Marriott Bonvoy – the award-winning travel program from Marriott International – allowing members to earn and redeem points for their stay at the new hotel, and at other hotels and resorts across Marriott Bonvoy's extraordinary portfolio of brands.
For more information about New Orleans Marriott Warehouse Arts District and to book a reservation, visit www.marriott.com/hotels/travel/msymc-new-orleans-marriott-warehouse-arts-district/ or call (504) 613-2888.
About New Orleans Marriott Warehouse Arts District 
Located in one of New Orleans' trendiest neighborhoods across from the Ernest N. Morial Convention Center, the New Orleans Marriott Warehouse Arts District features 332 reimagined guestrooms and suites, and over 24,000 square feet of flexible meeting and event space. Hotel amenities that elevate the guest experience include the brand's signature M Club, restaurant and central bar, refreshed fitness center featuring state-of-the-art free and machine weights, rooftop pool, and on-site Starbucks®. An ideal location for both leisure and business travelers, the hotel is in close proximity to award-winning restaurants, popular attractions, live music venues and bars as well as museums, art galleries, and shopping.
About Marriott Hotels®
With over 590 hotels and resorts in more than 65 countries and territories around the world, Marriott Hotels is evolving travel through every aspect of the guest's stay, helping to relax, clear minds, stimulate new ideas, and anticipate travelers' needs, leaving them inspired to reach their full potential. Boldly transforming itself for mobile and global travelers who blend work and play, Marriott leads the industry with innovations, including the Greatroom lobby and Mobile Guest Services that elevate style & design and technology. To learn more, visit www.MarriottHotels.com. Stay connected to Marriott Hotels on Facebook, @marriott on Twitter and @marriotthotels on Instagram. Marriott Hotels is proud to participate in Marriott Bonvoy®, the global travel program from Marriott International. The program offers members an extraordinary portfolio of global brands, exclusive experiences on Marriott Bonvoy Moments and unparalleled benefits including free nights and Elite status recognition. To enroll for free or for more information about the program, visit marriottbonvoy.com.