Chicago and Brian Wilson Summer Tour stops in LA Post Coverage, June 2022
.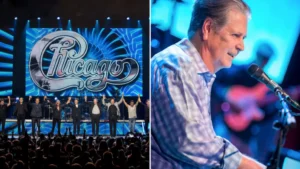 Photo courtesy of the artist and Jeff McEvoy above
The June 9th night show we saw was only the 2nd show of the tour after opening in Arizona.
———————————————
BRIAN WILSON
Led on stage with the help of a walker, Brian Wilson took his place behind the white piano that for many years has served more as a sort of buffer separating Wilson, who turns 80 on June 20 from the audience. He didn't comfortable onstage and barely moves or says a word. He sings behind the white piano playing ocasionlly.  Al Jardine and his son Matthew Jardine help take over when Brian does not sing. He is iconic but slowing down but that didn't stop the fun show with many of the Beach Boys hits.
Brian Wilson has assembled a stellar touring band, including Al Jardine, a founding member of the Beach Boys, who handled lead vocals on "Help Me, Rhonda" and "Surfin' Safari,".  Another former Beach Boy, introduced by Wilson as "the one and only" Blondie Chaplin, made his first appearance late in Wilson's set. 
They'd already made their way through 15 songs when Chaplin hit the stage and promptly stole the show, leading his bandmates in a spirited "Wild Honey," "Long Promised Road" and "Sail on Sailor," a song Al Jardine said was one of his favorites.  In addition to his soulful vocals, Chaplin brought a Stonesy swagger to the mix while tearing it up on lead guitar, gleefully standing mere inches from Wilson's piano. His solo on "Wild Honey" was a masterclass in raunchy brilliance.
Darian Sahanaja  who's been with Wilson's touring band since 1999, sang a deeply soulful "Darlin'" and "I Can Hear Music," a Ronettes song the Beach Boys covered on their "20/20" album.
Any song that required the iconic falsetto that defined so many Beach Boys classics, Matthew Jardine nailed, from "I Get Around" to "Help Me, Rhonda." And he sounded especially angelic on "Don't Worry Baby" and "God Only Knows." 
Rounding out the touring lineup were guitarist Randell K, keyboardist Gary Griffin, bassist Bob Lizik, percussionist Jim Laspesa, drummer Mike D'Amico and multi-instrumentalist Probyn Gregory. They are a really solid band, providing Wilson everything he needs to do his legend proud. It wasn't flawless, but was very tight.
Brian Wilson is truly one of the true greats of rock history, and one of the most gifted musicians of his generation. The Beach Boys co-founder was the chief songwriter of the legendary group's biggest hits, and he ended up influencing countless artists that came after him. https://www.brianwilson.com/
Chicago celebrates a new album and 55 years together
In 1974, three Beach Boys — Al Jardine and Wilson's younger brothers, Dennis and Carl — added harmonies to the Chicago classic "Wishing You Were Here." A year later, the two groups launched the first of two Beachago tours. 
Chicago had nearly as many musicians on stage as Wilson's band — 10 in all, including founding members Robert Lamm on keyboards, keytar and vocals, Lee Loughnane on trumpet and vocals, and James Pankow on trombone and his larger-than-life personality. He kind of takes main stage as the leader with his outgoingness and telling stories to the crowd in between songs with his energy always high.
They celebrated their new release, 38th studio album, called "Born For This Moment." by sharing a highlight titled "If This Is Goodbye,".  Chicago is also celebrating the fact that this year marks their 55th anniversary. 
Chicago setlist went heavy on the hits
They certainly touched on many of the songs that now define their place in music history, including such hits as "Beginnings," "Make Me Smile," "25 or 6 to 4," "Does Anybody Really Know What Time It Is?," "Free," "Saturday in the Park" and "Feelin' Stronger Every Day."
If you own "Chicago IX: Chicago's Greatest Hits," you went in really well prepared, because they played the whole thing in addition to such later hits as "If You Leave Me Now," "Hard to Say I'm Sorry" and "You're the Inspiration."
Neil Donell's vocals on those later hits were often awe-inspiring, especially that high note that refused to end on "You're the Inspiration." "Hard to Say I'm Sorry" was another show of force for Donell's vocals. During their cover of the Spencer Davis Group hit "I'm a Man" (as featured on 1969's "The Chicago Transit Authority"), they relinquished the stage to drummer Wally Reyes, Jr. and percussionist Ramon "Ray" Yslas, who earned a spontaneous standing ovation for an extended solo that offset dazzling displays of proficiency with personality.Ray Herrmann also had plenty of opportunities to show what he can do on sax. And guitarist Tony Obrohta turned in a number of impressive solos, from "(I've Been) Searchin' So Long" to "You're the Inspiration." 
After bringing their set to a powerful conclusion with "Saturday in the Park" and "Feelin' Stronger Every Day," Chicago returned for an encore that opened with "Free" before Obrohta cranked out the opening riff of the song you knew they couldn't leave without playing: "25 or 6 to 4," which also featured a great vocal from Donell. Overall, the concert was fantastic and the sound was spectacular at the Forum in Inglewood. https://chicagotheband.com/
Written by Todd Elliot and Jeff Zimerman