Visiting San Juan and Orcas Island- Orcas Hotel, Dining, Activities- July 2022
Only about a 2 hr vehicle ride from the Seattle airport (you can drive or take Bellair Airport Shuttle Service) is where you would catch a ferry to the San Juan Islands.  The islands are a great place to go for the day or overnights on the ferry from Anacortes.  The most popular islands are San Juan and Orcas Island.  You buy a round-trip ticket and you can go to any inner islands at no charge on the ferry.  The ferry ride from Anacortes to San Juan was about an hour and a half with beautiful scenery and views of many other small islands. You need at least 1 day on each island to enjoy activities without rushing.
San Juan Island:
Ferry and Baker photo by Matt Leaman
Our first stop was San Juan Island, where we toured around.  You will arrive at Friday Harbor in San Juan Island and first walk-through their small, cool town. You can take a bus or trolley around to the points of interest and get off and on at your leisure. Some highlights included American & English camp parks.
Photo by Barbara Marrett
We also visited sculpture park, Roche Harbor, Lime Kiln Point State Park, where you may be lucky enough to see some whales if the time is right and Pelindaba Lavender Farm.  Photos below of each.
Lime Kiln Light photo by Amy Nessler
You can stay overnight or just go for the day and explore with hiking, biking and other sightseeing options. We had lunch at the popular Lime Kiln Cafe (pictured below) near Roche Harbor.
Our next stop was Orcas Island, which was about a 40 minute ferry ride from San Juan Island. We checked into the Orcas Hotel located right near the ferry before heading to Eastsound for dinner.
Orcas Island:
The Orcas Hotel is a perfect place to stay located right next to the ferry station on Orcas Island. As soon as you get off the ferry you walk right up to the hotel about two minutes away. The staff is very friendly and the rooms are very comfortable. The bed was amazing as was the view of the water.  The room had a little patio too.   Some rooms do not have a shower but they have showers down the hall.  I had a room with a Jacuzzi tub which was fantastic.  Overall,  we enjoyed our stay at the Orcas hotel & I would highly recommend it.  Try their cafe for breakfast or lunch with a variety of dishes including eggs, avocado toast, pastries, coffee and even ice cream.
Historic Inn and Cafe Orcas Island, Washington CHEF PROPRIETORS • John Cox & Julia Felder 
John and Julia purchased Orcas Hotel in 2020. Originally from Washington, D.C., Julia is a graduate of Le Cordon Bleu in London and Cambridge University. John was raised in Northern New Mexico, and spent the last two decades cooking his way around the Pacific, from Hana, Maui to Big Sur, California. John and Julia met while working at celebrated Post Ranch Inn in Big Sur.  
To make a long story short: After living in Astoria, Oregon, they fell in love with the climate and camaraderie of the Pacific Northwest, in part because it reminds them of Scotland where they were married. Searching for a place to put down some roots, they found the hotel of their dreams on Orcas Island. They are proud to be the stewards of this unique property and to help write its next chapter https://www.orcashotel.com
We had a full day on Orcas Island and highly suggest Wildlife Cycles located downtown to get a workout and get around. You can ride around the island with your ebike stopping at some great hiking trails and other top spots. They have some great options of bikes but the Ebike is the way to go to help with hills and to get around faster to check out more places. Big thanks to the owner Dan and his family for helping with the bike sizes, maps and suggestions. Get a bike at www.wildlifecycles.com
One other way to get around fast if you don't want the exercise is renting a car from Orcas Cars at www.orcascars.com     To get from Orcas Village into Eastsound without a car or bike will be the Orcas Island Shuttle: www.visitsanjuans.com/account/the-orcas-island-shuttle.
Our itinerary included Moran State Park, Obstruction Pass State Park (Definitely a must to head to the top for the fabulous views), Orcas Island Artworks, Rosario Resort and Buck Bay Shellfish Farm (don't miss them for a fantastic lunch) https://buckbayshellfishfarm.com
Dining:
Matia–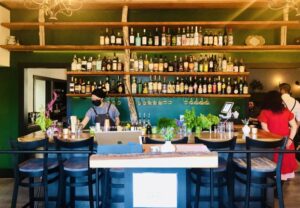 This eclectic restaurant in downtown Orcas is one of the hot spots these days. Reservations are encouraged but they do take walk-ins in the patio and at the bar. The menu changes daily with fresh produce and ingredients brought in. They have an assortment of salads & entrees with creative preparations you will not see elsewhere.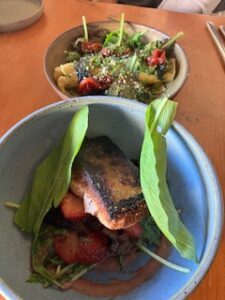 We had a salad that consisted of cooked cheese, cherries, tomatoes and nuts in a thyme vinaigrette dressing to start. For entrees we had a unique veggie lasagna and fresh king salmon served with vegetables. It's a very unique and diverse experience that is not to miss.  https://www.matiarestaurant.com/
The Madrona Bar and Grill in downtown Orcas was a cozy dining experience with spectacular views of the water.
They had a variety of dishes to try as we started with the steamed clams in a delicious garlic butter sauce. Try one other nice salads and add-ons such as flat iron skirt steak. They have an assortment of nice entrees dishes but I was in the mood for seafood so I went with the ciopinno seafood stew which came with clams, mussels and sockeye salmon in a tasty tomato broth. Enjoy one of their glasses of wine or local hard ciders to accompany your meal. Overall the food was very good and we enjoyed our time. We recommend the Madrona Bar and Grill on your next visit to Orcas island and sit by the window.  https://madronabarandgrill.com/
Check out these interesting facts about the San Juan Islands:
There are no traffic lights anywhere in the islands. People hardly even honk
Just a 30-minute seaplane flight from Seattle or a scenic ride on a Washington State Ferry
In summer, passenger ferries connect Bellingham, Port Townsend, and Seattle with the Islands
New National Monument Status (1,000 acres) – 2013
Orcas Island was named by a Spanish explorer for his expedition's sponsor, Viceroy Juan Vicente Guemes de Padilla Horcasitas y Aguayo. Just coincidence that it's also habitat for orca whales!
4 iconic lighthouses on public lands; three open to the public in summer.
Washington State Ferries is the largest ferry system in the U.S and also connects the Islands to Canada
San Juan County has more marine shoreline than any other county in the country (408 miles)
San Juan County is the first county in the country to ban Jet Skis
San Juan County is considered an "Arts Hot Spot" by the Washington State Arts Commission
San Juan County is the first county in the U.S. designated as a voluntary "Leave No Trace" area
Friday Harbor, San Juan Island: National Trust for Historic Preservation Destination of Distinction
World-renowned for shore-based orca whale watching and sea kayaking in the heart of the Salish Sea
San Juan County residents are highly ranked nationally and statewide for quality of life, longevity, and physical and mental health, according to recent national studies
Roche Harbor's business license pre-dates Washington statehood. The company, in continuous business since 1886, is now a destination resort offering a spa and five lodging choices—from historic to luxury
The "Gourmet Archipelago," has four shellfish farms, three vineyards, three breweries, one cidery/distillery, and six tasting rooms featuring local and Northwest wines, local beers and locally distilled spirits. Enjoy farm feasts and festivals, in a thriving culinary arts scene
San Juan Island National Historical Park commemorates peace over war during the "Pig War" crisis—the last time the U.S. and Great Britain were engaged in a territorial dispute
An ordinance banning Styrofoam take-out containers was passed in 2010, followed by a ban on single-use plastic bags in 2016.
Recent Awards:
Travel + Leisure: "Top Islands Continental U.S. and Canada" 2003-2012, 2014 – 2018, 2020-2021
New York Times: #33″52 Places to Go in 2019″
USA TODAY 10Best Reader's Choice: #1 "Best Washington Attraction" 2017
Travel + Leisure World's Best Awards: #2 "World's Friendliest Islands," 2016
Condé Nast Traveler Readers' Choice: "Best U.S. Islands for Families," 2015
A big thanks to Amy M. Nesler from the San Juan's Visitors bureau who was super helpful, great to work with and can answer any questions if need be.
Just an overall fantastic place to visit, stay and explore. More at www.visitsanjuans.com
Photos by Lisa Rosas unless otherwise mentioned.