Santa Barbara Lodging at the Mason Beach Inn, Dining at the Fishouse, Olio Pizzeria & Bottega- August 2022
Lodging in Santa Barbara:
Mason Beach Inn, located a couple blocks from the beach near downtown Santa Barbara. The spectacular location makes it convenient to get anywhere around especially with their complimentary cruiser bikes with helmets & locks. The staff is very friendly and helpful with any suggestions & questions you'll have.  They have 24 hour coffee service and offer oatmeal in the morning.  The rooms are very spacious and comfortable.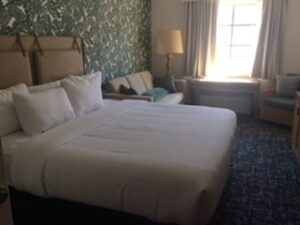 The King bed was super comfortable and felt great.  The room also included HD TV and Wi-Fi. They have a nice swimming pool that's heated outside.  Overall the Mason Beach Inn was outstanding and we highly suggest a stay there on your next visit to Santa Barbara. They have a big parking lot as well.
Dining in Santa Barbara:
Searching for a fantastic seafood meal in Santa Barbara, look no further than the Fishhouse on Cabrillo Street by across from the beach. They serve fresh seafood and fish items and some of the best around. We start with the awesome Ahi pokey with avocado and seaweed salad as well as their popular clam chowder. Just absolutely delicious.
For entrées we had the special abalone and halibut entrées while we split the seafood cioppino in a tomato broth with clams and scallops ,muscles , shrimp & fish. Just devine.
It's hard to find a better seafood restaurant around and enjoy their housemaid sangria with sky vodka and brandy which pairs great with the dishes. The manager Chris was super hospitable and our server Peyton was super attentive, friendly and helpful. For desserts don't miss the bananas foster and mud pie dessert with coffee ice cream. You will leave completely satisfied.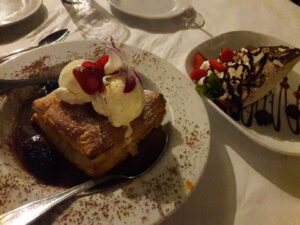 More at  https://santabarbaraca.com/businesses/fishouse/
Looking for the best and most unique pizzeria around, check out Olio Pizzeria in Santa Barbara. Where else can you find gourmet dishes including Branzino and shrimp at a pizzeria. We started with  shrimp in a spicy tomato sauce and the fried calamari with squid ink.
It was amazing. The sea bass "Branzino" was delicious as was the tasty seafood pizza with shrimp calamari and clams.
You can even get it on gluten-free crust and it was just unbelievable. For the best experience sit outside on the patio and you'll feel like you're in a European city with a beautiful atmosphere and decor.  The Staff & service were top-notch and we left completely satisfied. https://www.oliopizzeria.com/
On our last day, we stopped by for a brunch at Olio Bottega.  They serve breakfast, paninis, salads, snacks, desserts and more.  Sit outside for a nice meal.  We loved the spinach frittata  (open faced omelette).  It is located next to Olio's fine dining at Victoria Court and open only in the day.