Yama Sushi newly opened in West LA/Mar Vista, Fresh & Delicious"- August 2022
Yama Sushi, which has been a staple in the community of San Gabriel since 1984, now has a new location in West L.A.
Yama Sushi Sake & Attitude is a specialty Japanese Market place.  It has plenty of pre-made rolls and sushi for a quick meal, but it also sells premium, sushi grade fish if you want to take something home to prepare.  You can pick out a beautiful piece of salmon, tuna, toro
, or scallops
and the store will slice it up for you in
perfect
sashimi like portions.   The scallops were our favorite item.
The store also serves specialty food items that may be hard to typically find like yellowtail collar (as they can cook it in store and yes you can dine in person) , vegetable katsu, uni,  white soy sauce, or soy sauce that has been aged in whisky barrels.
They have a wide variety of Japanese style drinks including boba and they are soon to be selling a variety of Sake as well.  They also have delicious mochi ice cream for dessert.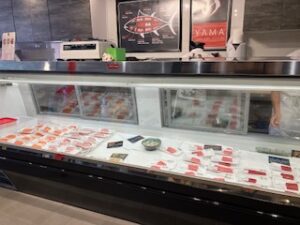 Yama Sushi is a family run business who care about their customers and the quality of ingredients.  You will not be dissapointed!
Yama Sushi Sake & Attitude
11709 National Blvd, Los Angeles, CA 90064
Assisted writing by Jim Vatcher, Photos by Christina Nayve