San Diego ATP 250 won by American Brandon Nakashima- September 2022
After last year star-studded affair at the first San Diego open, this year was a little lackluster with high rank players. The reason behind it on last year it was a tuneup tournament for the postponed Indian Wells tournament that played in October. Casper Rudd beat Cameron Norrie in the finals Any other high rank players. In second year after getting renewed, the timing and other factors hindered top rank players.
With the Davis cup happening the weekend before and the Laver Cup happening September 23-25, that took a lot of big names out. There are quite a few Americans in the draw this year including seeded players Jenson Brooksby, JJ wolf and Marcus Giron. Other American such as Brandon Nakashima in Monday McKenzie Mcdonald were in the draw. The top ranked player was England's Daniel Evans.
The semi finals pitted Evans versus Giron and Nakashima versus Chris O'Connell from Australia, who made his first semi final of an ATP tournament ever. Giron upset Evans to reach the finals while Nakashima beat O'Connell.
The San Diego open welcomes the WTA coming up soon and hopes to get the men's tourney back next year so time will tell. It is a beautiful tennis center and great location for professional tennis in Southern California.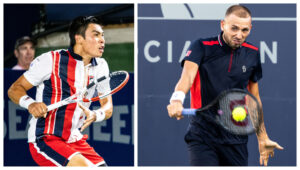 SAN DIEGO (September 25, 2022) — Before the ACC-Freshman of the Year nod at UVA, before the back-to-back finals in Los Cabos and Atlanta as a 19-year-old, before his summer breakthrough to the Round of 16 at Wimbledon, Brandon Nakashima was just a starry-eyed junior with pro dreams, honing his game in and around his hometown of San Diego, including the courts at Barnes Tennis Center.
On Sunday afternoon, Nakashima returned to that same stomping ground to capture the biggest trophy of his young career, the 21-year-old's first tour-level title coming in the form of a 6-4, 6-4 win over fellow Californian Marcos Giron at the San Diego Open ATP 250.
Nakashima becomes the fourth American to win an ATP title this season, joining Taylor Fritz, Reilly Opelka and Maxime Cressy.
"It's a super special moment for me to capture my first ATP title here in San Diego, where I grew up," said the fifth seed, who will achieve a new career-high No. 48 in the Pepperstone ATP Rankings. "There's no other feeling like it. It's something that you really never dream of, to do it in my hometown with all my friends and family supporting."
The former UCLA standout Giron, the 2014 NCAA singles champion, was appearing in his first ATP final. At 29, the Thousand Oaks native was hoping to become the oldest first-time tour title-winner of 2022. But a day after dismissing top seed Daniel Evans of Great Britain in a straight-sets semifinal, the third seed ran into a white-hot Nakashima, a longtime friend and practice partner. Nakashima would collect six of his eight aces in the dominant 34-minute opening set alone. He saved three of the four break points he faced, all of which came in the second set.
"I wasn't really trying to go for aces. I was just trying to go for placement," he said. "For me, power on my serve isn't too important, but the precision and accuracy are. I think I did that pretty well this week."
LAMMONS, WITHROW COMPLETE AMERICAN TITLE SWEEP
Americans Nathaniel Lammons and Jackson Withrow claimed the San Diego ATP 250 doubles title, defeating the Australian duo of Jason Kubler and Luke Saville, 7-6 (5), 6-2.
"Nate and I teamed up a little bit last year and kind of rolled into this year," said Withrow of the pairing, which was making its first appearance in an ATP Tour doubles final. "We're looking for this to be a steady partnership that can continue to grow and continue to get better. I think we're kind of on the right path."
Lammons/Withrow improved to 13-19 at the tour level. Previously, their best results were semifinals in Montpellier and Marseille in 2021.
SAN DIEGO OPEN – SAN DIEGO, USA
$612,000
19-25 SEPTEMBER 2022
RESULTS – SEPTEMBER 25, 2022
Men's
Singles
Final
[5] B. Nakashima (USA) d [3] M. Giron (USA) 64 64
Men's
Doubles
Final
[2] N. Lammons (USA) / J. Withrow (USA) d J. Kubler (AUS) / L. Saville (AUS) 76(5) 62
More at   https://barnessdopen.com/