Boston, Cape Cod, Martha's Vineyard- What to do, where to stay/eat-August 2023
Attractions/Activities/Getting Around:
Urban AdvenTours is Boston's award-winning cycling outfitter; offering highly rated bike tours, rentals, and a full-service bike shop. They are an independently and locally owned business in the heart of Boston. Bike rentals are the best way to get around and see the city of Boston. Urban AdvenTours friendly staff will take very good care of you. They have a variety of bike tours with a guide to show you all the top sites around the city. Rentals include a selections of bicycles from regular bikes to E bikes.  They provide you Maps, a helmet, a lock, and guide you to recommended spots to view. They head by Fenway park & Cheers to take photos and check out a game if you are in town.

There is no better way to see Boston; avoiding traffic while riding in their convenient & safe green bike lanes. You also help the environment while getting a great workout.
We highly recommend Urban AdvenTours at https://www.urbanadventours.com/
Paddle Boston:  What a great adventure I had taking out a kayak from Paddle Boston at their Cambridge location. The kayak is very steady, and they have a full staff to help you with directions and all the equipment. I went on a beautiful day and had a fabulous workout. They also have canoes and stand up paddle boards.
Definitely a must do, especially on a nice day as you can see many of the sites of Boston from the water. Choose between a single or double kayak and enjoy the exercise and fresh air. https://paddleboston.com/
DINING:
Alcove Restaurant: This beautiful waterfront patio restaurant is a must visit on your next trip to Boston, located right off the Charles River next to the TD Garden and the North Station in Boston's West End. They serve a wide variety of delicious coastal New England dishes and creations. We met the owner Tom, who is most accommodating, and persevered through Covid to keep the restaurant open. 
We started the meal with the Three Dip Appetizer of tahini, French onion, sun-dried tomato and ricotta served with chips and pita.  The Crab cake was a tasty appetizer, however the dishes not to miss were the Massachusetts Striped Bass with polenta, and the signature Roasted Chicken marinaded for two days with au jus. They were served with a selection of side dishes; garlic green beans, smashed potatoes & grilled zucchini.
We recommend trying one of their delicious signature drinks to accompany your meal, especially their specialty Rum Cocktails.  Overall this was an outstanding meal with a great atmosphere. You have your choice to dine inside or outside, just don't miss those beautiful sunsets. https://alcoveboston.com/
The Yankee Lobster Restaurant is an iconic establishment located at the Boston Seaport. We can see why it is so popular as there was a line out the door waiting to order food and get a table. Of course they specialize in lobster but they also have a wide variety of other great items; including steamers, clam chowder, salmon & more. The variety of tasty sides include; corn on the cob, coleslaw, french fries, rice and a side salad to name a few. 
We had the pleasure to meet Mike, who is the grandson of the owner who took over for the original owner. He was very accommodating and welcoming while showing us the back area where they store all the lobsters in crates.  Do yourself a favor and visit the Yankee Lobster Restaurant for an incredible meal, and plan accordingly so you are not rushed.
They have both indoor and outdoor seating and we peaked in to check out their lobster tanks . https://yankeelobster.co/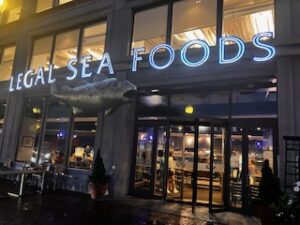 Legal Seafood:  A visit to Boston must include a meal at Legal Seafood. They are very popular and we can see why. The friendly staff and service complements the outstanding food that make them probably the most sought after place to dine, especially for seafood, in Boston. After we sat in our comfortable booth, we were greeted by the manager, Soko, who was very hospitable. Our waiter Socrates was very attentive & professional, while recommending some of their top dishes throughout the evening. We started with a cup of their famous clam chowder and their signature crab cake, which was divine and my personal favorite.
They recently added sushi to the menu, we tried some of their blackened tuna and very much enjoyed it. Don't miss the corn ribs as it's a unique take on corn on the cob, lightly battered & flash fried. They are served in a bowl with some cheese and dipping sauce. If you're in the mood for something healthy, try the power bowl on the salad menu.
The main courses we chose were the oven roasted branzino fillet over potatoes, as well as the seafood cioppino, and the tasty tomato broth. They were outstanding and you can't go wrong with any other fish dishes. Enhance your meal with a bottle of sake, or one of your favorite signature cocktails or a glass of wine.
We finished with the Boston cream pie, which was very tasty Overall this was a outstanding meal, we left fully satisfied, and we highly recommend Legal Seafood on your next visit to Boston. https://www.legalseafoods.com/..
LODGING:
The Revolution Hotel, located in Boston's South End neighborhood, is very modern & unique, casual yet upscale, with a creative and comfortable lobby. The staff was very welcoming and friendly. They have a selection of rooms which are affordable;  we had a king bed with a bunkbed on top. There were shared bathrooms down the hall that was convenient, and is cleaned often.
For the higher end, they have suites with a bathroom in the room. They have a gym & community room downstairs, a coffee café in front and a restaurant on site.
Their location is very convenience and the atmosphere was very comfortable. Boston history artwork is placed throughout the hotel with a beautiful 65ft piece that wraps the lobby's interior. .https://therevolutionhotel.com/
Provincetown is located at the northern tip of Cape Cod, Massachusetts. This seaside town is on the site of the Mayflower's landing in 1620, commemorated by the towering Pilgrim Monument and neighboring Provincetown Museum. P-town is known as a longtime haven for artists, lesbians and gay men. Numerous galleries plus restaurants, nightclubs, cabarets and specialty shops are clustered on and around lively Commercial Street. We definitely recommend visiting P-town on your next vacation.
The AWOL in Provincetown is a 30-room boutique hotel, located at the edge of a beautiful strip of Cape Cod Beach, with each room overlook the water. The beautiful rooms are very unique with the bed sunk low providing nice views of the wetlands, included a balcony and a small sofa bed outside. AWOL provides a large breakfast buffet with a wide variety of very tasty food.
There is an outdoor common area with a heated pool, fire pits, guest-only bar serving pool-friendly cocktails, and lounge areas. They are a short walk and bicycle ride from the main downtown area, shopping, dining, beaches and nightlife, Definitely recommend spending a night at The AWOL. https://www.larkhotels.com/hotels/awol
If there's one restaurant you must visit when you come to Provincetown it is The Lobster Pot. "You cannot visit Provincetown without dining at The Lobster Pot at least once."  Our dinner was outstanding; excellent food, an amazing view of Provincetown Harbor and very friendly and accommodating staff.
You can find the very outgoing owner Sean walking table to table greeting each person individually, and taking great pride in ensuring that each meal was perfect. 
You must start with the Oysters Rockefeller. The Blackened Tuna Sashimi, and the Squid Scampi, grilled squid in a pesto sauce, are a must. They are both absolutely divine. They fly in the Grilled Halibut fresh, a north Atlantic halibut, which was served with a cauliflower mash and was incredible.  We went for the Lobster Clambake; with Tim's Clam Chowder and substituted the steamers for the mussels. The whole 1 1/4 pound lobster was served with red potatoes and corn on the cob.
Overall the best meal of our trip and we highly recommend it. Try one of their signature drinks to enhance your meal. We had the watermelon cocktail substituting vodka for the rum. but choose your pleasure. For dessert, we had the tasty chocolate lava cake and  Key Lime pie, you'll be fully satisfied. The food, staff and views were fantastic.

https://www.ptownlobsterpot.com/
Check out Art's Dune Tour, which is an rare experience. Take a one-of-a-kind tour of the beautiful protected dunes of the Provincetown Cape Cod National Seashore. Art offers both one-hour tours, and a two-hour tour culminating with watching the sunset from Race Point Beach.  We took the sunset tour, and highly recommend. You get in SUVs and head out to the sand dunes, going up and down on hills overlooking the majestic views till you reach the beach. The staff is very friendly, and our driver, Bruce was very accommodating. During the beach stop they provide chairs to sit by the ocean and watch the sun set. Opportunity to have a bite to eat via a pre-planned picnic or pre-ordered dinner, a bonfire, or just to relax. We took a walk up and down the beach before heading back on the Dune tour.  https://www.artsdunetours.com/
Provincetown's Gale Force Bikes provided bicycles to us as we spent our last day in Cape Cod cycling The Province Lands Bike Trail.  The staff was very friendly and knowledgeable. They ensured that we were fitted with a correct sized bike and helmet. The bicycles are kept in excellent condition. There is a large selection of rental bicycles to choose from. They provided free bicycle helmets, locks, guide maps and a basket all an affordable rate. Great way to see the city and get exercise. We recommend them your next P-town visit.  https://www.galeforcebikes.com/  We cycled and explored P-town on this roller coaster bike path with dedicated bike lanes in the heart of the Cape Cod National Seashore Conservation Land. It's a big loop that leads to Race Point Beach, and thru the heart of  Provincetown. The trails feature the most beautiful views of the beaches, dunes and ocean on the Lower Cape. 
The Beach Market Sandwich Shop, located in the same building as Gale Force Bikes was a wonderful stop for lunch after four hours of cycling. They offer a variety of food, beverage and beach products. The Beach Deli offers delicious sandwiches, wraps, paninis, salads, snacks and beverages. http://www.beachmarketptown.com/
A fun activity is walking the Provincetown Causeway breakwater. You rock hop across the Cape Cod Bay while enjoying a 360 degree view of Provincetown and Long Point; the norther tip of Cape Cod. Make sure you go during low tide!
https://www.vacationcapecod.com/walking-across-the-provincetown-causeway/
The Pelham on Earle in West Harwich Hotel is located in West Harwich, MA in Cape Cod. They are tucked among colorful hydrangea gardens in a quiet neighborhood less than two miles from downtown Dennis Port, MA.
The Pelham on Earle Hotel celebrates the best of Cape Cod's charm with cozy recently renovated rooms and a casual coastal aesthetic. The New England style rooms were very spacious, and the beds very comfortable. The hotel has a beautiful pool, breakfast buffet, and free parking. 
They are just a short 100-yard stroll from the sands of Earle Road Beach, considered a hidden gem in Harwich. At the beach we watched the sunrise walking, jogging and swimming in the 70 degree water.
We highly recommend a stay here on your next visit to Cape Cod. https://www.pelhamonearle.com/.
Treehouse Lodge is located in Falmouth, MA, on the edge of the village of Woods Hole in Cape Cod. The cozy lodge is a ten minute walk to the Martha's Vineyard ferry terminal, dining and beaches. 
The hotel staff were very friendly, and beds very comfortable. These casual rooms include free Wi-Fi, coffeemakers, mini fridges and free parking. We recommend staying https://mytreehouselodge.com/
Leeside Pub in Woods Hole, MA was a great stop for dinner after returning on the ferry from Martha's Vineyard in the late afternoon.
They are perfectly positioned located as soon as you exit the ferry They are a casual restaurant with a maritime atmosphere and very friendly staff.  They serve an array of seafood and burgers, but not to miss is the lobster roll and salad.
We were welcome by the bartender Jen, and she made up fabulous drinks for us to enjoy with our meal. Definitely a must stop before or after your ferry ride to Martha's Vineyard. https://quahogrepublic.com/leeside
Martha's Vineyard, a Massachusetts island, sits in the Atlantic just south of Cape Cod. It is a longtime New England summer colony,  and encompasses harbor towns and lighthouses, sandy beaches and farmland. It's accessible only by boat or air.  While the downtown areas amazing shopping and dining options, what Martha's Vineyard is truly known for is its natural beauty. With cliffs, pristine beaches, marshland, and two wildlife sanctuaries there is so much to explore. https://www.mvy.com/
Grab lunch at the Offshore Ale Company located in Oak Bluffs not far from where you get off the ferry.  The staff is amazing and they have a wide variety of great food from salads, seafood (shrimp, salmon and of course their lobster roll).
They have healthy options such as their power bowl, tasty brick oven pizzas with an assortment of toppings and options with delicious beer and drinks to enhance your meal.
The highlight on Martha's Vineyard was renting bicycles from the All-Star Martha's Vineyard Bike Rentals; located in downtown Oak Bluffs, just steps from the ferry. This thirty year family run business is owned by Bob Breth, and we were assisted by his very friendly and helpful staff.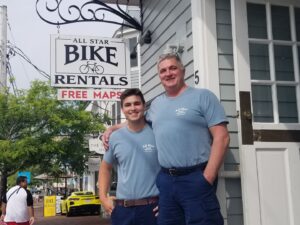 All-Star has a large variety of bicycles to rent, including e-bikes. They provided helmets, locks, route maps and suggestions what to see. We highly recommend renting a bicycle from All-Star on your next visit. With 44 miles of bicycle trails, including stopping at "Jaws Bridge", this was an excellent way to view the Vineyard while also getting exercise. https://marthasvineyardbikerentals.com/
Plimoth

Patuxet Museums brings to life the history of the Plymouth Colony and the Indigenous homeland. Major exhibits include the Patuxet Homesite, 17th-Century English Village, Mayflower II and the

Plimoth

Grist Mill. They are located in Plymouth Massachusetts.
Historic Patuxet is where visitors learn about the Native peoples who have lived here for over 12,000 years. The 17th-Century English Village is a re-creation of the small farming and maritime community built by the Pilgrims along the shore of Plymouth Harbor.
Also worth a visit is the Mayflower II. It is a full-scale reproduction of the ship that carried the "Mayflower Pilgrims" from Plymouth, England to the New World in 1620.  After a grueling 10 weeks at sea, the Mayflower, with 102 passengers and a crew of about 30, reached what is today the United States, dropping anchor near the tip of Cape Cod, Massachusetts, on November 1620.
Don't miss stopping by Plymouth Rock; which is the traditional site of disembarkation of the Mayflower Pilgrims who founded Plymouth Colony in 1620.
Special thanks to William DeSousa with his great tips and referrals in Cape Cod and Martha's Vineyard.
Co Written/Photos by Jeff Zimerman