Ducks beat Kings at the Honda Center in a shootout between local rivals on November 13, 07
The Anheim Ducks hosted the LA Kings on November 13, 07 as both teams are playing below their standards. The Ducks are coming off their Stanley Cup victory. Ducks banners pictured above
The LA Kings took on the Anaheim Ducks in a home and home matchup of local rivalries. The first game was on November 13th at the Honda Center in Anaheim. It was a playoff like atmosphere and fabulous game as the Ducks prevailed 4-3 after playing even for regulation and overtime. The first period was very physical as Rob Blake took Corey Perry out with a clean check. Ryan Getzlaf (pictured below) started the scoring after Mike Cammalleri took a hooking penalty. Todd Marchant followed a great play by Drew Miller who set him up for an easy goal with an aggressive skate towards the net. The Kings pulled within one goal on an outstanding play by Derek Armstrong as he set up Tom Preissing for a goal. Perry hyper-extended his knee but returned to the game later with a rousing ovation and scored along with Andy McDonald in the shootout to give the Ducks the victory.
The Kings fell behind 3-1 going into the 3rd period before coming alive and tying the score as Cammalleri beat Anaheim Standout goalie JS Giguere with a slapshot. Giguere (pictured here) saved the game late robbing Matt Moulson to force overtime.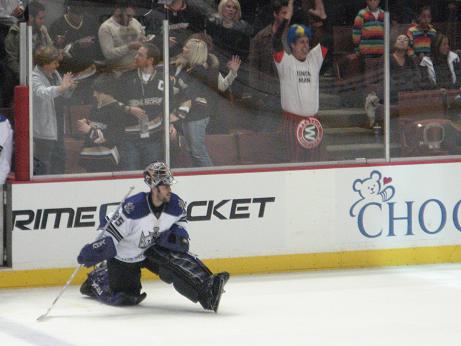 Alexander Frolov assisted on all 3 goals and was the Kings best player by far. Enforcer Chris Pronger played strongly and gave Michal Handzus a beating at the end of regulation. Handzus was trying to get off a last second shot but time expired in overtime and he still shot the puck at the net. Pronger checked him and then threw punches getting a game misconduct which really didn't matter since the game was basically over. It was a tough game and coach Randy Carlyle was proud of his team as was Kings coach Marc Crawford (both pictured below in order).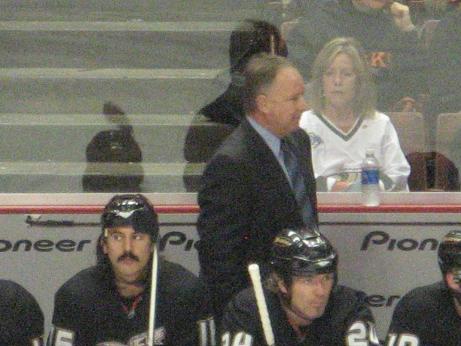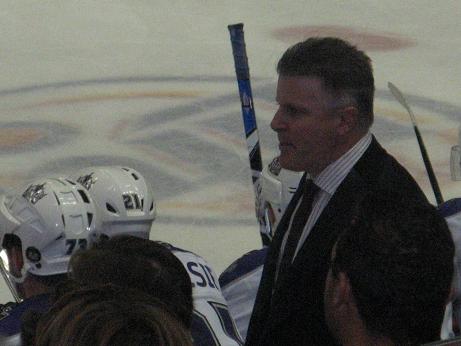 This was a physical game as both teams were in the mood to fight as you can see below.
The Ducks now travel to LA for the second leg of the home and home on Thursday November 15th to face the Kings again who will be looking for revenge. I talked to Pronger (#25 pictured below) after the game and he stood up for his late fight saying Handzus shouldn't have shot the puck. I also asked him the difference from last years team besides missing a couple key players and he blamed it on that and injuries. Time will tell as Scott Neidemeyer has begun skating and could return in December rumors have it. Matthew Shneider #11, has picked up the slack a bit and also pictured below Pronger. No word on Teemu Selanne yet. More info, tickets and schedule at www.ducks.nhl.com