Glen Ivy Hot Springs Resort in Corona, Ca. is an worthwhile experience (9/08)
Attending Glen Ivy Hot Springs in Corona, CA is like entering a blissful oasis that transforms you the minute you walk onto the grounds. As a matter of fact, as you pull up to the Spa, you will feel a sense of tranquility, as you are about to have a blissful experience you will not forget. Just an hour's drive from the hustle and bustle of Los Angeles, this destination resort is perfect for a day-trip getaway. Weekday admission is just $35, a bargain for all that is offered! As you walk up to the resort you feel your body release any tensions as you take in the beautiful scenery. Landscaping the grounds are bright bougainvillea flowers climbing everywhere, palm trees, oaks, lush green shrubbery and more. Even though the drive to Corona was hot and balmy, stepping onto the Glen Ivy grounds seemed to cool us both off immediately due to the shady trees and greenery around us.
We first stopped at Café Sole for some lunch. The Café offers healthy, delicious options like a Pear and Goat Cheese Salad or a Shrimp and Citrus Salad featuring plump shrimp, pistachios and mandarin oranges. Other items include: chicken and turkey sandwiches, shrimp burritos, quesadillas, their ever-popular chicken nachos, and their delicious calzones. There is something for everyone at this little café. We ate on the patio outside and took in the beautiful scenery around us anticipating the relaxing day we had before us.
After digesting a bit it was off to "Club Mud", a wading pool of natural hot spring water surrounding a huge clump of red clay. The idea is to wet your body in the water and then slather yourself with the red clay "mud". Next, you lie in the hot sun while the mud has its purifying effects on your skin. The red clay draws toxins from your pores, absorbs impurities, and releases waste and dead skin cells while tightening and revitalizing your skin. Once dry you can flake the mud off your skin and then enjoy an outdoor shower that rinses the residual mud off with a lavender scented cleansing lotion. "Club Mud" is like returning to your youth when playing in the mud was so much fun!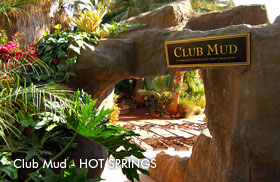 After playing in the mud we dipped in the mineral baths. These are natural mini hot tubs filled with bubbling mineral water to soothe your body. The minerals and sulfur from the water are absorbed into your skin for a healing effect. This is a natural health-promoting activity that people have enjoyed for centuries. Glen Ivy Hot Springs just makes it more convenient!
Another activity included in the admission fee is the "Lounge Pool". This is a 2" deep warm pool filled with lounge rafts where people float the day away soaking in the sun and the serine beauty surrounding the area. There are several hot tubs tucked away, for privacy, a cool pool in which you can take a dip and several pool-side bars where you can enjoy a refreshing drink while lounging.
Glen Ivy is the perfect spot for a bridal, anniversary or birthday party. They have cabanas that you can rent for privacy and catering menus and professional planning assistance to make your event special. Also, if you attend Glen Ivy on your actual birthday, your admission is free!
Aside from the incredible grounds and spa activities included in the admission price there are spa services available for an additional fee. Todd had a relaxing massage under a big beautiful oak tree and I had an excellent facial by an aesthetician named Mercedes. Glen Ivy offers massages, facials, body treatments, manicures, pedicures and waxing. Another activity to be sure not to miss is "The Grotto". This is an underground cave that is misted with natural spring water. Upon entering you are "painted" with a moisturizing green moisturizing sea kelp- aloe mixture, next you spend 10 minutes massaging the mixture into your skin while you sit in the heated grotto, then you rinse off and enjoy the misting room while you munch on mini green apples and hot tea. This is such a unique experience it is well worth the $25 charge. Your skin feels silky smooth after this treatment.
Glen Ivy Hot Springs is a high-class resort without any pretentiousness or stuffiness. It is accessible, down to earth and fun. Do not miss out! Go to www.glenivy.com for more information and plan your visit soon or call 1-888-GLEN IVY (453-6489) as this will be a visit to remember!