UCLA Bruins Men's basketball team fails down the stretch and loses to Arizon St. at Pauley (1/09)
The UCLA Bruins faced the Arizona St. Sun Devils January 17th at Pauley Pavilion in a match up of two of the top teams competing for the Pac 10 title this year. The game was a close battle even though both teams looked futile at times. The Bruins led by 11 points late in the second half but didn't score in the last 8 minutes while the Sun Devils came back. All American James Harden (pictured below) had a slow start and was in foul trouble but made some key drives and plays to help them catch up. The game went into overtime but the Bruins still couldn't capitalize and lost in the end. UCLA even led by 2 with under a minute left but Josh Shipp fouled Harden away from the ball and UCLA was in the penalty. After Harden made two free throws to tie the score, the Bruins had one final opportunity but didn't even get a shot off.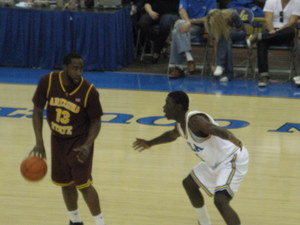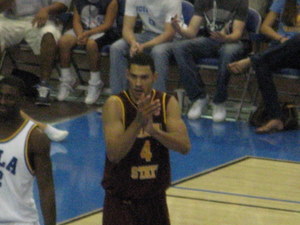 Both teams did not play too well despite being Top 20 teams. Harden didn't impress with any outside shots but was very elusive going to the basket creating fouls and making some tough shots. The most impressive player was Jeff Pendergraph (pictured above) who was 9-10 in shooting and dominated the inside game with some monster dunks and great defense.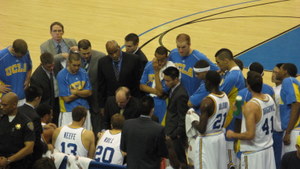 Losing Kevin Love (1st round of the NBA Draft and now with Minnesota) and Richard Luc Mbah a Moute (2nd round pick of Milwaukee)- "both pictured above sitting next to each other in the blue and white shirts" to the NBA hurt the team and both were in attendance as their pro teams were in town. Not to mention Russell Westbrook who was not in town but is also in the NBA as a first round pick for Oklahoma City. Coach Ben Howland has been over achieving with this team so far with Darren Collision and Shipp their top players this year. Freshman Jrue Holiday has been inconsistent but showed dashes of brilliance. Most the rest of the team have been playing in their roles with Nicola Dragovic and Michael Roll shooting 3- pointers, James Keefe and Alfred Aboya trying to handle the inside and a few others playing sporadic minutes.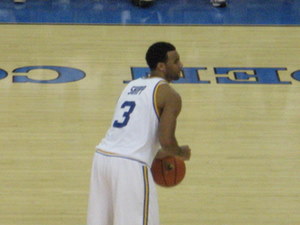 UCLA goes back to the drawing board to muster up some offense as they travel up north this upcoming week to meet Washington St. and Washington before coming back home for some key games vs. Cal, Stanford, USC, and Notre Dame. More at http://uclabruins.cstv.com/sports/m-baskbl/ucla-m-baskbl-body.html or http://www.bruinbasketballreport.com/