Nadal beats Murray in 2009 BNP Paribas Open (Formally the Pac Life Open) in Indian Wells (3/09)
The 2009 BNP Paribas Open (formally the Pacific Life Open) in Indian Wells proved to be another spectacular Tennis Tournament. It is only about a 2 and ½ hour drive up the 10 freeway from LA but was well worth it. A total of 15,943 people attended the final, taking the attendance level for the two-week men and women's combined event to a tournament record 332,498.
We covered some incredible matches at the Indian Wells Tennis Garden even though we were there for a couple days on our feature. Highlights included Switzerland's Stanislaw Wawrinka's thrilling third set tiebreaker win over American Sam Querrey (Wawrinka lost the first set and had to come back even saving some match points. Wawrinka then lost a tough match to Djokovic (pictured below) the next round in two tough tiebreakers; Croatia's Ivan Ljubicic's three setter over Russian Igor Andreev (after Ljubicic lost the first set and had to win two tiebreakers to advance before losing a close match to eventual runner up Murray; and Rafael Nadal win, saving 5 match points in the second set over David Nalbandian(pictured below)to win 6-0 in the final set at about 2 o'clock in the morning. Nalbandian was on fire in the first set and during the second counter punching every Nadal shot with a better one. After losing the hard fought second set tiebreaker, Nalbandian mentally fell apart but this was the match of the tournament with many people sticking around to see the great play and drama unfold.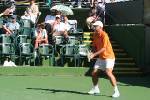 Other matches included young American John Isner taking out #24 seed and volatile Russian Marat Safin using his big serve and patience before losing a tough 3 set match to Juan Martin Del Potro. Safin recently announced this would be his last year on the tour. Andy Roddick and his huge serve took out Kiefer and Ferrer. Roddick then beat Djokovic in the quarterfinals as the Serb had one of his worst performances ever on the tour 6-3, 6-2. Keep an eye out for the 21 year-old Del Potro (pictured above) from Argentina making his way up the ranking board. He lost to Nadal in the quarterfinals but his potential is great. Another great round of 16 match featured #2 Roger Federer defeating Fernando Gonzalez in three sets and then dispatching rising Spanish player Fernando Verdasco in three as well to reach the semi finals. Murray then took out Federer in 3 sets losing the final set 6-1. The greatness of Federer has worn off it seems as you would never see him lose that badly in a 3rd set.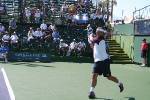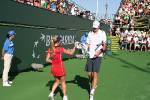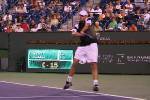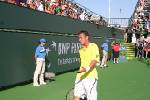 In the end however, world No. 1 Rafa Nadal (pictured below) recaptured the BNP Paribas Open title after posting an overwhelming 6-1, 6-2 victory over Andy Murray in the windy conditions. He collected $605,000 as the winner of the first ATP World Tour Masters tennis tournament of 2009 season. In a wind blown women's final Vera Zvonareva defeated Ana Ivanovic and the American doubles team of Andy Roddick and Mardy Fish were victorious in the Men's doubles final.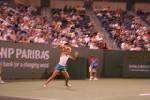 More information on the tournament and tickets for 2010 can be seen at www.bnpparibasopen.org