Las Vegas Shows/Attractions including Cirque du Soleil Vivi Elvis & Love, Carrot Top & Dining at China Grill, Red Square and Buca di Beppo (7/11)
Las VEGAS [Shows, Attractions and Dining]
The phrase, "What happens in Vegas stays in Vegas" is a statement that aptly describes gambling losses, perhaps a phrase adopted by the Nevada Gaming Commission. What will leave Vegas, however, are the fond memories and images of top-notch entertainment and attractions.
There are at least 25 wonderful free attractions in Sin City www.insidervlv.com/freeevents.html, as well as a host of family activities. And then, there are specialty attractions.
One of our favorite choices on this trip, which we'll not soon forget, was the famous New York New York Roller Coaster ride (Manhattan Express). This coaster cranks you up 203 ft. with a 144 ft. drop, at 67 mph. top speed. You'll enjoy the view of a replica New York Harbor, as you endure major spirals, the corkscrew, a barrel roll, the 360 loops, ending through the tunnel. For sure, this ride is a safe and sane rush that lasts! Check out more at www.newyorknewyork.com/attractions/the-roller-coaster.aspx
The shark reef at the Mandalay Bay resort is worth the visit with a variety of sea-life and of course sharks.
Then, there are the shows. Day shows, night shows, and late night shows. Many shows, a variety of shows, magic, comedy, music, spectacular floorshows – – something for everyone.
Cirque du Soleil Shows–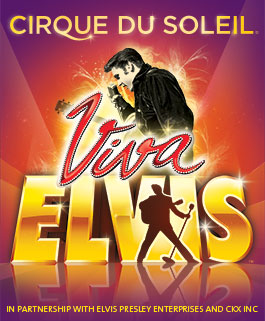 Our top pick and favorite Cirque show I have ever seen was Viva Elvis. This show is a harmonious fusion of dance, acrobatics and live music, is a tribute to the life and music of Elvis Presley. Nostalgia, modernity and raw emotion provide the backdrop for his immortal voice and the exhilaration and beauty of his music.
Created in the image of The King of Rock 'n' Roll – powerful, sexy, whimsical, truly unique and larger than life – the show highlights an American icon who transformed popular music and whose image embodies the freedom, excitement and turbulence of his era.
Significant moments in his life – intimate, playful and grandiose – blend with the timeless songs that remain as relevant today as when they first hit the top of the charts. Viva ELVIS focuses on the essential humanity of the one superstar whose name will forever be linked with the history of Las Vegas and the entire world of entertainment: Elvis Presley.
This show had it all- A live band (some recorded music) roving around the stage that played great Elvis songs in a more cotemporary upbeat style, incredible acts including acrobatics, dancers and high wire acts, cowboy trick rope and fire lasso, education about Elvis from the onstage moderator with great film/TV footage, percussion/marching band. Trip and Fire Lasso's. The dancing was awe-inspiring with high-energy swing, pulsating, rhythmic and sexy styles including upside-down dancing on metal tracks to Jailhouse Rock. By far, our favorite skit was the superhero trampoline power ranger's act to "King Creole" with its uniqueness, creativity and synchronicity that we didn't want to end.
You will be on the edge of your seat and wanting to buy some Elvis souvenirs in the gift shop after the show like we did (cds and a beautiful shirt among many other goodies). Tickets and more information at www.cirquedusoleil.com/en/shows/viva-elvis/show/about.aspx
LOVE: A Beatles Tribute at the Mirage Hotel

As we sat in the "round" theater, at Mirage hotel, Las Vegas, anticipating a tribute show to The Beatles, there was a sense of wonder: how could this show be worthy of what some believe to be the greatest band in our lifetime? How could a Vegas theatrical show do justice to the exclusive, iconic Beatles music?
Seconds into the show, answers were revealed and a sense of wonder released. Those who have second hand reference to The Beatles music will be engulfed by the dynamic beauty and wonder of a yesteryear generation of rock'n roll fantasy; while those who remember first hand, will embrace a virtual sense of musical and visual transcendence.
The music: Not enough can be said about the musical aspect of this show. Yet it should be known that this is one of the few shows of its kind that could be completely enjoyed even with eyes closed. Why? Mostly due to the extraordinary engineering skills of the 5th Beatle— Sir George Martin (and his son, Giles Martin). George Martin's orchestral arrangements, and sound engineering created a 3rd audio dimension to the Beatles albums. For the Love show, Martin helped incorporate 130 songs into 26 musical numbers. These were re-mixed for the show. Then, to add a "live" surround effect, separate stereo speakers were placed in the headrest of each seat, with enhancement tracks, digitally timed.
The result is a hybrid mix of timeless, original recordings with state of the art additions, which create a unique sounds cape of The Beatles music.
Visual performances: Anyone who has seen or heard of a Cirque du Soleil show already has expectations. Yet, somehow, each new show manages to surpass most expectations, and Love is no exception. The exuberance of The Beatles is channeled through the youthful, urban energy of a cast of 60 international artists. Ceiling acrobatics, floor dropping displays and stage theatrics are brilliantly mixed with image projections. Silhouetted footage combined with real footage of the Beatles is juxtaposed against a variety of screens and surfaces throughout the show.
A variety of British characters make the experience true; from greeting guests upon entry, ushering the isles, and mixing with the audience during the show.
Highlights: Roller skaters are flying off extreme ramps, carefully interlacing, while an acrobat performs stunning aerials above our heads; A giant white fabric canopy, covering the entire audience, moves from the ceiling, as performers in the isle grasp and gently move it in wave-like motions… then in a second is sucked out of sight, below the stage; an iconic VW Bug rolls out on stage then fragments apart as doors, hood, trunk and roof are carried off by individual dancers, only to become later re-combined, all with the continuity of Beatles musical medleys.
Lyrical characters from such songs as Sgt. Peppers, Eleanor Rigby and Mr. Kite help propel a storyline of The Beatles history and fantasies.
There is so much going on in this show, at any given time, that it is possible to miss a bit. However, there was an agreement, that Love would be performed in a specially designed theater to give audiences the best experience musically regardless of where in the theater they sat.
No doubt, the legacy of John, Paul, George and Ringo– and mostly the music, is powerfully captured in this tribute production.
For more information and tickets, please visit
www.cirquedusoleil.com/en/shows/love/default.aspx
Comedy: On our quest for good comedy, we were lured by Luxor's highly proclaimed headliner, the one and only, Carrot Top (Scott Thompson). In all honesty, prop style comedy is not everyone's cup of tea. But, then we looked at the blogs and reviews for the Carrot Top show, and realized there must be more to this act. There is a lot more.
There are so many choices for stand-up comedy acts. Yet, what you may first observe in this solo performance is the lack of offensiveness. Carrot Top's self-deprecating style never targets anyone or any ethnicity. (Inversely, comics like Don Rickles made a living doing this). It seemed as if no one was a target, everyone was a guest. Gotta like that!
The second thing noticeable in his show is that when we looked around, we noticed everyone in the audience was in hysterical non-stop laughter. Yeah, this guy gets you laughing, and bombards you with continuous hilarity from start to finish. Fast paced, rapid-fire jokes and visuals… many of which are in perfect sync with audio and light cues. When they were not, Carrot Top still had funny lines to cover it up. The props are amazing that you will not see at any other show. He even has a joke about them saying how hard it is to take them around through airports when he is on the road.
The Carrot demeanor is very casual, a regular-guy kind of delivery. He makes fun of the whole Vegas scene, he pulls props with one-liners, he does an entire Rock show tribute by himself, and even shares Crown Royal shots with the front row. Outrageous! And memorable. A "feast" of funny. This was one of the funniest shows we have ever seen and our top choice recommendation for comedy!
The tickets are reasonable, and the show is a riot. Location: Atrium Showroom Luxor Hotel. More at www.luxor.com/entertainment/entertainment_carrot_top.aspx
Dance: Also showing at the Luxor, and 11 years in Vegas, is the ever so dazzling Fantasy show.
Aptly named for its "sensual secrets and seductive desires", this performance show features some of the most gorgeous women imaginable: dancing, strutting, and posing to 15+ musical numbers. Yes, these amazingly "hot" ladies are super-endowed with– talent. (And, of course, sex appeal.)
The intimate Atrium Showroom not only provides perfect, ample seating for this uplifting show,
but provides for a dance in front of your seats atmosphere. Well, at least for those lucky enough to be in the first few rows.
With the various musical/dance themes of country, sensual, rock 'n roll, theatrical, and more, it would be challenging to find anyone in the audience (men OR women) who could not find favorite performance numbers. Oh, we should mention there was a European touch that they were, indeed, topless during the show. Thus, with 8 topless, talented, dancing beauties.
The costumes were smart and sexy, and the choreography sharp, smooth and seamless.
Beauty, talent and perfection all wrapped up in one show! Check for times and dates at the Luxor Hotel.
Interactive: The Las Vegas Mob Experience is a brand new kind of show, located at the Tropicana Hotel. As described in its web site, The Mob Experience uses the latest in "interactive entertainment technology" to re-create the rise and fall of organized crime in Las Vegas. Featuring apparitions of famed gangsters, the Las Vegas Mob Experience promises a personalized and theatrical setting full of intrigue, mystery and suspense! You'll meet the "family members" of a number of the men and women who are highlighted throughout the Experience, while seeing and hearing first-hand accounts of the stories that shaped Las Vegas decades ago. The Experience features over 1,000 authentic artifacts once belonging to the famous organized crime figures who helped create the Las Vegas we know today including a big feature on Bugsy Siegel and his family.
The Mob Experience is much like a museum, and with live, engaging characters. You'll see photos, film clips, artifacts, settings and countless written descriptions and pieces of history. Our encounter took about 2 hours. There were some highlights. And the museum space used for this Experience is tremendous; so many rooms! You can get through it quicker if you don't spend as much time in the museum. You get to choose a mobster at the start of the experience who will give you clues and information on TVs and screens while you walk through and meet the actors that play a part of the show. You will have choices of what to do and what to say and your fate, which you will find out at the end, depends on how you answer.
The Experience is fairly new, as of this writing, and it may go through some upgrading and
"tweaking" in the near future. You may consider reading reviews prior to your visit, and should consider whether it is a appropriate to bring the kids along. Check for time, ticket prices and discount coupons. Tropicana Hotel, Las Vegas. More at www.troplv.com/entertainment/las-vegas-mob-experience
Dining–
With an endless selection of fine dining, we ate at some fabulous places that had variety.
Stratta at the Wynn Hotel was just amazing (see the full review on the complete review of the Wynn Hotel and Resort story.)
Our other favorite was the China Grill at Mandalay Bay.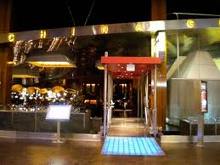 This place has been steady from the start being around for so many years. Do not miss the calamari salad, Shangri lobster, skirt steak, and fresh sushi. For dessert the chocolate banana box was delicious and surprisingly light. The atmosphere and décor are beautiful with individual modern bathrooms you must visit even if you don't have to go. Great bar with a variety of specialty cocktails and the service is fantastic.
www.mandalaybay.com/dining/signature-restaurants/china-grill.aspx
Red Square Russian Restaurant also in Mandalay Bay features one of the best bars in Vegas with a variety of themed dishes featuring a selection of caviars (they have a happy hour caviar special Monday-Friday from 4-6pm that includes one ounce of caviar when you buy 4 premium cocktails. For appetizers, go for the salt and pepper calamari. There meat dishes are popular and the chicken Kiev had to be ordered and it was very good. Go for the vodka sampler to experience what this restaurant is all about.
www.mandalaybay.com/dining/signature-restaurants/red-square.aspx
Lastly, for a fun, affordable family style restaurant, take a visit to Buca di Beppo off the strip. (Paradise). This franchise just came out with their summer specials and an emphasis on lobster.
The lobsters Caesar salad and lobster pizza are definite Musts! You cannot go wrong with any of their pizzas, pastas or other dishes.
Keep in mind the small servings feed at least 3 and the large feed at least 6. The portions are so generous that you will have leftovers even if you are hungry. Other great starters are the steamed mussels, garlic bread and bruschetta. For entrees, the linguine and clams, baked ziti/ravioli/lasagna and rigatoni, sautéed shrimp, chicken limone and eggplant Parmesan are all Italian classics that you cannot go wrong ordering.
We were particularly impressed with the variety of entrees available on the menu.
For dessert, the double dark chocolate cake, tiramisu and chocolate chip cannolis were the top recommendations if you have room left.
If you frequent this memorable Italian dining spot, whether for lunch or dinner, you will soon discover there are always new items on the menu. Not only will you find an overwhelming selection, but also fresh, new items always introduced. (These are also marked as "new" on the on-line menu.)
The décor is what sets this place apart. Though there are multiple locations, each offers its own version of Italian theme, with classic framed pictures, statues and décor adorning the interior.
When we came back to L.A., we had to take a visit to the Santa Monica location to make sure we were not dreaming of all this great delicious food. The restaurants looked very similar with exact menus so we tried a few different dishes to get some variety but once again, everything was great including the knowledgeable, friendly service/staff at both or any of their locations. More at www.bucadibeppo.com