INXS rocks the house with their high energy concert at the Wiltern in LA (7/11) + Future Show Previews
Normal 0
After being awarded the lead vocal position with INXS through a 2005 reality TV series Rock Star, the confident JD Fortune put on a great performance in front of a lively crowd at The Wiltern.  At age 37, Fortune proved himself a worthy successor to original lead singer Michael Hutchence whose death rattled the music world in 1997.  Fortune is thriving now after a few down years since 2005.  The singer eventually conceded to having a drug problem, which explains his temporary departure from INXS only 3 years into the new gig.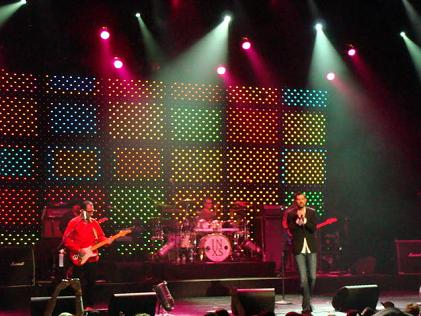 Soon after opening act Bow Wow Wow completed their show and hit song "I Want Candy", INXS kicked off their 95 minute set with "Drum Opera," a percussive instrumental by the band's Farris brothers before transitioning into the more upbeat "Suicide Blonde."  Fortune appeared in a captain's hat and Top Gun glasses while the rest of the band was in their usual coat & tie apparel.
The raucous LA crowd, both young and old, quickly showed their appreciation by dancing and waving their arms to many classic hits such as "Never Tear Us Apart, Don't Change, The One Thing, Need You Tonight, Disappear, Devil Inside, New Sensation, Mystify, Listen Like Thieves, Original Sin" and many more.
The slowed down acoustic version of "Don't Change" performed by Andrew Farriss, Kirk Pengilly and two female back-up singers worked out well, even without Fortune on the stage.  A slow version of "New Sensation" by one of the female back-up singers was ok but played it again during their encore performance to the regular, fast version of both "Don't Change" and "New Sensation" which electrified the crowd.  And to cap off the evening with the biggest cheer of all, bassist Garry Gary Beers shared with the crowd extraordinary news – his wife went into labor with twins during the show triggering the bassist to dash off to Cedar-Sinai Medical Center at the conclusion of the encore.More at www.inxs.com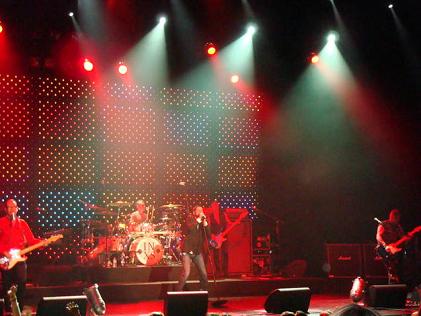 Future shows at the Wiltern and Paladium to check out include the following below: More info at www.wilten.com and www.livenation.com/Hollywood-Palladium-tickets-Hollywood/venue/73794
8/9     Deerhunter @ The Wiltern
8/17   Old 97's @ The Wiltern
8/19    Rock Boxx @ Palladium featuring DJ Z Trip,
De La Soul, NosajThing, Daddy Kev
9/7     Iggy & The Stooges @ Palladium
9/17Tears for Fears @ Wiltern
-Matt Nathanson                         10/29 @ Wiltern
-LMFAO / Far East Movement     10/29 Pink at the Palladium (

AMP Radio

breast cancer benefit show)
-Neil Gaiman & Amanda Palmer    10/31 @ Wilshire Ebell Theatre
-Asking

Alexandria

                         10/31 @ Wiltern
-Mastodon                                     11/1 @ Wiltern
-Bill Maher                                     11/5 @Gibson Amph
-Yelle                                         11/10 @ Wiltern
-The Sounds                                11/16 @ Wiltern
-Kyuss Lives!                                11/18 @ Wiltern