Engine Co. 28 Fine Dining Restaurant downtown offers a huge variety (11/12)
     We had the pleasure of  recently dining at Engine Co 28 restaurant in downtown Los Angeles.
     The location was originally a fire station, hence the name, that was built in 1912 with a construction cost of more than $60,000.  Engine Co. No. 28 was the most expensive Los Angeles fire station of its time.  In 1983, a 5-year preservation effort transformed Engine Co. No. 28 into its current blend of historic architecture and contemporary design. Being there gives you a feeling of old school downtown dining combined with modern cuisine.  The atmosphere is comfortable with friendly staff and beautiful décor.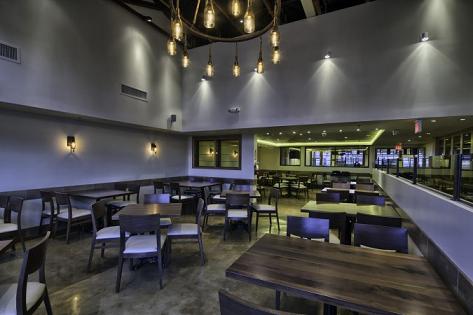 For starters we had the bacon mac + cheese with the bacon giving a nice twist to a classic dish.  We also had the delicious mini Louisiana crab cakes (pan-fried) and tasty fried calamari with a range of different spices. They have a nice variety of soups and salads to choose from. We tried the beet manchego salad (pictured below) with cumin scented honey which was a nice combination.  Our waiter suggested us to try their chocolate covered bacon.  We were skeptical at first to be honest, but after trying it we became fans of it!. 
     For the main course, we had the braised lamb shank, which was falling off the bone accompanied by mushroom risotto and the Rib Eye Steak which was a very nice cut of beef.  The selection of entrees is incredible at Engine Co. 28th ranging from sandwiches to their popular hamburgers, liver & onions, gumbo, southern style pan fried chicken, chicken pot pie (try their turkey pot pie on the specials during the holidays),  meatloaf, pastas and grilled salmon to name quite a few.  For dessert, they have many classics but the home-made pies (banana cream, lemon meringue, pecan and more) are not to miss.  They have an extensive wine/drink menu and have daily happy hour.
     For a classic dining experience with a historical downtown touch we recommend Engine Co 28 located at 644 S. Figueroa St. LA,  90017    213-624-6996
      More info & menus at www.engineco.com/