Island Packers Cruises and Tours out of Ventura Harbor, Ca. – April 2015

Island Packers Channel Island Rides to the islands is a great company that provides trips and tours out of mostly Ventura Harbor with some trips out of Oxnard. There are a variety of options to each of the islands plus whale watching tours and more. The staff is friendly and helpful so enjoy a great day heading to one of the islands.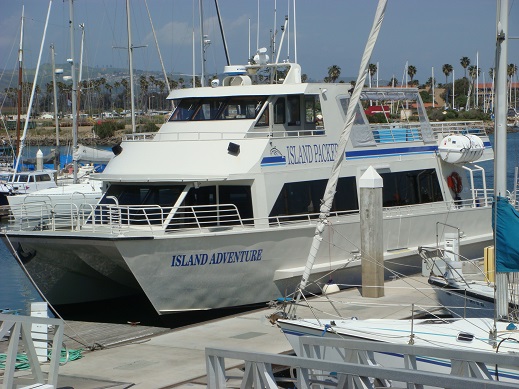 We chose Santa Cruz, which was the most popular island to hang out for the day. Make sure to bring sunscreen, water, food and hiking shoes.  Mid-Santa Cruz – Prisoner's Harbor:  The scenic cobblestone-sand beach at Prisoner's Harbor is lined with shade trees making it a perfect site for shoreline picnics.  The vegetation here provides an ideal habitat for the endemic Santa Cruz Island Scrub Jay, which attracts birders worldwide.  An interpretive hike is available with an Island Packers naturalist on The Nature Conservancy trail is a scenic hike accessible from the Prisoner's Harbor landing which is located near the Park's western boundary.  This trail is fairly strenuous with steep, narrow slopes.  Access to The Nature Conservancy trail requires a permit, which visitors can acquire during check-in prior to departure.  There is a trail into the National Park that leads to Scorpion Cove, 14 miles one-way.  Camping at the Del Norte campground, approximately four miles from the pier is remote and primitive offering no potable water, but quiet solitude.  This campground is currently available on Friday, Saturday, and Sunday nights only.  In the summer, there is a good chance visitors may encounter blue or humpback whales as they cross the channel.  Round trip fares are $59 per adult, $54 per senior (55+), and $41 per child (3-12 yrs).  Boats usually depart at 8:00 or 9:00AM, with pick-ups from the island normally 3:00 or 4:00PM.
One fantastic option to do right when you arrive before the wind picks up is kayaking. There are planned tours or rent one from right next door to the Ventura Channel Islands office at Channel Islands Kayaking Center. There are some very cool caves you can kayak through but you must wear a helmet and life jacket. http://www.cikayak.com/rentals.html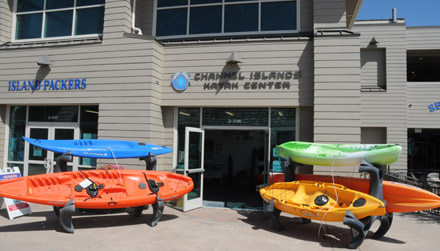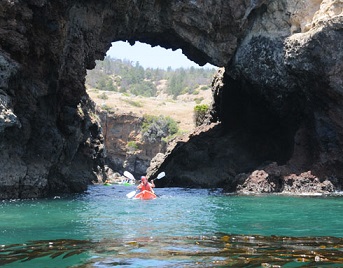 You can also camp out but you must bring all of your own equipment and necessities. There is wildlife as we saw a baby fox but much more and some incredible hiking trails from moderate to extreme. Island Packers is an authorized boat concessionaire to the Channel Islands National Park
and provides transportation from the Channel Islands Harbor in Oxnard and Ventura Harbor to all five islands in the Park.  Established in 1968 by Bill M. Connally, the Island Packers Company is still owned and operated by the Connally family.The Channel Islands National Park is comprised of the four Northern islands:  Anacapa, Santa Cruz, Santa Rosa, and San Miguel as well as Santa Barbara Island, which is part of the Southern Island chain.  The islands are federally protected and remain undeveloped, pristine places of natural wilderness. The most popular excursions are to Anacapa and Santa Cruz, considered the "local" islands, as they are closest to the mainland.
These islands can be reached in about an hour across the Santa Barbara Channel.  Full-day or half-day landing trips take visitors ashore and feature guided hikes led by a Park Ranger or naturalist.Primitive campsites are available on each island through the National Park Service (NPS) for a charge of $15.00 per night per site, for 4 to 6 persons.  No campfires are permitted and potable water is available only at East Santa Cruz and Santa Rosa Island campsites.  Camper boat fares differ from day trip rates as additional camping gear is handled and transported, and space is reserved for both outbound and return passage for campers across the channel. 
Campsites in the Channel Islands National Park are reserved by calling 1-800-365-CAMP or online at:  http://reservations.nps.gov.Anacapa and Santa Cruz offer excellent opportunities to explore sea caves by kayak.  Experienced ocean kayakers can rent equipment and we will transport it for a small fee.  For those inexperienced in ocean kayaking, guided packages are recommended and include a guide, equipment, and round-trip transportation on an Island Packers vessel. 
More at http://www.islandpackers.com/