"IN & OF ITSELF" Extended for Fourth Time at Geffen Theatre.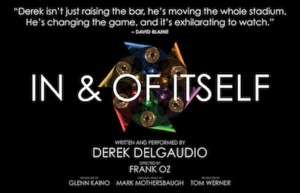 Sometimes a performance just has "legs" (think the inspired "Pianist of Willesden Lane" that ran for months on end via word of mouth) and so "by popular demand," the Geffen Playhouse has extended magician Derek DelGaudio's IN & OF ITSELF for the fourth time.  The Audrey Skirball Kenis Theater at the Geffen Playhouse will feature it for an additional two-week run, now through August 7, 2016.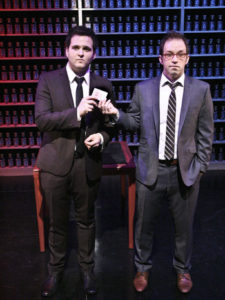 This latest production by master storyteller and award-winning DelGaudio has now earned its place in history as the most commercially successful production the Geffen Playhouse has had in the Audrey Skirball Kenis since the 2012 premier of Nothing To Hide, also by DelGaudio.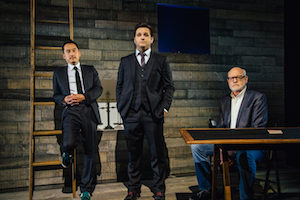 Directed by four-time Emmy winner Frank Oz, In & Of Itself features original music by Mark Mothersbaugh, the show is produced by Glenn Kaino, and presented in association with Tom Werner.
In & Of Itself is a show constructed as a metaphoric labyrinth, filled with allegorical illusions. Audiences are invited to explore themes of identity and paradoxical truths in this radically new theatrical experience. "Imagine what Samuel Becket would have written if he'd been optimistic, American, and a virtuoso magician," said magician Teller after experiencing the show. Penn Jillette said, "Derek has created the best magic show I've ever seen and that might be damning with faint praise. It's Marcel Duchamp and Andy Kaufman if they could do perfect bottom deals. It will blow your mind."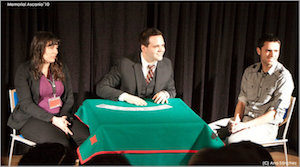 "Developing this show has been a transformative experience," said DelGaudio himself.  "What began as a deeply personal endeavor has evolved into this remarkable collaboration."
Ticket prices start at $75 and are available in-person at the Geffen Playhouse box office, via phone at 310.208.5454 or online at www.geffenplayhouse.org.  Based on seat availability, $35 Rush Tickets are available at the box office 30 minutes prior to curtain time.  Fees may apply.